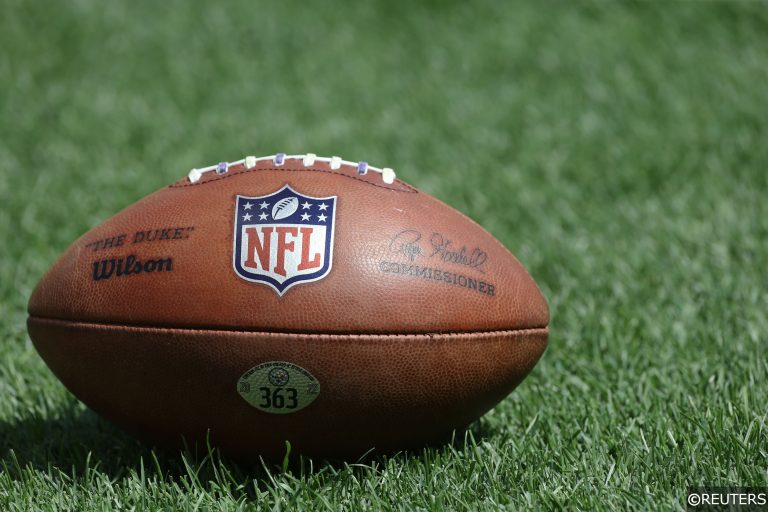 Super Bowl LVII is almost upon us and, following on from our Eagles vs Chiefs predictions, our NFL expert has been scouring the prop markets to pick out the best value prop bets.
Most of these are available on bet365 and make the perfect basis for a Bet Builder. If you don't have a bet365 account, you can sign up below and receive up to £50 in free bets!
---
Best Super Bowl LVII player prop bets
Jalen Hurts over 10.5 rushing attempts at 21/20 (bet365)
This might be the best bet of the entire Super Bowl. Still recovering from a shoulder sprain suffered in Week 15, Hurts looks set to rely on his legs more than ever on the biggest stage of his career.
Whether it be from a designed run off an RPO or a QB sneak, both plays the Eagles specialise in, or taking off when his first read or two in the passing game isn't open, something that seems likely with the QB likely to be feeling some nerves early in the biggest game of his career, Hurts is expected to tuck the ball and run plenty.
In what promises to be a close game, it's worth noting Hurts has rushing attempt numbers of 17, 16, 15, 16, 17, 17 and 9 in one score games this season.
Kenneth Gainwell over 19.5 rushing yards at 10/11 (bet365)
Miles Sanders is the lead dog in the run game for the Eagles, but Gainwell has really emerged this postseason, toting the rock 12 times for 112 yards and TD vs the Giants and 14 times for 48 yards vs the 49ers.
The second-year back has admittedly done most of his work in the second half of those blowout wins, but he's almost certainly earned himself a bigger slice of the pie and tends to face lighter boxes than Sanders, as it's often a less obvious rushing situation when Gainwell is in the backfield, with Sanders not much of a receiving threat.
Also on the field for a high percentage of third down plays, he can eclipse his low rushing total.
Jerick McKinnon over 20.5 receiving yards at 10/11 (bet365)
McKinnon was a huge threat in the receiving game throughout the season for the Chiefs, catching nine touchdowns and topping his receiving mark for this game no less than ten times
He's been a little quiet thus far in the postseason, catching just two balls for 17 yards, but that can be expected to change here, with the Chiefs running backs expected to see plenty of targets from Mahomes, who will have a ferocious pass rush in his face throughout the game.
Rookie Isiah Pacheco had a big game versus the Bengals, but McKinnon is the more trusted of the two in pass protection, so can expect his snap count to increase significantly in this game, meaning more targets and, hopefully, more catches.
Travis Kelce over 6.5 receptions at 4/7 (bet365)
This one picks itself. Kelce is the greatest pass-catching tight end in the history of the game and has continuously been Mahomes go-to guy, especially in the playoffs, in their shared time in Kansas.
In a game where Mahomes is likely to be under pressure often and several of the Chiefs wide receivers are carrying knocks, look for Kelce to see a ton of targets and easily clear his receptions over/under of 6.5.
---
Best Super Bowl LVII game prop bets
Longest TD scored – under 40.5 yards at 5/6 (bet365)
The Eagles haven't been a big-play team since Hurts has returned from a sprained shoulder in Week 18, with their best chance of spoiling this bet if one of the running backs breaks a big run. The Chiefs, meanwhile, face a defense that is happy enough to give up the underneath stuff and in order to prevent explosive plays.
With Mahomes likely to be under pressure from the Eagles elite D-line, will he have enough time to hit a big play deep? Longest touchdown under 43.5 yards seems a good wager.
Both teams to complete first pass – yes at 20/29 (bet365)
It's a first Super Bowl for Jalen Hurts, so offensive coordinator Shane Steichen's job will be to get his third-year QB a couple of easy completions to get him settled.
Mahomes, meanwhile, is no stranger to the Super Bowl but will be keen to get the ball out quickly to avoid earlier pressure from the elite Eagles D-line, so expect a quick screen to a wide receiver or running back.
You won't get rich at these odds, but should see an early first quarter return.
Will either team convert a 4th down in their own territory – yes at 6/5 (Paddy Power)
Both teams ranked in the top four in fourth down conversion percentage this season, no surprise given both Andy Reid and Nick Sirianni coach aggressively on offense.
One of these two teams is going to be behind in the fourth quarter and are highly likely to face a scenario where they have to go for it in their own territory on fourth down.
With Patrick Mahomes on one side and the Eagles having their cheatcode QB sneak on the other, chances are this bet comes up.
Most receptions match bet: Jerick McKinnon & Isaiah Pacheco vs Devonta Smith – Jerick McKinnon & Isaiah Pacheco at 5/6 (Paddy Power)
Unless the Eagles are down big and forced to throw often in the second half, expect to see them keep the ball on the ground and do what they do best, especially as Hurts hasn't looked good throwing the ball since returning from a sprained shoulder in Week 18.
It's reasonable to expect Smith to have a maximum of 6, or even 5, catches in this game, and both numbers are easily achievable for McKinnon and Pacheco, combined, to surpass.
They notched seven between them versus the Bengals in the AFC title game and with Mahomes likely to find himself under more pressure in this one, going against the best pass rush he's faced all season, it's reasonable to expect even more dump offs and screens to his running backs than usual.
The return of former first round running back Clyde Edwards-Helaire, who'd effectively lost the role as starter before getting injured back in November, shouldn't impact this bet.
---

Build better bets with our free betting tips, predictions and accumulators, every day.
More betting news:
Steve Palmer's 59,849/1 golf majors accumulator
European cups winners predictions with 981/1 treble!
Weekend Wrap – betting trends from across Europe!
Get the latest Premier League predictions and football betting tips from the experts at FST.