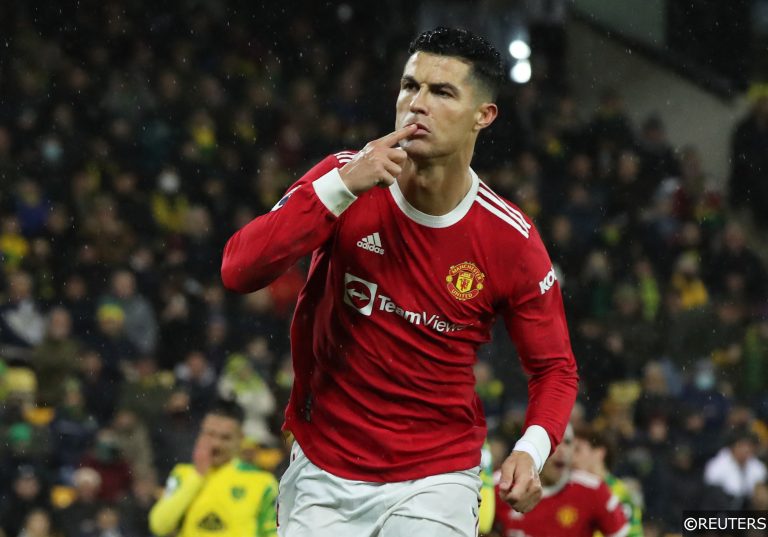 With the World Cup only days away, and Arsenal guaranteed to sit pretty at the top of the table this Christmas, Free Super Tips sat down with ex-gunner Nigel Winterburn to get his views on Ronaldo's recent interview, Arsenal, and the World Cup.
---
What's your reaction to the Ronaldo interview? How do you think the players will be feeling about it? 
I'm not sure whether it will affect the players but it's very hard to tell.
I can't think of a similar situation that I've been in where a player has come out and done an interview like this.
I can't think back and remember anything like this in the past.
But the fact that it's Cristiano Ronaldo, his reputation and one of the top footballers in the world for a very long time alongside Lionel Messi.
I've only read bits of it and seen little clips of it, so I haven't seen the whole interview, but it sounds explosive and pretty damming.
I don't know whether the full interview will give us more insight to how he feels he's being treated whether it be in training or is it the fact that he hasn't been starting games.
Being asked to come on at the end of games, whether he feels that is disrespecting him or not.
I don't really know where to start but the whole thing to me is pretty sad and it looks to be a complete and utter mess.
I think we would all agree that it's only going one way which is with Ronaldo leaving Manchester United.
Piers Morgan reckons Arsenal should now sign him – do you agree?!
Let me tell you he's not coming to Arsenal.
One they wouldn't pay that wage for sure, and two Arsenal have a way of playing that I personally think wouldn't suit Ronaldo at his age.
Arsenal are a very high pressing team, particularly in the first 30 minutes of games.
They press high, play with high energy and I just don't see Ronaldo fitting in to the way that Arsenal play.
Listen, he's still got a lot of quality and you can't deny that, but sometimes you get to the point in your career, regardless of your age where you just don't fit the system.
I don't see any way that Ronaldo would fit into this system at Arsenal.
Also, I don't believe it fits into the way Arsenal are trying to reconstruct their team in terms of age.
For me, I would be absolutely gobsmacked if that move was to ever happen.
Arsenal are top at Christmas and have looked really good before this World Cup break, if they have a good start once the league resumes then will Arsenal fans dare to dream?
They already are dreaming.
We're top and rightly so because we're playing very well.
Arsenal are showing something different this season, even in the odd game where we've come under pressure, dug in and got results.
There's just a different attitude at Arsenal this season.
At this moment in time, yeah, we're into the break but because of where we are in the table, it means we're title contenders.
In three months, we may not be, but if Arsenal come back and continue to do what they're doing then they're going to scare a few people and long may it last.
Should Arsenal buy in January? Where should Arteta strengthen? Is there a danger of the 'Tino Asprilla effect' if Arteta and Edu choose the wrong player? For eg., the changes Klopp has had to make to accommodate Darwin Nunez and how that's disrupted Liverpool's season.
I think they'll be looking, and they've probably already been looking for quite some time now.
We've already seen names being linked with Arsenal again and my gut feeling tells me that they will try to get another central midfield player.
Before the season started it was an area identified and I think they'll try again if that play is available.
They've got Mohamed Elneny who's coming back from injury, and he was very good towards the end of last season.
In the couple of games he's come back into, for someone who's been out for a while I think he looked pretty sharp.
They've got that other option there as well, but I think if the right player comes along in any position, then they'll try and make that transfer.
With the wide players it always feels as if Bakuyo Saka and Gabriel Martinelli are having a lot of game time.
But if we look back at the minutes per player then I think they'd all be pretty equal because Mikel Arteta is trying to manage the workload.
Potentially another wide player could come in, but we've got Emile Smith-Rowe to come back as well.
But I would think central midfield will be the priority position that they'll be looking at.
In terms of the player fitting in, I don't think the club would buy them if that player doesn't fit in.
You're never 100% on these things, but you do the work and look at the stats, see how the player is and try to find out everything about the player that you possibly can.
Since football started, we've seen big name transfer signings that do not work out at some clubs for one reason or another.
Other times you bring someone in who's relatively unknown and they turn out to be absolutely sensational.
You're never going to buy a player who you don't think will fit into your style of play because that's the one thing they have to try and do as a player, to buy into the style.
I'm so strong on that if Arteta believes that a player doesn't fit the system, or the attitude is wrong then Arsenal will not try to buy them.
That's just a given for me, Arteta and Edu have to believe that the player would fit into the system if they're going to do any business.
Ukrainian winger Mykhaylo Mudryk has been strongly linked with a move in January, would that be an exciting signing for Arsenal?
I think he was linked before so as supporters we always get more excited when we see clips of players, or we see what they've done in the game so far.
We get more excited than others when they come to your club, but it doesn't always mean they're going to be a success.
If that is the right player that Arsenal have identified, then I think all Arsenal supporters would welcome that move.
I think he would become an extra squad player to try and take us through to the end of the season.
The games will come thick and fast when we come back so all teams need a fit and strong squad.
I still think Arsenal are a little bit short in depth, there's no doubt in my mind and I think people would agree it's the one big worry.
But sometimes you can't account for that, you get on with it, play and see where it takes you.
I can tell you for sure at the moment that there's a lot of excitement around the Emirates, probably the most there has been for a long long time.
Sergej Milinković-Savić is being linked with a move from Lazio with Lokonga going the other way, would that add some real quality depth in central midfield?
I think the Lokonga situation is interesting because there's been one or two little rumours that he's not been happy and not getting enough game time.
He's not made the Belgium squad for the World Cup so that's always a possibility to why he's feeling this way.
My stance on players coming to the club is that I'm not interested in what they've done before, I'm only interested in when they arrive at the club.
Whether they can perform to the level that helps take the team to the next stage.
It's always great when you get linked with somebody who has a big reputation and been an important player throughout his career.
But you've got to make sure you've got the right player for your club and make sure that they can add real value to your existing squad.
It's a case of sit and watching and then we can debate if anything happens before the end of January.
It is quite hard in January to do business, particularly with the World Cup this season.
Teams are still in the Champions League as well and other teams are reluctant to let their players go in the middle of a season.
Youri Tielemans has also reportedly said he'll sign a deal at Arsenal once his Leicester contract is up, where does he fit into this team if that is to be true?
Tielemans is a player that I like.
The fact that he's played in the Premier League is a bonus because there's no surprises there.
You know what that player is capable of and again you just assess whether he can play the way Arsenal want to play and I'd be confident in saying yes to that question.
But we've been linked with him for so long and nothing seems to have happened.
Again, it's a case of let's wait and see, but it's definitely the type of player that we would be interested in for sure.
I don't see why we wouldn't be unless Mikel Arteta and Edu know something different because Tielemans has real quality that's for sure.
Arsenal could have Martinelli and Gabriel Jesus leading Brazil's attack in the World Cup. How significant is that for the club? Could they return from Qatar World Cup winners?
It means they would play more games, but I don't know how it would affect them.
You would imagine that if you've got players who are in whichever squad wins the World Cup, then it would be on a massive high.
So, you would expect it to be a bonus going forward throughout the rest of the season.
It's difficult to judge because we're in a situation that we've never been in before and we're in the middle of an extended break.
It could be the opposite as well, what would happen if those players got to a World Cup final and lost?
We just don't know what affect games have on individual players at this time of a season in a World Cup because it's never happened before.
I think there will be a lot of people watching and analysing stats when the players come back, particularly those players who get to the semi-finals and the finals.
I would suggest it would be the players who lose that final who we should be slightly more worried about, but the ones who win it will be full of joy I would imagine.
Let's see and let's hope England are there before we make our judgements.
Could you sense a difference in Patrick Vieira and Manu Petit when they came back from the '98 World Cup as winners? Whether it's England or Brazil, can having World Cup winners help Arsenal in the title race this season?
I can't actually think back to whether there was a major difference in those two, so the answer would be probably not.
I mean the only thing you did know is that they were World Cup winners, but I already knew they were fabulous players.
So, it didn't change the way they were, but they've just got World Cup winner on their CV now.
I would imagine it's a pretty major achievement to have alongside your name and a very exciting one.
I would have loved it if it happened to me or one of the England squads that my teammates had been in, but unfortunately it didn't.
I can't say that I recognised any real difference or if it made a difference to our performances.
You're just talking about a couple of players, but when you're in a team of XI there are so many variables that can go on within the game.
They never had to mention it because you could see a big massive smile on their face which told you everything.
I just can't picture whether there was any real difference in the way they performed or acted, so to me it tells me straight away that they weren't.
They were just professional, got back to their job at Arsenal and were as good as they've always been.
It didn't really matter to me because it was France who won and not England, so I wasn't really bothered!
Do you think David Moyes will last the season if West Ham's form doesn't improve? What's gone wrong there?
I think a couple of players have come out in support over the past week.
I'm surprised that they've really struggled so far, David Moyes has done a terrific job since he came back and they're just in a really difficult stage at the moment.
They've spent quite a bit of money in the transfer window that's just gone as well.
I think the supporters will always be key in whether a manager keeps his job or not because when you get a run of results where you aren't performing then the atmosphere changes in the stadium.
It really applies pressure on the owners and it's whether the owners feel they can ride it out or whether they need to make a change.
They're going to need to pick up their form when we're back from the World Cup considerably.
I don't like talking about managers getting the sack, but if you were to ask David Moyes then he would say he's under pressure because the results aren't what we expect them to be if you look at West Ham over the past couple of seasons.
What's your impressions of Rico Lewis at Man City? Impressed? What technical advice would you give him at this stage of his career?
He's a young man still finding his way and I've only seen little clips and snippets of him so far.
But it's incredible that someone at that age can make your first team debut and in this Manchester City side.
There are obviously huge amounts of talent there, then it comes down to temperament and keeping yourself on a level playing field.
With the coaching he's getting at Manchester City you would expect him to keep on improving and it will be down to him mainly.
The Manchester City coaching staff will help him to make sure he realises his potential, so he has to listen to any piece of advice he receives.
It's not easy to breakthrough and become a professional, but the hardest part is once you're in there, to stay there.
The young man has everything ahead of him as do a lot of young players in different teams around the country.
But it's how they look after themselves, mentally how they cope and teaching themselves how to manage being a footballer.
Sometimes it's not just about the ability, it's about what you get involved in and who you let surround you who may not guide you in the right direction.
For that young man it's a case of staying level-headed and listen to what you're being told by the coaching staff.
We already know he has a huge level of talent, but it's all about nurturing, developing that talent and being able to produce game after game, season after season.
That's what you need to do if you want to be talked about as a top player and not someone who's talked about as missed potential.
That's what the top players do, they stay in the game for such a long time, Cristiano Ronaldo being an example of that alongside Lionel Messi.
Some players obviously haven't achieved what those two have, but they've gone on to have long and successful careers at the top.
It's down to how driven you are, avoiding distractions from outside interests and developing with the team you're with.
Harry Maguire comes into this tournament in bad form and finds himself 4th choice at Manchester United, will a solid World Cup bring back his confidence or do you expect him to find a move away for his own sake?
I wouldn't think he's very happy at the moment not playing, I don't know any player who would be.
If you want a move away you have to weigh up how long you have left on your contract, do you believe in yourself to force your way back into the team, do you fit into the managers plans and it doesn't seem that way at the moment.
I wonder if it's solely down to form or the way that the manager wants to play.
You've got to make sure that your own form is right, and Maguire is going through a hugely difficult period.
It's difficult to then go and play for England when you're under the spotlight for Manchester United.
Coming into this World Cup every single performance is going to be judged because he's going to play.
I don't see any way that he doesn't play for Gareth Southgate, but everything he does is going to be analysed.
Southgate has put himself under huge pressure with certain comments on why certain players haven't gone and others have.
The thing that we get at the end of it all, Southgate trusts certain players and Harry Maguire is clearly one of those players.
You were critical when the last squad was announced to see Ben White missing, he's forced his way into the World Cup and now is it a case that he should be playing a big part considering his form?
On form I think he should be in there, but whether he will be is a completely different question.
I would suggest that it may depend on what system England go with.
If it's a back five or back three however you perceive it, then I think he's got a fabulous chance of playing.
He's someone that can play at fullback or play as a third centre halve.
He's strong at bringing the ball out from the back and we know what he can bring to the team.
There's a huge number of positions that he can take up for England which is always a good thing so we'll have to see what happens with the group games.
We've also seen with Gareth Southgate that he's changed systems depending on who we've played.
He might go to a back four and play with a more attacking fullback if he thinks we're going to have a lot of possession with the ball.
Or if he thinks we'll have equal or less amounts of the ball then he'll go with a back five and make the team more solid.
It's intriguing, but the one thing I was always adamant on is Ben White deserved to be in the squad.
Now let's see what team plays for our first game with Iran.
We all know the controversies surrounding this World Cup from when it was announced in 2010, do you think it should still be going ahead in Qatar?
I think there's a lot of issues and a lot of talk that I'm not educated enough to talk about if I'm honest.
But the fact that there is so much controversy around this World Cup coming into it doesn't show the decision as a positive one.
People think the questions will go away when the World Cup starts but I don't think it will.
I think there's going to be a lot of reporting, not only about the games but about the attitude of Qatar.
There was so much with FIFA around how Qatar won a World Cup and if they're developed enough to welcome all cultures into the country.
There are the human rights issues surrounding the country and if I'm honest it's way beyond me.
I don't want to make any statement and jump on board to things that I'm not educated enough to talk about.
But I am surprised this World Cup is happening in Qatar, but it's happened now.
In terms of football, when it starts, I'll look forward to watching it, but there are going to be a lot of issues around this World Cup and I don't think we'll get away from it for one minute.
Players, managers and pundits have been speaking out more frequently in recent weeks – how difficult will it be for those players playing to concentrate on the football rather than the politics around Qatar?
You get yourself into a bubble when you're in a team and in a tournament so they can limit the distractions.
In a way you can limit the questions that come forward to you as well.
There's obviously going to be some sort of debriefing as well if we use the England camp as an example.
They'll be told about what's coming, what to get involved in and what not to get involved in.
Let's see when the first big interview comes before the first game, that's when the press will get access to the players and then we see what tone might be set for the rest of the World Cup and each country that is in there.
I think you can limit certain things, but it could be intriguing to watch that first interview because there could be a whole host of questions on anything but the World Cup itself.
We all know the reasons why they may come, and it'll be interesting to see whether we get a block answer or an answer from the individual who is questioned.
There's rumours that Southgate might step down after this tournament regardless of what happens in Qatar – Thomas Tuchel is a name being touted, what do you think of that choice?
I'm not big into discussing before managers have left or predicting what might happen.
Every manager who will be potentially available at that time, if it comes to it, will be interested.
In a way I suppose all managers are available because when it comes to being offered the England job it would be hard to turn it down.
With Southgate he's always said he'll know when the time is right to go.
I've only just heard that it could be a possibility after this tournament, but we're all trying to pre-empt and guess.
He could leave, the World Cup could be a complete disaster for England or if they get to another final he could go out on a high.
Then I think we would start to see some of those names appear.
Thomas Tuchel has already been mentioned, but I would probably say there would be another 15 names added to the list.
That's only if Gareth Southgate steps down, I think it's important to concentrate on what England do now rather than in the future.
Southgate could be there for another two years yet; we simply don't know.
But if he steps down there will be a host of names linked with the England job.
---

Build better bets with our free betting tips, predictions and accumulators, every day.
More betting news:
Here at Free Super Tips, we cover the entire English Football League, as well as the World Cup. Make sure to check out our Championship Predictions, League One Predictions and League Two Predictions, all covered by our betting experts.