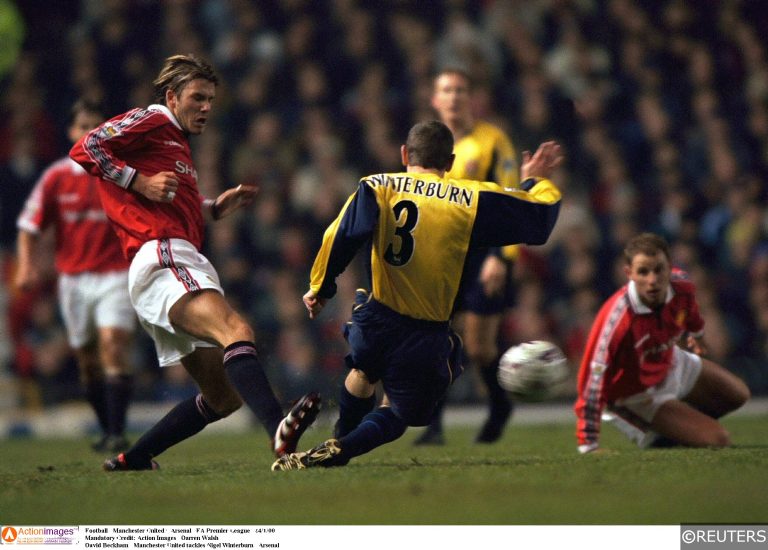 Content Editor at Free Super Tips, Alex was born in the shadow of Old Trafford and is an avid Man Utd fan. After graduating from university he combined his love of football, writing and betting to join FST and now closely follows goings-on in all of the top European leagues.
With the new Premier League season just days away and Arsenal raising the curtain on the 2022/23 campaign for the second year running, we caught up with ex-Arsenal player Nigel Winterburn to discuss the Gunners' chances this season.
---
What have you made of Arsenal's summer transfer window so far? Jesus, Viera and Zinchenko all joining the club?
I've been pleased so far, obviously it's been a good pre-season for Arsenal.
I think in Jesus and Zinchenko, they've got players coming from a club with a winning mentality which is always a good thing to have in your squad.
I think that is definitely going to strengthen the squad and they've looked good in pre-season.
Now it's a case of taking it forward into the first few games of the season.
As I said in my commentary at the weekend, there's been some very strong performances in pre-season, but unfortunately, they count for nothing if you lose your first league game.
That's exactly as I see it, so I think the first game on Friday night is a big test for Arsenal.
Having been part of the commentary team against Sevilla, how impressed have you been by the integration of Gabriel Jesus, Oleksandr Zinchenko and William Saliba?
If you look at Saliba, he's done very well defensively and it will be a step up for him in the Premier League, but he hasn't done anything wrong.
He looks comfortable, he looks good on the ball, and he has pace.
Positioning wise it looks good, so let's take it forward into the Premier League and see what happens there.
With Jesus and Zinchenko I fit they'll just slot right in, but what's impressed me most is the link up play between Jesus, Odegaard, Saka and Martinelli.
That's alongside the work rate and the pressing from the front, it's high energy and if they can keep those players fit and in good form then it looks exciting.
Arsenal certainly look like they have an exciting attacking line up for the season.
Arsenal narrowly missed out on the Champions League last year – looking at who's left the club and who's come in, how do you rate their chances of going that extra step and finishing in the top 4 this season?
I think they need to finish in the top four and the club wants to get back into the Champions League.
That's the first step with all the changes that have gone on.
I think Mikel Arteta has had a harder job than a lot of people realise, for me there was a lot of players that needed to be moved on and they needed to change the mentality of the football club.
He's trying to do that, hence why I like some of the signings with the different attitudes coming in.
I think that's good for the football club, but this will be a big test for Mikel Arteta this season because you've got added football with the Europa League as well.
There will come a point where the club demands, and Arteta demands Champions League football which I think will be this season.
What would count as a successful season for Mikel Arteta? Is it a case of Champions League by any means or bust?
I don't know whether it would be a case of Mikel Arteta's job coming under pressure if they didn't get Champions League football.
I think you really need to look into the season and how Arsenal performs across it.
But before we've even kicked a ball, the club will be looking at a Champions League spot.
They should have had it last season, but they blew it, and they will know that.
That's gone now, you've got to refocus and the new players coming in will help improve those chances.
Arsenal just have to go again and for me the top 4 is something they need to be aiming for as a minimum.
For me you have to look at things after 10 games, then 20 games when you're halfway through a season.
We'll see where Arsenal are and re-evaluate from that stage to see what direction the club is going in.
Is there an added pressure on Mikel Arteta to deliver a successful season?
It is becoming more of his squad and his style of play, so he's starting to get what he really wants out of a squad.
He's moulding his style of play into these players and that's why I said last season without European football it was perfect for Mikel Arteta to get his ideas across.
There are new players coming in and this season there will be less time on the training pitch because of those Europa League games.
But I don't see why Arsenal and Mikel Arteta shouldn't be looking at top 4.
I think he'll come under pressure if Arsenal are struggling because this is Arsenal, of course he would come under pressure if things weren't going to plan.
He will know that his team needs to deliver this season and put in the performances that he demands of them to take them where they need to be.
What are your expectations of the side this year in terms of the Premier League, Europa League and cup competitions?
I already said that top four should be a minimum, but I think they'll go a long way in the Europa League as well.
It'll be a mixed team throughout the group stages, but Arsenal should be able to rotate players and still go deep into that competition.
I don't expect them to get knocked out early and then on top of that, they'll probably rotate in those cup competitions.
But what you want to see is a strong league performance and going a long way in at least one of the cup competitions.
We can re-judge come the end of the season of where Arsenal finish, how many games they won and lost or if they've built on last season.
You ask those sorts of questions as you go along, but I'll keep reiterating it, for me I think Arsenal need to be inside the top four this season.
Looking at the top 4/top 6 in general, who do you expect to be in the running for the European spots? Will we see any surprises?
I don't think there will be any surprises and I think the usual suspects will be in and around the top six.
I still think Liverpool and Manchester City are way ahead of the rest, then you've got Tuchel on Chelsea who will be working on their squad again.
There's still a little bit of uncertainty there in terms of a lack of transfer activity that they would have wanted, so we'll see how Chelsea perform.
Obviously, there's Arsenal, Tottenham and Manchester United in the mix.
People will be expecting Manchester United to improve again with the new manager.
There's a little bit of uncertainty with a few clubs, but I expect West Ham to be strong again who have done terrifically well over the last two seasons.
Those will be the main clubs who will be in and around, fighting for those European places once again.
The top four race seems closer than ever with Arsenal and Tottenham strengthening, but do you see them pushing Liverpool and Manchester City for the title this coming campaign?
If I'm honest I think it's going to be difficult to compete with Liverpool and Manchester City.
You never know because if the standards of those two teams drops and someone like Arsenal have a really good season in terms of performance in the Premier League, then yes, they'll get closer.
But I have my doubts if any of the other clubs can compete with Liverpool and Manchester City, and I don't think it's going to be the case this season.
Those two teams are still quite a way ahead of the other sides at the moment.
But with a very good season it doesn't mean that another club can't get closer to them both.
It's hard to judge pre-season and I don't like to do it because it doesn't actually mean anything.
It's just an integration of players, building of fitness, looking to get some cohesion back into your players and seeing those patterns of play start to form.
The Premier League is what it's all about and from what we've seen in the past, despite the other teams strengthening, Liverpool and Manchester City are still well ahead of the rest.
Is Martin Odegaard the right choice as captain?
I'm pleased that they've chose somebody and Odegaard is captain of the national team, so it seems a good move.
I'm hearing that Mikel Arteta likes him as a leader, so I think it's a good decision.
Last season I hated this rotation of captains, it wasn't for me, and I didn't agree with it.
When I played, I knew who my captain was, Tony Adams was the captain if he was fit, and it was something I never used to worry about.
I don't know whether that's because things were different, and we had such a strong group of players that we never even gave it a second thought.
Tony was a great captain, so it wasn't a worry for our team, but sometimes that captain role is to just relay things back to your manager.
We'll have to wait and see how it goes with Odegaard, it will be interesting in periods of games when things aren't going right for Arsenal.
Will it be Odegaard's responsibility to relay what the manager wants to the other players within a game?
I would hope that isn't the case because all of the players should be big enough to make their own decisions.
But I am pleased that this debate is over around the captaincy.
Mikel Arteta has made that choice, we've chosen Odegaard and if anything for the player it's motivation to keep them at a high level of performance.
When he's playing really well, his ability is absolutely incredible.
All I can say is let's wait and see if there are any differences in his game, I've said before that for myself when I was captain, I didn't do anything differently.
You don't need to be more vocal; you just have to perform exactly the same way.
If a player needs telling something, then you shouldn't have to tell them because you're captain, any player can have a word with their team mates if something isn't quite going right on the pitch.
I think that should happen from 1 to 11 anyway, but I am pleased that we finally have a set captain.
Providing Kieran Tierney is fit, does Oleksandr Zinchenko start ahead of him having impressed in this new-look back four?
I do for the start of the season because I don't think Tierney is fit enough, but I'm not sure as he is back training.
He hasn't had any game time which makes me think that he won't come straight back in.
I'd be absolutely amazed if he started on Friday night against Crystal Palace, so Zinchenko will at left-back.
What we have with Zinchenko is somebody who can play in multiple positions which I think gives Arteta another option when Tierney is fully fit.
It'll be interesting to see what happens when they are both fit, but I could see in certain games that they both play.
In other games it'll obviously be a decision for Mikel Arteta to make, but that's what you need in squads.
We've seen a little bit in pre-season where Zinchenko came inside and almost playing in a central midfield role when Arsenal had the ball.
Sometimes Xhaka would end up on the outside of him, which was interesting to watch, it didn't happen every time but it was noticeable.
That will be an interesting situation to see what happens because when Tierney plays, he plays slightly higher and wider.
When Tierney comes into the team, I wonder if he'll take up positions inside or whether it'll be a tactical switch depending on who's at left-back.
It's a little bit like what Manchester City do with their fullbacks.
Will Ben White have to settle for a right-back spot this season if Gabriel and Saliba build on their partnership?
If he does, then he'll have a battle with Tomiyasu, but he isn't fit at the moment and I'm not sure what's happening with him right now.
I think he's still a way off, but it'll be good for the squad when everyone is fit because it means there's competition for places.
It also means Gabriel and Saliba are playing well as a partnership, so it's good to have that option of playing White at right-back.
It makes Arsenal stronger in terms of squad depth because there's players who can fill in other roles if there are injuries.
When you're at a big club your place shouldn't be guaranteed, so having those competition for places can only be healthy to the squad.
For me, it's exciting to see how all that develops.
Judging from pre-season, Gabriel Jesus has transformed Arsenal's attack. Could he have a similar impact as when Dennis Bergkamp joined from Inter Milan?
Listen, if Gabriel Jesus has an Arsenal career like Dennis Bergkamp, then every time someone mentions Jesus to me, I'll be smiling a lot.
I put Bergkamp down as one of the all-time greatest players in my era, that's how highly I rate Dennis Bergkamp.
He was a sensational footballer; he made the game look so easy that it was ridiculous to watch.
But Jesus is a different type of player, he's a bundle of energy and takes up some fabulous positions.
What I like most about him is that he just harasses the life out of defenders, so if he continues his pre-season form into the Premier League, then I think we'll see him get a few goals.
It's going to be exciting to watch, but in terms of that comparison to Bergkamp, if he gets anywhere near his level, then Arsenal will have one heck of a player.
Do Arsenal finally have that striker who can get 15-25+ Premier League goals?
I said it often last season that Arsenal needed a striker who can get you at least 20 Premier League goals and they haven't had that very often.
On what I've seen so far, I get the feeling Jesus will play a lot of games and get a lot of minutes on the pitch.
Provided he's not injured, then I think he's capable of getting those 20 Premier League goals a season.
Should Arsenal target any more signings? There's still the Youri Tielemans link surrounding the club at the moment.
That's been a transfer (Tielemans) that has been spoken about for a long time, so I don't know whether it's realistic anymore or if it will happen.
I do feel that central midfield is an area that Arsenal still needs to look at.
On the other hand, I do think Zinchenko can play in that position so I don't know whether Arsenal might feel the transfer window is shut for them.
They won't come out and say that, if the right player becomes available, then Arsenal will make a move.
With transfers I tend to focus on the players who deals are over the line, not any of the rumours surrounding whether a player joins or not.
I don't believe that reputations in the past should be taken into account, as a fan you always want to see what impact players have once they join your team.
If they're a flop at your club, then it's a complete waste of time.
But I do hope that someone comes into that midfield because it's the one area I can see being improved right now.
Who that player will be I don't know, but if Arsenal do bring someone in, I hope it's someone who does fit into the squad and the system.
I'm sure there will be options on the table that both Edu and Arteta are looking at, but whether they feel it's right for the squad is another question.
If you could sign one realistic player to slot into Arsenal's starting XI, who are you going for?
It's a tough one, but I do think we still need a midfield player so somebody like a Tielemans would be ideal.
He's had Premier League experience so he would fit into the sort of players Arsenal are looking at.
I just think with that transfer that it's been mentioned for so long now that I'm not sure that it's going to happen.
But they need that sort of player in the midfield, you look at Arsenal's activity over the past two seasons, there's a lot of young talent coming in.
There are also players coming in with Premier League experience as well, so I would think that's the strategy Arsenal are going with.
You're never quite sure what's fully going on at your club as a fan, but you'd think somebody along those lines would come in with Premier League experience.
They'll need to have the energy to play in this Arsenal side because I think Arsenal will look to play a pressing game this season, particularly at the start of games.
Somebody like Tielemans will be good but trying to predict what Arteta and Edu are going to do can be difficult.
It could be someone younger who we've not heard about and developing for the future which is what did last season and this season.
But if they make another signing, I'm hoping it's the right one and that they can come straight into this team.
Erling Haaland and Darwin Nunez faced off in the Community Shield on Saturday with the Uruguayan having the better game. However, who do you see making the biggest impact for their side next season?
They've both got huge reputations going into their new clubs and it'll be interesting to see how both teams adapt.
Particularly with Manchester City, it'll be interesting to see if they change slightly with Haaland.
He's a beast of player, he looks like such a strong and powerful guy, and you felt at times last season that they needed someone in the box.
Their rotation between the forward players was sensational, but with him in the team it's going to be different.
I think it might take a little bit of time for the team to settle into this way, but I don't believe for one second that Haaland will struggle to score goals.
Nunez looks a livewire and again Liverpool will create a lot of chances for him, so again I don't see him having any issues scoring goals.
If they both stay fit, then they'll both score a lot of goals for their clubs.
To me they're both exciting prospects for the clubs that they've joined, and it helps that they've already joined the two best clubs in the league and in the world at the moment.
You would think it's only going to enhance them.
You can't judge based off the Community Shield who's going to be the better buy than the other.
Let's see, if they're still here in two or three seasons, who has the better numbers in terms of goals, then you can make a judgement.
But my gut feeling is both will have a lot of success with the clubs they've joined, and both will score a lot of goals from the chances their teams create.
Roberto Firmino has been linked with a move to Juventus, with Darwin Nunez coming in, should Liverpool cash-in on the Brazilian with him only having 1-year left on his current deal at Anfield?
He still has a part to play, I don't think it comes down to whether Liverpool want to cash in, it'll be down to the player and how much game time he wants.
It depends on how much you want to play and if you enjoy your role at the club, that's what it ultimately comes down to with any player.
It looks to me that if players approach Jurgen Klopp unhappy and wanting to move, then for the harmony of the squad they're allowed to leave.
If Firmino pushes for a move, then I think he'll move on.
It doesn't look like the club want rid of him or that there's anything going on behind the scenes as far as I'm aware.
It'll just come down to the player and what he wants to do, but I'm sure the club will want to keep hold of him.
What improvements are you looking to see at Selhurst Park, and what is your prediction for the match?
I'm certainly looking for a much better score line that's for sure.
I never know with Crystal Palace what you're going to get, they were very strong at home last season and obviously Patrick Viera is doing a great job there.
They look very organised early in games and look to play with high energy within games.
Listen, they completely dominated Arsenal last season at Selhurst Park and that can't happen again from an Arsenal point of view.
That would deflate the Arsenal supporters completely, they lost the first three games last season and it's got to be different this season.
The first game is always tricky, it doesn't matter who you play home or away, it's always hard going into it.
It will be a difficult game for Arsenal, but I want to see a strong showing that we didn't see last year against Crystal Palace.
There's a different expectation from the supporters going into this season inside the stadium going off what I've seen in pre-season.
They will not accept that level of performance we saw last season on Friday night, that is for sure.
All I can say to this first team squad and the XI starting the game; make sure you're ready for the fight and do not be bullied.
When you've got time to play, they have to show their quality because Palace will hustle Arsenal, it's exactly what they did last year.
Arsenal tried to play out from the back, and they simply couldn't, Palace took the ball off them so many times in Arsenal's defensive third.
It invited Palace on, and they were too strong for Arsenal, it cannot happen on Friday night.
I'm always going to predict an Arsenal win because it's what I expect all the time.
I know it's not going to happen every game, but I think from a fans point of view we're all expecting a victory to make a statement.
But no one is under the illusion that this isn't going to be a tough game.
Would it be panic mode if Arsenal are once again outclassed and outplayed by Patrick Vieira's Crystal Palace?
If they lose the first three games, then yes there will be a lot of disbelief around.
For me, it simply can't happen because it would be a complete and utter disaster.
They've had a good pre-season, quality players have come in, the squad is in good health for the most part, so there is no reason why I would expect Arsenal to lose the first three games.
If they have the same start as last season, then that would be unacceptable.
---

Build better bets with our free betting tips, predictions and accumulators, every day.
More betting news:
FST's 2022/23 outright predictions hub
Premier League outright winner and top 4 predictions
FST's Premier League final table prediction
In the Mixer: Experts' best Premier League outright bets
Betting Academy: Complete football betting guide
Here at Free Super Tips, we cover the entire English Football League. Make sure to check out our Championship Predictions, League One Predictions and League Two Predictions, all covered by our betting experts.