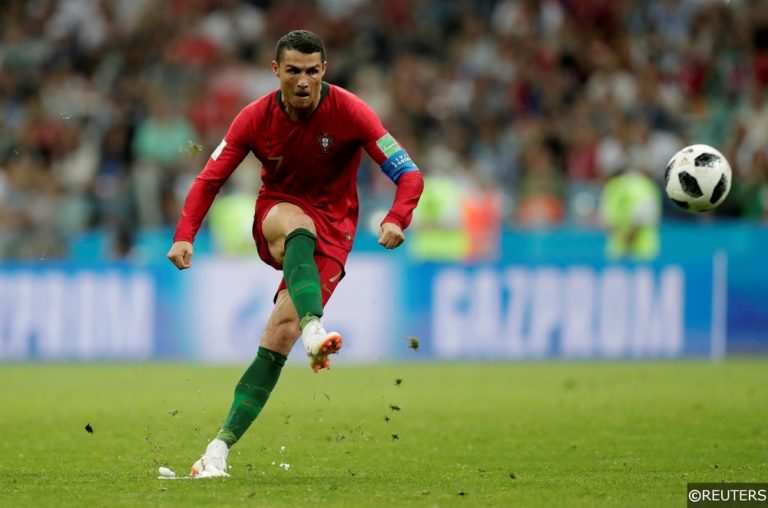 Before becoming a Sports Journalist for Free Super Tips, Aaron spent three years studying Sports Journalism at the University of Sunderland while taking in the Black Cats' 'glory years' under Martin O'Neill. Now back in Northern Ireland he turns niche stats into predictions for FST, while he's one of the few people on this island who is equally comfortable at Windsor Park and the Aviva.
Portugal opened their World Cup campaign with a thrilling draw against Spain. The clash will be remembered as one of the great clashes of this tournament or any other, but there's still two rounds of group games to play. Can Portugal shape up after conceding three, and mount a push for top spot?
Following their incredible clash with Spain, we're looking over where Portugal stand ahead of meetings with Morocco and Iran. We're highlighting their strengths from Friday's match, and the areas where they need to improve.
See Portugal's Side Compared with the 2014 World Cup
Ronaldo's Greatest Tournament Yet
Portugal aren't just a one man team; but they looked like that in Sochi. Cristiano Ronaldo's hat-trick made him the outstanding favourite for the Golden Boot, and it rescued a point for the Portuguese. While Spain were overwhelmingly good across the pitch, they lacked a big performer like Ronaldo who hit his mark exactly when needed.
However, this isn't typical Ronaldo. After just one game, 2018 is easily his best tournament year. Before Friday, the Portugal captain had scored a single goal at each of the last three World Cups, across 13 appearances. He doubled his entire World Cup haul in this one display. Three goals is his best ever tournament display, and he's rarely had an effect on a game like he did here.
The Ballon d'Or winner has inspired Real Madrid to four Champions League finals in five years. After leaving his mark on the World Cup, there's got to be hope that he can do the same with Portugal. If they have Ronaldo at his very best throughout this tournament, then they've got to be confident of a successful summer.
Also see: How Important is Ronaldo to Portugal?
Madrid Man Papers Over Cracks in Attack
There's no doubt Ronaldo stepped up in key moments, and his display does deserve praise. However, we are about to nit-pick his hat-trick. The forward scored from a dubious penalty, and then benefitted from a horrible mistake from David De Gea. He did step up to score a vital free-kick, but that was his 49th direct free-kick at an international tournament – this was the first time he scored one.
Ronaldo may have hit three, but chances like this won't come along too often. He can't rely on easy penalties and keepers fumbling. He has a chance from free kicks, but he has a 2.04% conversion rate from them at major tournaments. The Portuguese can't rely on that kind of display in every game if they're to go all the way.
These are familiar issues for the Portuguese. Their clashes with Iceland and Austria in the Euros saw them fail to make an impact against deep defences. When they opened up, they scrapped a 3-3 draw. With looming clashes against Morocco and Iran – two impressive defences – Portugal should be worried.
Coming in to the tournament, Goncalo Guedes was the in form forward, and he was handed a start. However, he couldn't make a difference for the Selecao, while Andre Silva did little after a poor season in Milan. They need to find a new approach, as they look to end a run of one win in seven group matches at major finals.
Guerreiro is Key, and Back to Full Fitness
Part of Portugal's issues going forward could be their problems with width. Ronaldo's role was clear here. He contributed four shots, committed one foul and attempted no dribbles. The forward had fewer touches than nine of Spain's 10 outfield players. They need someone to influence the build-up – preferably from the wide positions – and that seems to be left-back Raphael Guerreiro.
The Borussia Dortmund man had the most touches of any Portuguese player, while no one on his team made more passes or dribbles. In a very narrow side, Guerreiro sped on down the left flank, as Bruno Fernandes tucked inside. There were worries about his overall fitness, but his display this weekend showed that he's going to be key going forward.
Guerreiro Already Featured Among our Key Portugal Players in Russia
Portugal Need to up Defence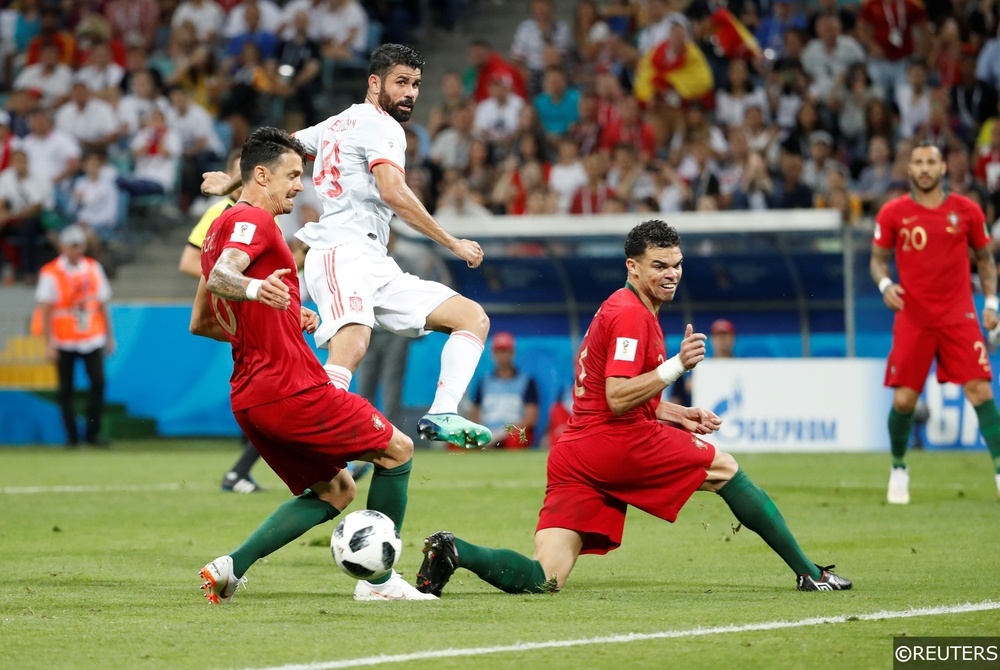 While they're impressing at left-back, Portugal have issues in the middle. They may have benefitted from some soft goals, but they repeatedly let Spain in, which is tough for a side who won Euro 2016 thanks to their defence.
Their ageing pair in the middle have been a concern, with Pepe and Jose Fonte in their mid-30s. The pair were all at sea for the first goal. While Pepe was throwing himself to the ground, Fonte looked like he was being controlled by a drunk puppeteer. They had seven players in the box for the second goal, but they failed to hold off three Spanish forwards.
If Portugal are going to go all the way, then they need to improve their set up at the back. They were too easily overwhelmed in midfield, so the current system isn't working. They're going to need to go back to basics, as they need to protect their centre-halves to have a run in this tournament.
Top Spot Still up for Grabs
Portugal had trouble against Spain, but they've still got a chance to finish top of the group. If the two favourites win their final two games, then it'll come down to goal difference. Matching the attacking talents of Spain is going to be difficult, but both sides will face difficult tests against sides who qualified on the back of their brilliant defensive records.
Portugal may have issues going forward, but if they can click then there's no reason why Portugal can't finish top of Group B. That would make for much easier run in to the final. Given how they fought through the knockout rounds of Euro 2016, the right run from the second round on could deliver more success for the Portuguese, provided they improve from their thrilling opening game.
Follow Free Super Tips on Twitter to stay up to date with our daily tips and predictions or browse more football content on our website: