A couple of months ago, Napoli were in civil war with the owner suing the players after both turned on manager Carlo Ancelotti. On Wednesday night, the same owner joyously celebrated with his players as Napoli lifted the Coppa Italia.
That's just a typical storyline from the soap opera that is Serie A. It may no longer be the go-to league for talent in their prime, but no league does drama quite like the Italians. That can be seen in the current standings, with every club at most six points shy of either Europe or relegation, with Fiorentina in touching distance of both.
Serie A can't match the technical skill of the Bundesliga or La Liga. With the newspaper gossip and Mission Impossible-style last-minute decisions Italy's top flight is more Tom Cruise that Toni Kroos. However, that just adds to the draw of Serie A, a league which has everything on the line across 124 games in 44 days.
With so much going on ahead of the run-in, here's our handy refresher course in Italy's top flight.
Don't forget that we will have all the action covered on our Serie A predictions page.
2019/20 Serie A Standings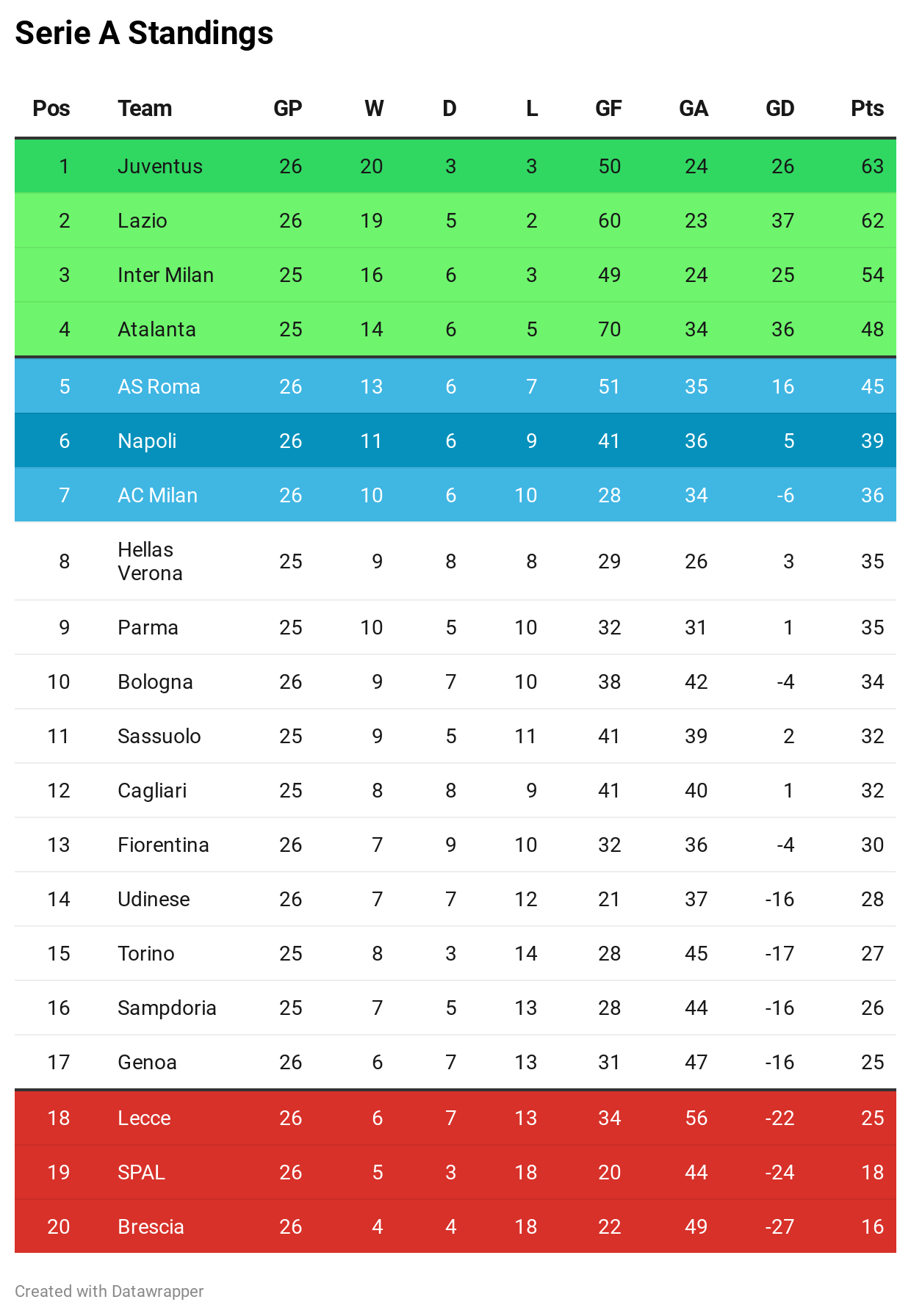 Race for the Scudetto
The chase for the Serie A title is no longer a one-horse race. Inter are gradually improving, Lazio have burst into life and Juventus have shot themselves in the foot. The decision to pick Maurizio Sarri out of their list of contenders could backfire, especially on the back of two poor displays in the Coppa Italia.
As it stands, Juve are top by a point. However, Sarri can't get the fluidity that made his Napoli team so great. The champions have looked disjointed all season, much like Chelsea last term. Unlike Chelsea and Eden Hazard, the star turn isn't saving Sarri's skin. Cristiano Ronaldo has looked off the pace so far, with his record of slow starts to seasons worrying given the length of this break.
Meanwhile, the man that Juventus should have appointed last summer – Simone Inzaghi – continues to prove himself at Lazio. He's the argument for stability in a league where sackings are as commonplace as The Apprentice. He is getting the best out of a very talented side, putting them a point shy of Juve. Their decision to sacrifice the Europa League and cup looks wrong given the format of the run-in, but it shows how serious they are about winning the league.
At one point, Antonio Conte looked set for a return to Juve, where he would have added to his three Serie A titles as a manager. Instead, he's improved Inter Milan, who can move within six points of the top this weekend. The Nerazzurri were Italy's best side when the season kicked off, but tiredness hit Inter hard. After the break, Inter could come flying back in peak shape. Meanwhile, Conte's decision to make Christian Eriksen the heart of his side is already paying off.
Fight for Fourth
With those three sides all but booked into next season's Champions League, there's one spot left. Roma are challenging, but they sit three points behind Atalanta. Even by Italy's standards, the Atalanta story is incredible. La Dea are going for their third top-four finish in four years, with the 13th biggest wage budget in Serie A.
They have thrilled with their Champions League displays and entertained as the league's top scorers. Then tragedy struck. The club's home of Bergamo became the epicentre of the Covid crisis in Italy. This return is harder on Atalanta than anyone else. Captain Alejandro Gomez says his team can't ease the pain but if they "continue doing the extraordinary" then they can "give a little joy" to Bergamo. If you were looking to adopt an Italian side, I think you just found them.
Key Fixtures
24th June – Atalanta vs Lazio (Premier Sports)
11th July – Juventus vs Atalanta (Premier Sports)
19th July – Roma vs Inter Milan (Premier Sports)
20th July – Juventus vs Lazio (Premier Sports)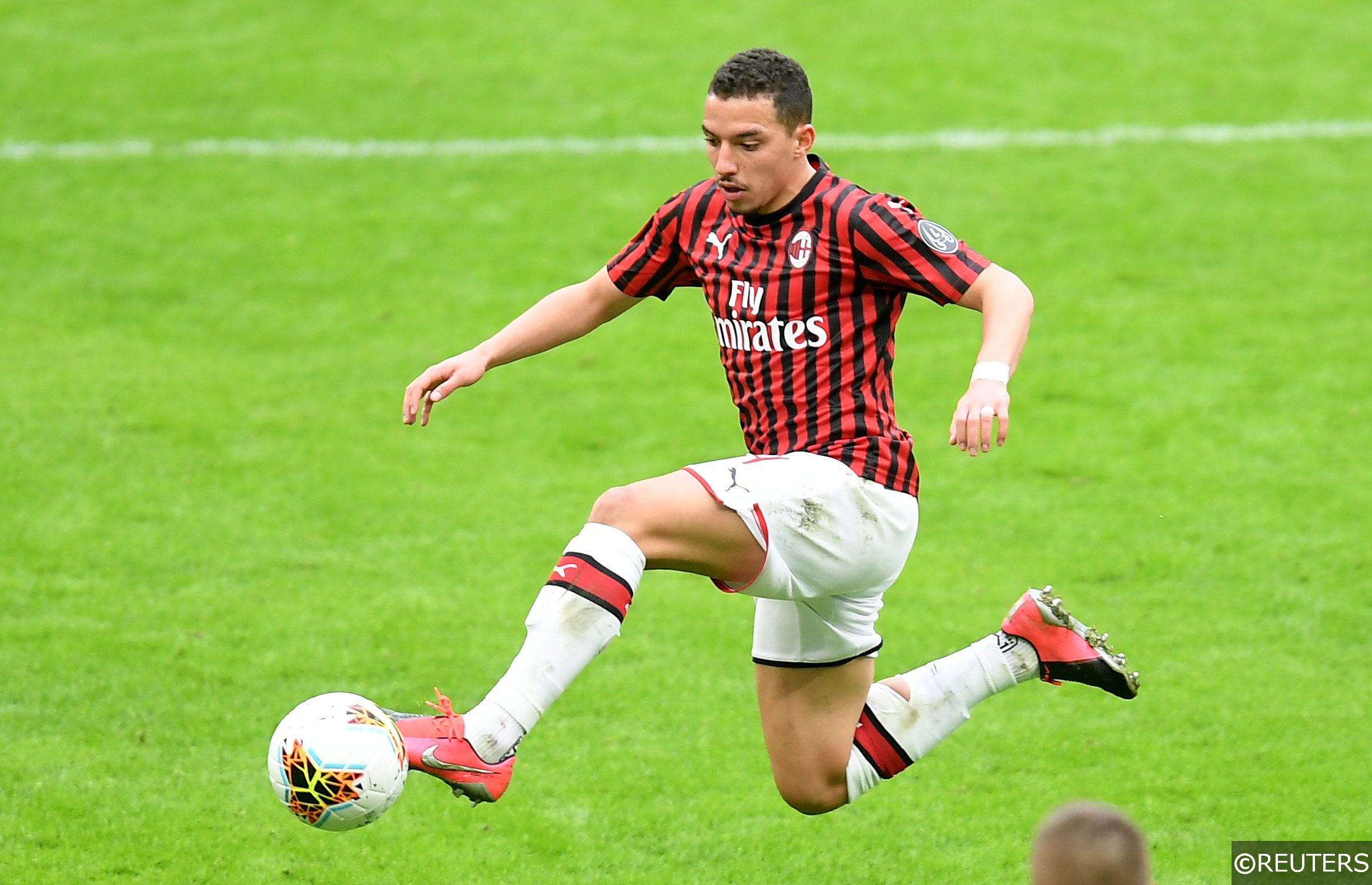 European Chase
Napoli's cup win means they have booked their Europa League spot, meaning the last European place is currently held by AC Milan in seventh. There are six sides within six points of the Rossoneri, stretching to 13th placed Fiorentina.
Given that Milan essentially volunteered to give up their Europa League spot this season, their push for seventh isn't that convincing. It also isn't as interesting as the chasing pack, which includes newly promoted Verona, Parma – in their second season back – and Bologna.
Bologna manager Sinisa Mihajlovic couldn't attend games after his leukaemia diagnosis. He'll take charge of his side at the restart with his attack-minded team just two-points shy of Europe. Having taken them from the bottom three while fighting illness on the way, the Europa League would be an incredible moment for Mihajlovic and the Rossoblu.
Key Fixtures
1st July – Verona vs Parma
15th July – AC Milan vs Parma
18th July – AC Milan vs Bologna
Survival Fight
Brescia look like they're already gone at the bottom of the table. Mario Balotelli has already left the club, while Sandro Tonali isn't far behind him. Meanwhile, Spal will need the greatest of their signature late surges to survive this time around.
Lecce are still in the fight, with seven sides within seven points of them. Fiorentina – possible Europa League contenders – are just five points clear of 18th. This relegation battle could be brutal, with plenty of teams struggling. Torino are two-points above the drop after a six game losing streak. They were a Europa League side as recently as August.
Meanwhile, Leicester fans will want to keep an eye on Sampdoria and Claudio Ranieri. His side are only a point above the drop, with their bitter city rivals Genoa also a point behind them. While the title and European spots are wide open, the greatest tension seems to be at the bottom.
Key Fixtures
23rd June – Udinese vs Torino (Premier Sports)
1st July – Lecce vs Sampdoria
15th July – Fiorentina vs Lecce
19th July – Genoa vs Lecce
Immobile Moving in on Golden Boot
The battle for the Capocannoniere reflects the title race, with the frontmen for the top three all fighting it out for glory. Inter's Romelu Lukaku is trailing, with the focus on Cristiano Ronaldo and Ciro Immobile.
Lazio's Immobile is enjoying an incredible campaign. He already has 27 goals to give him a six-goal lead over the struggling Ronaldo. Lazio's impressive creativity should continue to feed the Italian forward as he fires them towards the title.
More FST News:
5 Serie A goalscorers to watch when Italian football returns this week
Premier League refresher: What's the state of play as we return to action?
Championship refresher: State of play ahead of this weekend's restart