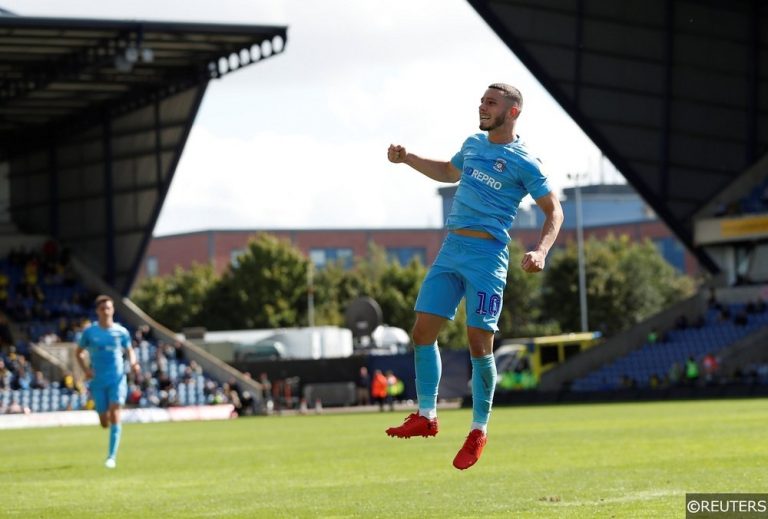 When Coventry were last in League One, their season ended in tears. Having started badly and having been unable to get themselves going at any point, the Sky Blues found themselves consigned to relegation several weeks before the end of the 2016/17 season, though it hasn't taken the team who play their home matches at the Ricoh Arena long to bounce back.
Read More: FA Cup First Round: Easy pickings or betting minefield?
Just one season in League Two was all it took for Mark Robins to propel Coventry back into England's third division, and since coming back up they've started to impress.
Building momentum
At the start of the campaign, much of the talk was about Luton and it was the Hatters who, out of those who won promotion from the fourth division, would take League One by storm. However, while Luton have indeed impressed, Coventry, who're now unbeaten in six and have lost just two of their last ten in the league, have got in on the act too.
It took Mark Robins' men a while to adjust, but they've really started to pick up the pace over the last month or so, so much so that they've quickly put themselves into a very handy position right in the slipstream of those currently occupying the four play-off places.
All-round quality
Recent results tell us that Coventry are a good a team; they've won five of their last six, have beaten some decent sides in Doncaster, Charlton and Southend, while they recently took a share of the spoils against an Accrington team that is also moving in the right direction, though it's easy to let results/form cloud our judgement. Do Coventry's underlying performances support the fact that they're a team to keep on side? Quite simply, yes, they do.
Read More: Who's the biggest team in the Championship?
In terms of xG (expected goals), Coventry rank well. The Sky Blues currently rank 6th in terms of expected goals against, while only one team in the entire division stands above them in the expected goals for (xGf) table. If we break it down further, we can see that Robins' side have a positive expected goal difference both at home and away, as they're averaging +0.73 at Ricoh Arena and +0.41 on their travels. Such stats suggest that Coventry are a team to take very seriously.
Coventry are also excelling in other areas too. For example, they're the fourth best team in terms of progressive passes, only five teams have conceded less goals, while only six teams have conceded less shots on target. In addition, Robins' men haven't been knocked about by the big boys; they beat Barnsley, drew with Sunderland and lost by just a single goal against current league leaders Portsmouth. In those three matches, Coventry clocked a total of 5.19 expected goals, while they conceded 3.75.
Verdict
Having got themselves into a strong position as we approach the half-way point of the campaign, finishing inside the top six must be the aim for Coventry. Given what we've seen from them so far, punters shouldn't be put off backing the Sky Blues to finish inside the top six, especially at a generous-looking 3/1. Considering that there are several teams, some of which have created a more negative impression than Mark Robins' men, with shorter top-six price-tags, it's easy to feel that there's a touch of value to be had by backing Coventry to fill one of the first six places come May.