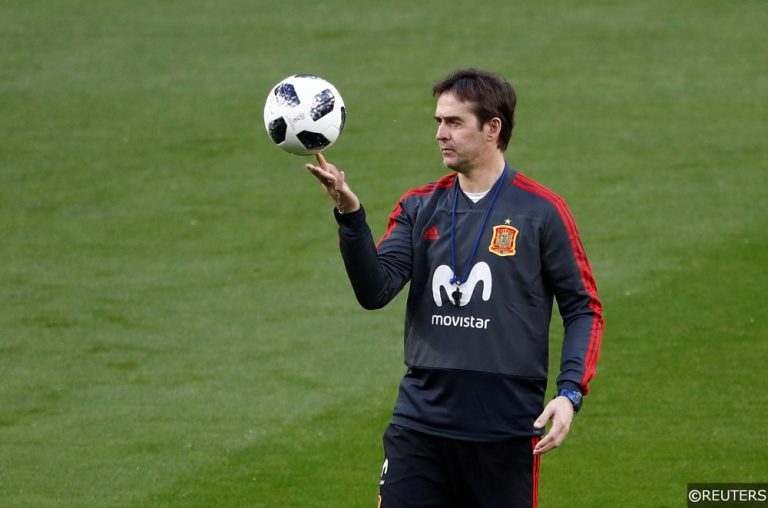 Content Editor at Free Super Tips, Alex was born in the shadow of Old Trafford and is an avid Man Utd fan. After graduating from university he combined his love of football, writing and betting to join FST and now closely follows goings-on in all of the top European leagues.
One of the favourites for the 2018 World Cup have been rocked by a dramatic turn of events just days before their opening match. Spain have sacked coach Julen Lopetegui just 48 hours before their crunch group clash with neighbours Portugal. The decision comes just a day after it was announced that Lopetegui would take charge of Real Madrid after the tournament.
Spain have drifted out to fourth favourites with most bookies as a result of the news and can now be backed to win the trophy at odds as long as 7/1. La Roja's Sporting Director and former international Fernando Hierro has taken charge and will now be responsible for picking up the pieces and preparing the side throughout the World Cup.
Read more: What did we learn from Spain's warm-up friendlies
Lopetegui Departs – A Timeline
22nd May – Lopetegui signs new Two Year Contract
Only last month Julen Lopetegui penned a new two year deal to continue in the role after the World Cup and lead Spain until at least Euro 2020. Having guided La Roja to Russia and having not yet tasted defeat as Spain boss, Lopetegui was a popular figure and widely regarded to be doing an excellent job.
If anyone's good at Photoshop, the RFEF could do with a helping hand here… pic.twitter.com/PU0zd2QRd9

— The Spanish Football Podcast (@tsf_podcast) June 13, 2018
31st May – Zinedine Zidane leaves Real Madrid
It has been a real month of surprises in the world of Spanish football. The first major bolt from the blue came as Zinedine Zidane announced his resignation as Real Madrid coach having only just clinched a remarkable third straight Champions League crown. It created a vacancy at one of Spain's undisputed 'Big Two', jobs which are seen as considerably bigger and are certainly better paid than that of the Spanish national team coach.
Even so, initially Lopetegui's name wasn't really in the frame. Tottenham's Mauricio Pochettino was thought to be Real Madrid president Florentino Pérez's preferred option. The likes of Massimiliano Allegri, Antonio Conte and Arsene Wenger were mentioned meanwhile Real's youth team coach Guti was seen as a good choice if Los Blancos again opted to promote one of their own.
7th June – Spain Depart for Russia, Lopetegui in negotiations with Real Madrid?
Julen Lopetegui was on the verge of taking over at English Championship club Wolves when he got the call about becoming the new Spain boss in the summer of 2016. Two years on, he found himself on a Russia-bound flight with a talented squad that stood a great chance of going all the way and sealing World Cup glory. In theory, there was nothing that could feasibly distract him from the biggest and most important challenge of his coaching career.
However around the same time and unbeknown the Spanish Football Federation (RFEF), he was talking to Real Madrid and at some point agreed a deal to take over from Zinedine Zidane. One of the main reasons he emerged as an outstanding candidate for the Bernabeu hot-seat was his familiarity with some of Real's emerging Spanish players such as Isco, Lucas Vázquez and Marco Asensio, who are likely to play a key role over the next few years.
Read more: Spain's World Cup Timeline in Russia
12th June – Lopetegui announced as Real Madrid boss
👋 @julenlopetegui#WelcomeLopetegui | #RealMadrid pic.twitter.com/5eYmFEh6Ua

— #CHAMP13NS 🇺🇸🇬🇧 (@realmadriden) June 12, 2018

Just three days before Spain's opening World Cup game against Portugal, an announcement was made stating that Julen Lopetegui would be taking charge of Real Madrid. It's relatively rare in modern football, that a big story catches everyone by surprise but there were no media reports or rumours suggesting the move was imminent and it genuinely caught everyone off-guard, including it would seem RFEF president Luis Rubiales. He himself had only taken on his role the previous month and claimed to only find out about Lopetegui's move to Madrid five minutes before it was announced to the press.
13th June – Spain fire Lopetegui, Fernando Hierro takes charge
A Spain press conference was scheduled anyway for Wednesday and when Luis Rubiales rocked up without Julen Lopetegui by his side, it was clear something was up. Rubiales had reportedly spent the morning talking to some Spanish players who were keen for Lopetegui to stay on but their pleas fell on deaf ears as Rubiales told the waiting press in Krasnodar that the decision had been made to remove Lopetegui and put Fernando Hierro in charge for the duration of the 2018 World Cup.
OFICIAL | Fernando Hierro asumirá el cargo de seleccionador nacional durante el Campeonato del Mundo de Rusia. https://t.co/JEjH39loc7

— RFEF (@rfef) June 13, 2018
Why wasn't Lopetegui's move to Real Madrid announced after the World Cup?
The best solution for all parties, cynics might say excluding Real Madrid, would have been for Lopetegui's move to the Bernabeu to have simply been announced after the conclusion of Spain's participation in the 2018 World Cup. It would have allowed Lopetegui to focus on the job of leading Spain in Russia and would have prevented the inevitable distractions that will now overshadow La Roja's opening game against Portugal.
However it's unfeasible that Florentino Perez would have appointed Lopetegui without speaking to at least his captain Sergio Ramos and perhaps several other members of Spain's Real contingent. There are six Real players in Spain's World Cup squad, more than any other team and while rumours are still swirling it seems as though they were made aware of the move several days previously and the suggestion is that at some point that leaked to other members of the Spanish squad.
By which point it seems the fear the news could be leaked out forced Lopetegui into making his switch to the Bernabeu public. While the timing was hardly brilliant, before the World Cup was certainly viewed as preferable to the news breaking during the tournament itself.
Were the Spanish Football Federation right to sack him?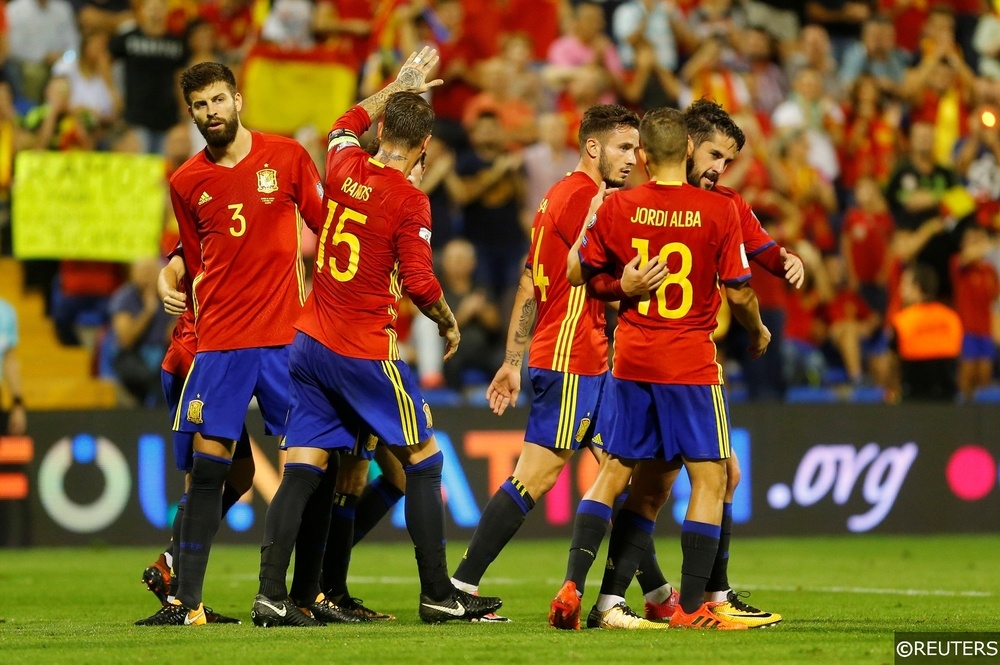 Certainly the Spanish Football Federation had every right to be angry at Lopetegui essentially going behind their backs to thrash out a deal to take charge of Real Madrid justs weeks after signing a new contract as Spain boss. However the general consensus seems to be that it would have been better for Spain's World Cup chances had they just swallowed some pride and let Lopetegui continue, particularly given the excellent job he was doing.
The logic behind their decision to remove him from the fold might come from the fear of a Barcelona-Real Madrid divide emerging in the camp. One of the main reasons Spain have flourished over the past decade, is that they've finally managed to put that old rivalry behind them at international level at least and clearly that would have been compromised slightly by having effectively the Real Madrid boss in charge of the national team.
However with only three Barca players in the squad, all of whom are guaranteed starters, it's hard to see how any difficult selection issues could have arisen and even so, you'd like to think in a competition of the magnitude of the World Cup, such factors would have had no bearing. Instead this feels more the case of a new president putting personal pride before his nation's World Cup chances and wanting to stamp his authority on the role and show his unwillingness to be pushed around by either of Spain's two domestic giants.
'The negotiations took place without the RFEF's knowledge. We found out 5 minutes before the press release. There are ways of behaving' Rubiales claimed in his press conference this morning. It's fair to say that if Spain's World Cup campaign doesn't go well, he will end up carrying a significant portion of the blame for dismissing a popular and successful coach on the very eve of the tournament.
Follow Free Super Tips on Twitter to stay up to date with our daily tips and predictions or browse more football content on our website: