Over 2.5 total goals is one of the most popular and commonly used markets in football betting. Punters and bettors find that landing winning bets from that market can often be a little easier then forecasting the outright final result for the same set of fixtures.
Of course, some teams are involved in high scoring, action-packed matches much more often than others.
Naturally, the clubs with the consistently healthy goal per game averages are always terrific options to consider in the aforementioned total goals markets.
To help you get a better idea of where to find the best teams for over 2.5 goals and leagues with over 2.5 goals trends and consistently high goal averages, FST has compiled a list of the clubs across Europe that have been posting some really interesting numbers.
Check it out below.
Remember- you can get up to speed with all our betting tips on our Match Predictions page.
Major European Leagues – "The Big 5"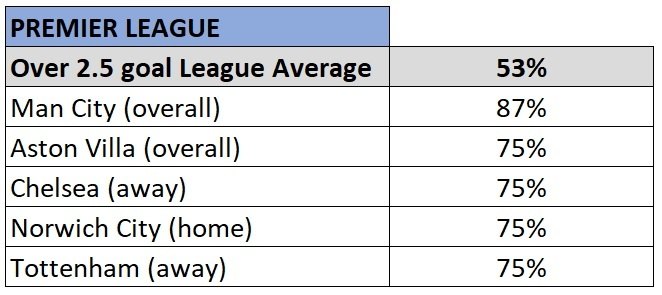 First off, we'll dip our toes into Europe's major domestic leagues – the quintet of competitions generally refereed to as the continent's "Big 5".
Our first port of call is the English Premier League, where the division's over 2.5 goal average across all 229 fixtures played so far in 2019/20 stands at a rather uninspiring 53%.
Behind that middling figure however, we find Manchester City's noteworthy over 2.5 goals per game percentage from their fixtures this term, which currently sits at a whopping 87% after their recent pulsating 2-2 draw at home to Crystal Palace.
Relegation candidates Aston Villa hold the next best over 2.5 goals per game percentage (75%) – a figure, unfortunately for them, that has largely been fueled by a dreadful defensive record that is currently the second worst in the division.
Elsewhere, punters hunting for goals are advised to keep a watchful eye on Chelsea and Tottenham's away matches as well as bottom club Norwich City's home games. All three clubs have seen over 2.5 goals hit the net in 75% of their league fixtures there.

At 46%, La Liga's over 2.5 goal per game league average is considerably lower than the Premier League's equivalent figure so far this season. As always however, there are some pattern crackers lurking beneath the surface.
Mid-table languishers Villarreal have been a thrill a minute to watch in their games away from El Madrigal in 2019/20, with a huge 90% of their away games seeing three goals or more since last August.
Unsurprisingly, the perennially prolific Barcelona make an appearance on the list for their goal-getting displays at Camp Nou with over 2.5 goals hitting the net there in 80% of their La Liga matches on home turf, though finding value in that market for any Barca fixtures at that venue is tricky.
Punters would be better served to consider surfing the over 2.5 goals markets when Real Betis are playing at home. Over 2.5 goals were scored in massive 82% of Los Verdiblancos' league games at the Benito Villamarín Stadium so far this season.

In Ligue 1, Monaco might still be struggling for consistency in terms of results, though they are still one of the league's great entertainers and best teams for over 2.5 goals, especially when performing in the Principality. Over 2.5 goals rattled the net at the Stade Louis II in an amazing 90% of 10 league fixtures contested there so far this term.
Alongside Monaco's home matches, it's also worth casting a glance at the the goals markets whenever Toulouse and Lyon are the traveling team. 80% of Toulouse's Ligue 1 away games have seen over 2.5 goals scored in 2019/20, while the equivalent figure in Lyon's away matches (72%) also marks Les Gones out as a prime mover in the market.
Of course, Ligue 1's noticeably low overall over 2.5 goals per game average (48%) also makes it an interesting competition for punters searching for options and leagues with under 2.5 goals and patterns.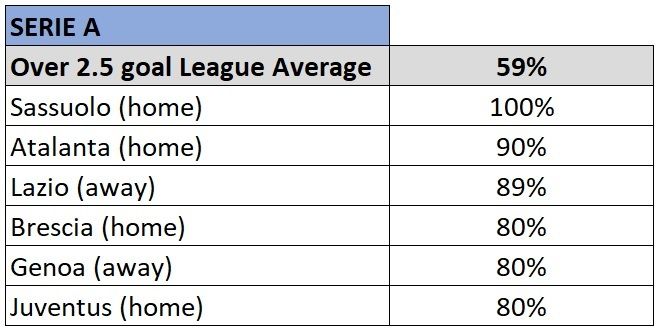 With almost two thirds of the competition's matches seeing over 2.5 goals this season, Italy's Serie A has jumped up a few levels in the entertainment stakes this season. A year ago, just over half of the division's matches passed that goals threshold, and at present at least, it looks as though clubs in Italy's top flight have abandoned their traditional defensive leanings in favour of a more attacking approach.
Sassuolo and Atalanta stand apart as Serie A's biggest purveyors of prolificacy and two of the best over 2.5 teams to date in 2019/20, with three or more goals hitting the net in 100% and 90% of their respective home games since last summer.
Elsewhere, Lazio (A), Brescia (H), Genoa (A) and Juventus (H) have all had supporters on the edge of their seats at various junctures this season, and all four clubs carry healthy goal per game averages into the second half of the campaign

The consistently exciting Bundesliga in Germany is always an over 2.5 goal punters' favourite. With an over 2.5 goal league average of 69% for the season so far, the German top flight is routinely a great place to find gluts of goal-mouth action.
In terms of individual teams, Borussia Dortmund have seen at least 3 goals in an incredible 90% of their away games, while Bayern Munich, RB Leipzig and Mainz' respective 89% figures for their overall and away matches are also impressive.
With the division's reputation for producing the goods and the goals well established, the Bundesliga always features heavily in our regularly updated over 2.5 goals tips and predictions page. Make sure to check it out to see our latest goal-laden predictions!
The Best of the Rest
In the table above, we've complied a selection of other hidden gems to look out for this season when filling out your over 2.5 goals accas. Austrian title holders RB Salzburg have been decimating teams left, right and centre on home soil this season, though they might have trouble maintaining their perfect over 2.5 goals record at home after the departure of key attacking duo Takumi Minamino and Erling Braut Haaland during the January transfer window.
RB are joined by fellow Austrian Bundesliga outfits St. Poelten, Harteberg and Mattersberg on our rundown, and all three clubs have greatly contributed to the division's healthy 69% over 2.5 average for 2019/20 so far.
Over 2.5 goals were also scored in 100% of PEC Zwolle's home games in the Eredivisie this term, though with a record of just three wins from nine at the MAC³PARK Stadion, it looks like the Dutch club make our list for the wrong reasons.
PEC Zwolle are joined on the list by fellow Eredivisie side PSV, who have seen a minimum of three goals scored in 89% of their league contests in Eindhoven this season.
Scottish Premiership duo Livingston and Ross County have also shown an aptitude for entertainment in 2019/20, while the Swiss Super League provides a triple entry with the inclusion of FC Basel, St. Gallen and FC Zurich in our goal-laden annals.
There are also teams to follow in England's lower leagues with the Championship's Luton Town, and League One pair Fleetwood and Rochdale all posting promising figures in the over 2.5 goals stakes.
Make sure to bookmark this page to keep abreast of the regular updates we make to the information we've presented here.
Looking for more exclusive football tips and predictions? Check out our free football betting tips page now!