Over 2.5 total goals is one of the most popular and commonly used markets in football betting. Punters and bettors find that landing winning bets from that market can often be a little easier then forecasting the outright final result for the same set of fixtures.
Of course, some teams are involved in high scoring, action-packed matches much more often than others.
Naturally, the clubs with the consistently healthy goal per game averages are always terrific options to consider in the aforementioned total goals markets.
To help you get a better idea of where to find those teams with the consistently high goal averages, FST has compiled a list of the clubs across Europe that have been posting some really interesting numbers.
Check it out below.
Major European Leagues – "The Big 5"

First off, we'll dip our toes into Europe's major domestic leagues – the quintet of competitions generally refereed to as the continent's "Big 5".
Our first port of call is the English Premier League, where the division's over 2.5 goal average across all 250 fixtures played so far in 2018/19 stands at an uninspiring 56%.
Behind that middling figure however, we find Manchester City's exceptional total goals average from their fixtures at the Etihad Stadium, which currently sits at 92% after their recent 3-1 win there against Arsenal.
Their Manchester rivals United rank just behind them with a whopping 82% of their league matches at Old Trafford this season finishing with over 2.5 goals scored in them. Arsenal are the away team worth keeping an eye on – over 2.5 goals were scored in a staggering 83% of their games on the road this season.

At 47%, La Liga's over 2.5 goal per game league average is considerably lower than the Premier League's equivalent figure. As always however, there are some pattern crackers lurking beneath the surface.
It won't stop you in your tracks to see current Spanish champions and league leaders Barcelona's name on the list. Over 2.5 goals were scored in 75% of their league fixtures at the Nou Camp since the summer.
Finding decent value in the over 2.5 goal market for Barca's home matches is nigh on impossible, though Rayo Vallecano and Celta Vigo's stats make for much more interesting reading.
Over 2.5 goals rattled the net in 82% of Rayo's home games in La Liga this term, while Celta Vigo have taken their show on the road, with 80% of their away matches seeing at least 3 goals scored in them.

Like Barcelona, PSG's appearance on a high total goals list isn't likely to have readers swooning in disbelief. Beyond the league's most dominant force from the capital, Lille and Marseille are much worthier of our interest.
In a league where the average is just 48%, ever 2.5 goals found the net in a healthy 75% of Lille's home games, while Marseille's Ligue 1 away matches this season have hit that same 75% over 2.5 goal mark.

Turning our attentions a little further east, we land in Italy's Serie A, where the competition's over 2.5 goal per game average for the 2018/19 season so far stands at a so-so 50%.
A quartet of goal-getting, Italian trend disruptors smash that average however. Over 2.5 goals were scored in 82% of Eusebio Di Francesco's Roma team's league games at the Stadio Olimpico this season, while Atalanta, Empoli and Genoa have been pulling up trees on their travels, posting 82%, 80% and 80% over 2.5 goal figures respectively in their away games.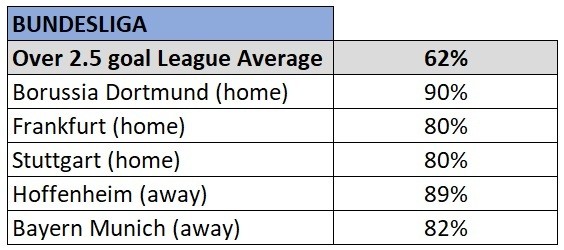 The perennially exciting Bundesliga in Germany is always an over 2.5 goal punters' favourite. With an over 2.5 goal league average of 62% for the season so far, the German top flight is always a great place to find gluts of goal-mouth action.
In terms of individual teams, Borussia Dortmund have seen at least 3 goals in an incredible 90% of their home games, while Frankfurt and Stuttgart's respective 80% figures for their home matches are also impressive.
Hoffenheim are the away day goal kings in Germany, with over 2.5 goals finding the net in a coupon cashing 89% of their Bundesliga away fixtures this season. Bayern Munich run them close with their 82% over 2.5 goal figure on the road however.
Below we've compiled a 5-fold accumulator built around the teams featured above for this weekend's fixtures,, and it comes in at a lucrative looking 20/1!
20/1
Over 2.5 goals in
Huddersfield vs Arsenal/Getafe vs Celta/PSG vs Bordeaux/Bologna vs Genoa/Borussia Dortmund vs Hoffenheim
Bet Now
New bet365 customers can
join here
The Best of the Rest
In the table above, we've complied a selection of other hidden gems to look out for this season. Dutch title holders PSV have been decimating teams in Eindhoven this season, scoring just under 4 goals per Eredivisie fixture at home this season.
They are joined on our list by fellow Dutch teams Heerenveen, Vitessee, AZ, Emmen and Fortuna – clubs whose progress is certainly worth following in the over 2.5 total goals markets.
Austrian mid-table outfit Hartberg have seen at least 3 goals in a notable 89% of their away games in 2018/19.
Swiss clubs St. Gallen, Young Boys and Sion have posted 89% over 2.5 goal figures in their home and away Swiss Super League matches this season, while Italian second tier side Padova smash their over 2.5 goal league average with their 82% overs record away from the Stadio Euganeo this term.
Foggia are Serie B's other goal average anomaly, with over 2.5 goals scored in 80% of their home games since the summer.
League One's Rochdale are our only English lower-league entry with over 2.5 goals finding the target in 81% of their matches away from Spotland in 2018/19. Portuguese club Nacional are the standout pick from the Liga NOS, with at least 3 goals rattling the net in 78% of their away games this season.
Only 4 of the 14 teams above have fixtures this weekend that would line up perfectly with the home/away stats and figures listed above, though a 4-fold accumulator built around that quartet of goal hungry teams still pays out at 10/1. You can back that selection with one click below!
10/1
Over 2.5 goals in
Cremonese vs Padova/Foggia vs Pescara/NAC vs AZ/Benfica vs Nacional
Bet Now
New bet365 customers can
join here
Check out all of our match previews, predictions and betting tips for all upcoming fixtures here.