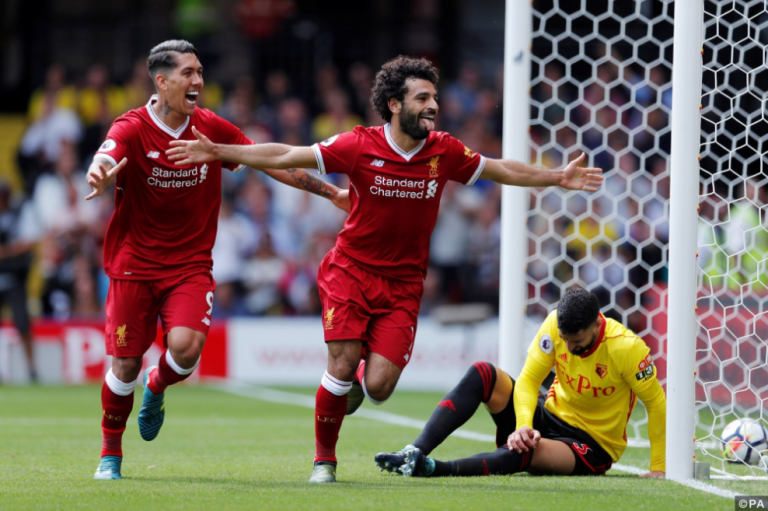 With just 3 game weeks (and four games for most teams) to go, the Golden Boot – given to the Premier League's top goal scorer – is down to just two players. Mo Salah and Harry Kane have both have exceptional seasons, and are realistically the only two players who still have a chance of winning this prestigious prize. We run through their remaining fixtures to see who will take it.
The bookies' clear favourite, Mo Salah has been in sensational form this season in all competitions. Especially so in the Premier League, where he has scored a hugely impressive 31 goals and gained 9 assists on top of that. His minutes per goal of just 86 is well clear of any other player apart from the now injured Sergio Aguero, and he's scored 5 more goals than Harry Kane despite having 20 less shots (and 6 less shots on target)
Stoke City (Home 28/04) – a perfect match up for Mo Salah in his next game against Stoke who have the leagues worst defense, having let in a total of 65 goals. Away from home this season they've conceded 3 goals to Arsenal and Man Utd and 5 to Chelsea. Salah scored twice the last time these two played and with this being the early kick off he can put some serious pressure on Harry Kane if he scores.
Chelsea (Away 06/05) – Liverpool's one tough remaining game, but depending on how results go this weekend there could be little to play for if Chelsea are 8 points behind 4th place. Chelsea have let in just 34 goals this season, so this could be a tough match up for Salah. He scored Liverpool's only goal in a 1-1 draw last time they played.
Brighton (Home 13/05) – An interesting fixture for Salah to end the season on. Brighton's defense is one of the better in the bottom half, but they have struggled to score goals. If Brighton fail to beat Burnley on Saturday, their last three games are against Man Utd, Man City & Liverpool, and they could be desperate for a point to ensure their safety. On the other hand, a point (or even a win) this weekend will mean Brighton have little to play for.
Harry Kane has finished 2nd, 1st, 1st in these rankings in the last three years, and the total he is on track for would ordinarily be enough for him to make it a hatrick. This hasn't been an ordinary year though, and despite his (slightly miraculous) recovery from what looked a damaging ankle injury, he has work to do to catch up five goals. That said, Tottenham do have a game in hand, and a brace or a hatrick in one of his next two fixtures will make things very interesting. Unlike Liverpool, Tottenham don't have any other competitions to worry about, having missed out on the FA Cup Final recently.
Watford (Home, 30/04) – The Monday night kick off sees Tottenham host a struggling Watford, and we can be sure Mo Salah will be tuning in to keep an eye on Kane. Watford started the season well but have the third worst defense in the league now and have been conceding regularly away from home. In 2018 alone, they have conceded 17 goals in 8 away Premier League games, and with their safety for next season essentially guaranteed Spurs could run riot.
West Brom (Away, 05/05) – Playing the day before Liverpool, this is really Kane's chance to bag a number of goals in one game. West Brom will more than likely have been relegated by this point, and that could well see rotation to give some young players a run out at the highest level to see how they may fare in the Championship next season. Salah managed just one against West Brom last week but Kane will be hopeful of more.
Newcastle (Away, 05/05) – Tottenham's game in hand is against a Newcastle team who have done well to solidify themselves as comfortably mid table this season. They've alrgely build that on a solid defense, letting inb just 43 goals – the 7th least in the league. Prior to game week 35, they've won 4 of their last 5, but could be another team with little to play for who opt to rotate.
Leicester City (Home, 13/05) – As always, all Premier League games on the final weekend are played at the same time. Given Tottenham's three games before this, they could go into this with a real chance. Leicester on paper look a similar match up to Brighton, with both teams (at this point in the season) having conceded exactly the same number of goals. Whether Salah is protected with a Champions League final in mind, or at the very least taken off before 90 minutes, could give Harry Kane an advantage.
Aguero was as short as 6/1 until just a few weeks ago, but a knee surgery has put paid to his hopes of finishing the season on a high. Argentina are expecting him to be back for the World Cup, but it's unlikely he'll feature in any of the remaining Premier League games. He will definitely miss out on Manchester City's trip to the London Stadium on Sunday lunch time. 10 goals behind Salah, there is more chance he loses his 3rd place position to Sterling or Vardy, who are 3 and 4 goals behind him respectively.
What do you think?
Do you think Salah has the Golden Boot in the bag, or does Harry Kane's run of fixtures – plus his extra game in hand – give him a fighting chance? Let us know what you think on Twitter at @FootySuperTips
Football Tips
We'll have free football betting tips for every match mentioned above, as well as all of our other Premier League predictions.