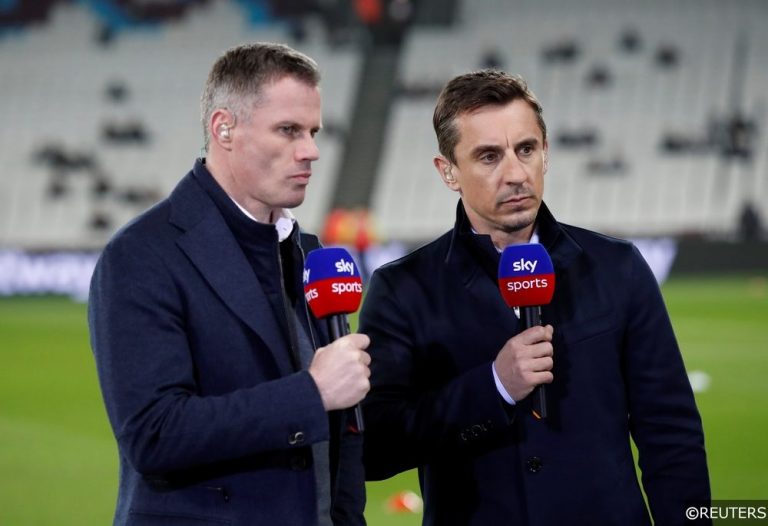 Simon Winter
@simonjwinter
Born in the south east of Ireland, Simon put his life-long love of football to good use when he started a successful independent blog in 2010. That opened up an alternative route to a career in journalism, and having had work published across a number of sites and publications, Simon joined the staff at Spotlight Sports Group in 2018.
For footballers at any level, few things hurt more than scoring an own goal – and that gut wrenching feeling you get when the ball deflects, swerves or bounces off you and into your own net is something no player wants to experience.
Inadvertently scoring an own goal in front of a packed stadium and the rest of the watching world at Premier League level must magnify that particular dose of sporting mortification times infinity, and it's a torment that has been endured by some players more than most.
To honour those calamitous creatures, we've decided to compile a list of the Premier League's most potent purveyors of self-sabotage in a top 10 rundown that nobody would ever hope to be included in.
Check out the top 10 Premier League all time own goal scorers below.
Wes Brown – 6 (3 for Manchester United, 3 for Sunderland)
Buried among the statistics from Wes Brown's lengthy Premier League career is some lovely goal-scoring symmetry. During his top tier adventures, the Man Utd academy product scored six times at the right end and six times at the wrong one, leaving him with a nicely balanced equation to look back on with pride.
Brown's best remembered gaffe was in Sunderland's meeting with his boyhood club and former employers Manchester United eight years ago. The teams deadlocked at 0-0, Brown scored the only goal of the game to hand the hosts three precious points at Old Trafford. And before you ask – no, he didn't mean it….
Ryan Shawcross – 6 (Stoke City)
Ryan Shawcross' loyalty to Stoke City down through the years has been incredibly admirable, though maybe the defender feels that he a debt to repay or a curse to life before he can leave the club,.
The wide-shouldered stopper scored a notable six own goals while donning the red and white stripes in the Premier League, two of which were blundered during Stoke's ill-fated 2016/17 campaign, when City's demotion to the Championship was confirmed.
Things have improved on the own-goal front for the 32-year-old since the Potters' relegation however. Shawcross is averaging just one own goal per season in England's second tier. Progress.
Gareth McAuley – 6 (West Brom)
The Northern Ireland international played 203 Premier League games overall for West Bro scoring an impressive 15 times during his seven-year stay with the Baggies.
However, McAuley, who won both the players' player and the fans' player of the for the 2012-13 season, also scored a whopping six times past his own goalkeeper while with plying his trade with the club.
McAuley's last OG for WBA came against Tottenham Hotspur in January 2017 in a 4-0 evisceration that also saw Harry Kane hit a devastating hattrick.
Phil Jagielka – 6 (5 for Everton, 1 for Sheffield United)
Generally reliable centre-back Phil Jagielka carried a more than reasonable goal-threat at the attacking end of the pitch earlier in his career, notching 18 times in total during his 14 seasons competing in the Premier League.
Jagielka's positive numbers are offset a little by his mishaps at the back however, and the veteran's record shows six particularly dark looking blots on it.
While the majority of Jagielka's mistakes were made in Everton blue, the defender did once do some damage in the wrong area in his first stretch with Sheffield United around a decade ago.
"Jags" only own for the Blades came during the 2006/07 season in a 0-3 reverse at Arsenal, though the talismanic up and comer bounced back with a last-minute winning goal in Sheffield United's very next game at home to Middlesbrough.
Rio Ferdinand – 6 (2 for Leeds, 2 for Man Utd, 2 for West Ham)
Cultured and consistent performer Rio Ferdinand had a career as good as anyone's in terms of silverware and success, though much to his chagrin, the ex-England international still makes the Premier League's top ten most prolific own goal scorers.
Ferdinand's most infamous own goal came in Manchester United's 2-1 defeat at Fratton Park against Portsmouth late in the 2006/07 season. Having failed to spot Edwin van der Sar rushing off his line to sweep up a through ball, Ferdinand lazily poked the ball past the Dutch keeper and into the empty United net.
Everyone remembers Ferdinand's stroppy reaction to his own mistake, complete with army throwing gesticulations and angry shouting, but even after his galling error and United's subsequent loss at Pompey blew the Premier League title race wide open, the Red Devils recovered to beat Jose Mourinho's Chelsea to first place.
Frank Sinclair – 6 (3 for Chelsea, 3 for Leicester City)
No mention of Premier League own goals or any conversation about the topic would complete without the name "Frank Sinclair".
During the 1999/00 season, Sinclair scored two own goals inside the space of three games to forever earn an association with the hideous accidental act, though his haul of six OGs in total probably doesn't match the calamitous reputation he carries.
Sinclair's most memorable own goal of all came away at Middlesbrough in a crucial relegation six pointer where he managed to score an own goal from a massive 40 yards when his attempted back pass went horribly wrong back in 2001/02.
Zat Knight – 7 (5 for Fulham, 2 for Bolton)
Towering centre-half Zat Knight is one of two former Premier League players to have scored a magnificent seven own goals.
Knight made over 250 top-flight appearances during stints with Fulham, Aston Villa and Bolton, though his time with the Cottagers was undoubtedly the most error strewn.
The 6' 6" giant averaged an own goal every 30 run outs for Fulham, though he still impressed enough at Craven Cottage to earn a £3.5m move to the Villains in 2007.
Jamie Carragher – 7 (Liverpool)
Dyed in the wool Liverpool lad Jamie Carragher scored just three goals during his time with the Merseysiders, leaving him with a hefty negative goal difference from his double decade career at Anfield.
Carragher famously scored two own goals in one game between Liverpool and their arch rivals Manchester United in a 3-2 loss for the hosts at Anfield, a brace that made him a legend for both clubs for very different reasons.
Interestingly, the former Reds stalwart and current pundit scored more goals for Man Utd against Liverpool at Anfield, or in fact any contest between the bitter antagonists, than his Sky Sports sidekicks Gary Neville and Roy Keane combined.
Martin Skrtel – 7 (Liverpool)
Ex-Red Carragher is joined on seven own goals by another former Liverpool defender in Martin Skrtel. The mere whisper of the Czech Republic international's name is still enough to send shivers of despair coursing through the Kop.
Skrtel's own goal total is dreadful enough as a stand-alone figure, though the number of mistakes he made leading to other goals, particularly in his latter seasons with Liverpool, is a number too terrifying to contemplate.
Martin Skrtel set a record of scoring more own goals in a single season when he scored four in the 2013/14 Premier League campaign. Quite the achievement that.
Richard Dunne – 10 (6 for Man City, 2 for Aston Villa, 2 for QPR)
Former Republic of Ireland international Richard Dunne is the undisputed king of the Premier League own goal, and the only player in the division's history to reach double digit figures for netting at the wrong end.
In an equally remarkable and lamentable twist, six of the own goals Dunne scored while representing Man City, Aston Villa and QPR proved to be match-defining strikes, with four of them the only goal his opponents scored that day.
Dunne also holds another unwanted Premier League record – he ranks joint first for all time red cards received (eight) alongside Duncan Ferguson and Patrick Vieira.
More FST News:
Midfielders ranked! Who are the seven best midfielders in the world?
Right backs ranked! Who are the seven best right backs in the world?
RANKED – The best Premier League goalkeepers from 20 to 1
Football Manager 2020 wonderkids: Goalkeepers
Football Manager 2020 wonderkids: 16 of the best when money is no object