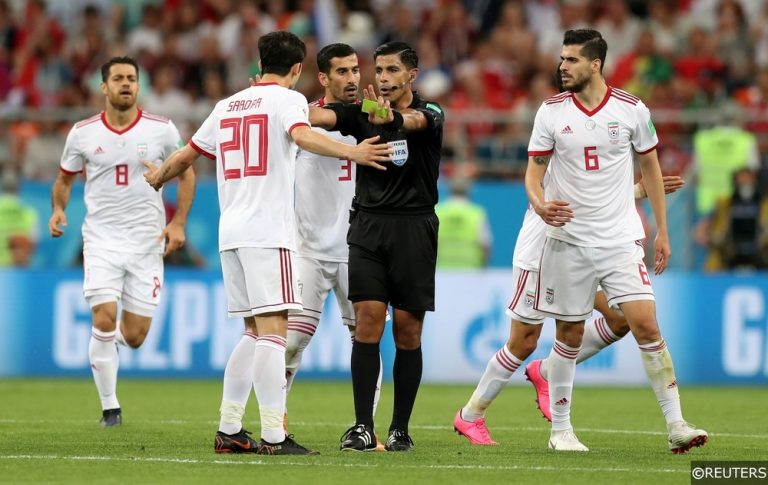 Simon Winter
@simonjwinter
Born in the south east of Ireland, Simon put his life-long love of football to good use when he started a successful independent blog in 2010. That opened up an alternative route to a career in journalism, and having had work published across a number of sites and publications, Simon joined the staff at Spotlight Sports Group in 2018.
"60% of the time, it works EVERY time."
Seedy Channel 4 co-anchor Brian Fantana, played by Paul Rudd, delivers the line above in the movie 'Anchorman' when listing the merits of his favourite cologne 'Sex Panther' to his colleague Ron Burgundy. It's a line I always find myself quoting when watching a football match where VAR is in operation.
It seems funny now that many anti-VAR advocates were concerned that the introduction of the technology would wipe out all those conversational post-match "talking points in the pub" that people like to pore over. As it turns out, their fears were unfounded. In fact, the pubs probably aren't open late enough for people to discuss all the VAR related incidents fully. If it's talking points you wanted – you've got 'em.
Read More: FST's Road to Moscow Pt 10 – Guiding England to Glory (on Football Manager) – Semi Finals
Early incarnations of VAR technology were trialled and introduced around two years ago and it's easy to forget just how big the clamour was for that initial introduction. It's not inaccurate to suggest that there was a universal acceptance that officials needed help in some form and that football fans unanimously wanted fewer incorrect, game-defining decisions made.
Referees, traditionally the victims of the all-seeing eyes of TV replays, would now be able to wield the same power that had for the longest time torn their decisions to shreds. At last, they too would be able to see the same brush of contact that the rest of us saw, slowed down and magnified times five on the eighth replay of that penalty that should have been. Futurists rejoice. What could go wrong?
Unfortunately, now that the help is finally here, the football fraternity doesn't seem to want it. Now it's VAR's turn to be vilified and torn to shreds, though most of the ire it receives has been completely misdirected. Change is always greeted with a hefty dollop of skepticism, though games like Spurs' farcical FA Cup match against Rochdale in March, where VAR was an ever present menace, certainly didn't help.
Technology And Human Error
The technology works – I mean, of course it does. It's action replays on a TV screen. We've had those for ages. However, one of the key aspects of the system and the facet that will always cause the most controversy is that VAR still has no control over the final decision made by the referee on incidents that he reviews on the side of the pitch.
In its current guise, it's a technology that cannot fully eradicate human error and the misguided expectations by those who think it can, are the driving force behind the frustration the VAR decisions cause.
VAR can only be as efficient and competent as the referees using the system. It still boils down the subjectivity of the individual viewing the incident and all that really means is that football will STILL have as many incorrect decisions as correct ones.
Using video replays to help a referee arrive at a more informed decision seems like a no brainer. However, if the referee making the final decision is a "no brain-er", then the system is redundant.
Read More: Spain Win Group B but Morocco expose vulnerabilities
Portugal's 1-1 World Cup Group B match against Iran encapsulated perfectly what the VAR system is always likely to be inherently flawed. The VAR's first intervention came when the referee, Enrique Caceres, missed a foul on Ronaldo as he was scythed down in the Iranian box. He was advised to review the incident through his ear piece and did so at the side of the pitch. Upon reviewing the footage, he arrived at the correct and easy decision – penalty to Portugal. System 1 Naysayers 0.
Iran were incensed at the decision and made frivolous retaliatory claims and calls for VAR intervention on numerous occasions. When Portuguese captain Cristiano Ronaldo appeared to throw an arm into the face of Alireza Berianvand, VAR once again intervened, drawing Caceres back to his viewing station on the touchline.
VAR Flaws Highlighted
Here, the interpretation of the individual and not the use of the VAR technology itself was the root of the uproar that followed. With angles and replays absorbed, Caceres decided that a yellow card was sufficient punishment for Ronaldo. Again, the Iranian bench exploded in apoplectic protestation, though the split in opinion from observers after the match concerning the elbow incident only served to highlight just how problematic the VAR system can be.
Iran were placated somewhat when they were awarded a 93rd minute penalty when Portuguese fullback Cedric inadvertently handled the ball.  It was Iran's 4th penalty claim of the night and you sensed that the pressure from a hattrick of denials might have pushed Caceres over the edge. The decision to award the spot kick was at best soft and it took the Paraguayan official an age to make the call, when really it shouldn't have.
It was classic overthinking. The handball either was or it wasn't – three or four minutes of replays were unnecessary, though you couldn't help but feel sorry for Caceres as he continued to stare at the screen, isolated among thousands. In that instance, the illusory haze of support purported by the VAR system completely dissolved. All that was left was one man, one opinion and his whistle.  But isn't that all there has ever been?
If it still comes down to one individual and his subjective opinion, then maybe adding a layer of technology is a little pointless. Aren't we just wasting everybody's time? If referees can still make incorrect calls within the VAR system, then why use the system at all? Instead of eradicating human error, has VAR simply enhanced it? It would be a lot cheaper to just let these crap referees make crap decisions all on their own, seeing as they are going to make them anyway.
That brings us full circle back to misguided expectation. Maybe we thought that the VAR system would usher in a refereeing utopia of sorts, where flawless officiating and decision making came as standard. To expect perfection is naïve however, because in football there is no such thing. Even by the systems' administrators' own admission, VAR was introduced to "reduce" refereeing errors, not eliminate them altogether and within those parameters, it could be argued that the system has been a success at the World Cup overall.
Read More: World Cup Group Permutations: Who Can Still Qualify For The Last 16?
The time it has taken to reach the decisions has certainly fallen outside the system's target of "minimum interference, maximum benefit", though does it really disrupt the flow of a game any more than a player feigning injury?
Ultimately, the VAR technology can only ever work as well as the officials using it. The system isn't perfect, though we were silly to think it would be.
Follow Free Super Tips on Twitter to stay up to date with our daily tips and predictions or browse more football content on our website: