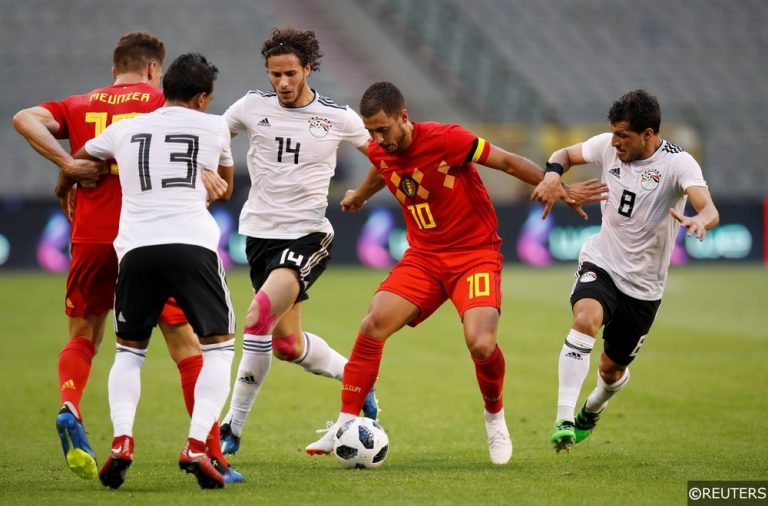 Before becoming a Sports Journalist for Free Super Tips, Aaron spent three years studying Sports Journalism at the University of Sunderland while taking in the Black Cats' 'glory years' under Martin O'Neill. Now back in Northern Ireland he turns niche stats into predictions for FST, while he's one of the few people on this island who is equally comfortable at Windsor Park and the Aviva.
What more could Belgium ask for than three wins from three at the World Cup? Well, when manager Roberto Martinez said that the priority was to finish second, success can be seen as failure.
The Red Devils finished up their group campaign with a 1-0 win over England on Thursday night, which has secured their place as the group winners. It was an odd finish to the first round, and we head in to the knockout stage with plenty of questions remaining. Chief among them, how has this result effected Belgium's hopes of winning the tournament?
Also See: Belgium Stars Who Could be on the Move
Belgium Succeed in Low Key Finale
There were 17 changes made ahead of Belgium and England's final game, as the two sets of managers looked to avoid securing top spot, for fear of a more difficult draw down the road. Martinez was open about his desire to not top the group, which must have been a strange thing to hear for the players ahead of a World Cup game.
Of course, they seemingly didn't all hear it. Adnan Januzaj scored an incredible goal to give Belgium the victory, after they'd done so well to push for second. The mood in the ground was so strange that the Belgian support cheered every yellow card for their side, which pushed them towards second. Overall, England looked more interested in winning the game, so everyone has come out slightly disappointed from the clash in Kaliningrad.
Does Victory Show Apathy for Martinez?
A worry for Roberto Martinez has to be that he said before the game that playing well and finishing second was the priority. Really, they did neither of those in their 1-0 victory. It doesn't help a manager who is struggling to control his squad when those pre-match comments backfire. To make matters worse, it now seems like he feared the draw which Belgium have ended up with. That's certainly an interesting way to try and build confidence.
There's been problems for Martinez almost throughout his Belgian reign. It's hard to see how long he can hang in the job, and there wouldn't be too many upset if he were to depart. Overall, the most worrying thing is that he can't seem to get his players to just do nothing when asked. After insulting their ability, motivating them from here on is going to be difficult for the Red Devil's boss.
Could Off Field Problems Hamper Belgium?
Did Anyone Make a Case to Start?
Of course, we're always told that big changes in the third game gives reserves a chance to impress. However, that wasn't exactly the case against England. Belgium changed nine of their 10 outfield plyers, and they avoided changing Thibaut Courtois for Simon Mignolet at all costs. The only player retained from the opening two games was Dedryck Boyata, who would have been benched so far had Vincent Kompany been fit for the tournament.
Unsurprisingly, Kompany's 20 minute cameo in a game no one wanted to win didn't tell us much about his condition. However, he probably would have started had Martinez not wanted his weakest side on the pitch. Kompany's place in the side will likely come down to his fitness over the next few days, so he hardly booked a starting place in this game.
Boyata was solid again, while the midfield duo of Youri Tielemans and Mousa Dembele did a solid job overall. There wasn't enough edge to the game for anyone to earn a starting spot. That's likely to see the Red Devils revert back to their usual side.
What Next for the Red Devils?
Top spot means Belgium progress to take on Japan on Monday night, as they are bound for Rostov for their second round encounter. It's not the most difficult of ties for the Red Devils, who have been able to ease in to this competition in their opening three games already. They've yet to be hugely tested, but the Belgian squad looks to be in good shape ahead of their first knockout clash.
They take on a Japan side who limped through the group. They lost 1-0 to Poland in their final game, playing some infamous keep-ball to avoid conceding a second. When your mentality is to avoid losing by two to an already eliminated side, then taking on Belgium might come across as a bit of a stretch. The bookies have already priced up Belgium as heavy favourites, so it seems like their World Cup journey still has some way left to go.
Potential Route to Final
What exactly lies in wait for the Belgians past their clash with Japan? Meeting the Asian side doesn't seem all that difficult, so just what were these two sides fearing? The top half of the draw – the one Belgium have landed in – doesn't seem quite so daunting now that the holders Germany failed to qualify.
The Red Devils have landed the easiest last 16 draw in their half of the bracket, but there are bigger threats to come. They are on course to meet Brazil in the quarter-finals, as long as the Samba Stars can claim a victory over Mexico. After a narrow defeat to Argentina in Brazil four years ago, there's issues for Belgium going in to the latter stages. They've now gone out in back to back quarter-finals, and this could well be three in a row.
Should Belgium beat Brazil, then they have little to fear from France, Argentina, Uruguay or Portugal later in the draw. Beat one of those four in Saint Petersburg and the Red Devils will be through to the World Cup final, perhaps for a potential rematch with a full-strength England side. Or, more realistically, Spain.
It all comes down to Belgium's big quarter-final test. After landing in the tough section of the draw, this is where the tournament really gets serious for the Red Devils.
Follow Free Super Tips on Twitter to stay up to date with our daily tips and predictions or browse more football content on our website: