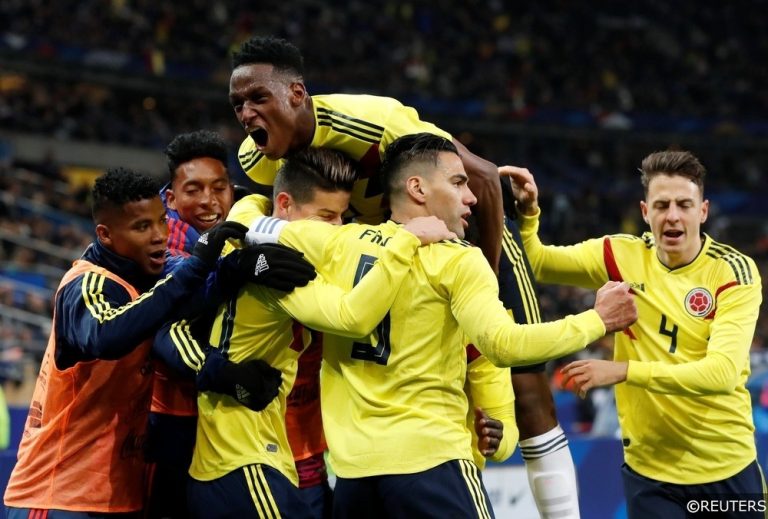 After struggling to a 2-1 defeat with 10 men in their Group H opener, Colombia kept their World Cup hopes alive with a dominant 3-0 victory over Poland. Said result leaves Los Cafeteros needing a win over Senegal in order to advance to the last 16 and they will be confident in getting it if they can produce a performance of a similar level. In the following article we take a look at just how the Colombians were able to secure such a comfortable win.
Be sure to check out our previews of every single World Cup match!
Defensive organisation:
Colombia were never really troubled defensively in the match and always looked like keeping a clean sheet. They conceded very few chances and those that they did were saved well by David Ospina.
In the second half in particular, Colombia sat deep and put men behind the ball in order to play on the break and despite Poland seeing lots possession as a result, Colombia remained well organised; restricting space well with their compact shape.
The fact that one of the world's best forwards, in the form of Robert Lewandowski, was kept so quiet is a testament to the centre back pairing of Yerry Mina and Davinson Sanchez, with the Bayern man patrolled superbly throughout the 90 minutes.
Whilst all members of the back four had good games, it was Mina who stood out the most. His physical attributes allowed him to dominate Poland's attackers and his reading of the game was very strong throughout. Mina's headed goal to open the scoring was a fitting cap for one of the match's standout performers.
Juan Cuadrado:
Cuadrado was the dominant figure on the right flank and played a big factor in Colombia's win. Despite covering huge amounts of ground, Cuadrado never tired and was crucial to the side not only offensively, but defensively, never allowing right back Santiago Arias to be exposed thanks to his strong cover.
In an attacking sense, Cuadrado was electrifying. Poland did not know how to deal with his pace and ability on the ball and he was a thorn in their side all match. Cuadrado's speed allowed Colombia to play on the break in the second half and indeed he wrapped up the match by making it 3-0 off of a devastating counter.
Juan Quintero and James Rodriguez: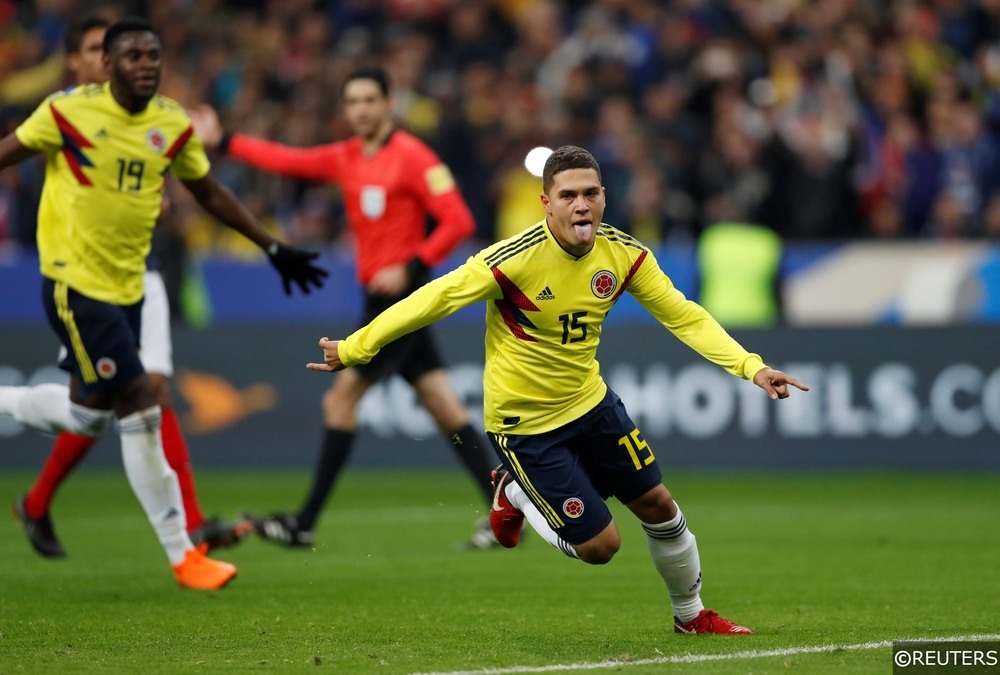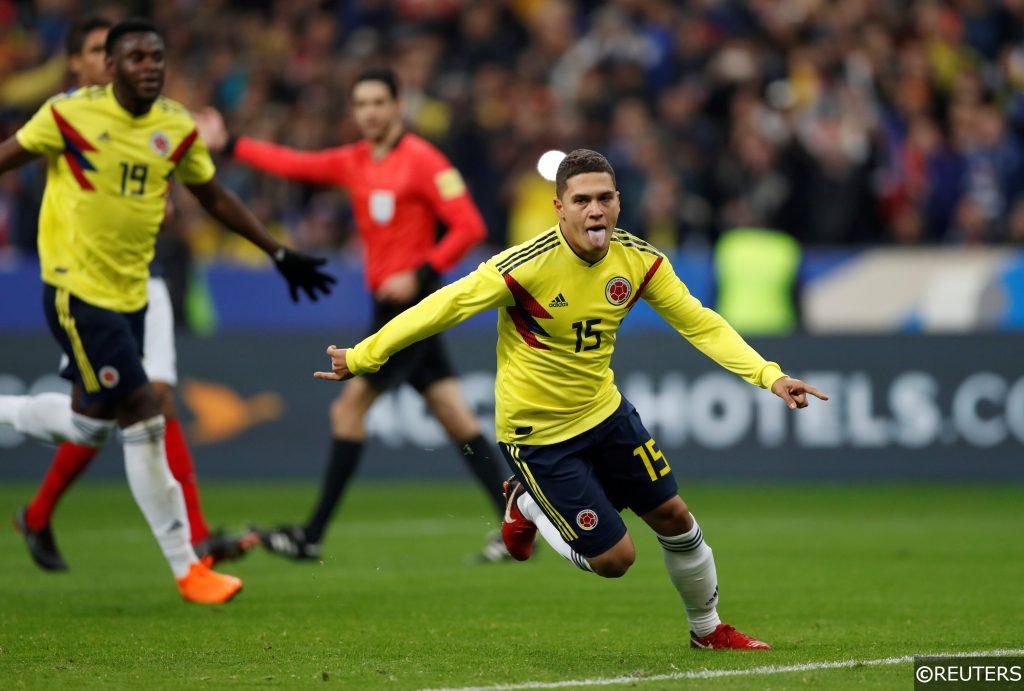 We pointed out that Juan Quintero could use the World Cup to resurrect his career in our feature of the River man and he's certainly grabbed the opportunity to play on the biggest stage so far, having been Colombia's star man in both games.
We also mentioned that he's looked the only man on the same wavelength as James Rodriguez in Colombian ranks and that proved to be the case in Kazan, with the two combining beautiful at times as well as demonstrating their respective astounding levels of technical ability.
Both men have the power to change a game in an instance and some of the threaded passes the two made were of the highest quality. Quintero's perfectly weighted pass into Falcao for Colombia's second goal was just one of a number he played and his left foot is undoubtedly up there with the world's finest in terms of passing ability.
The duo ended the game having made all three of Colombia's goals and if they can produce similar levels in the all important clash with Senegal, then the South Americans will be in with a great chance of picking up the three points.
Radamel Falcao:
Whilst the three man stationed behind him had very strong games and made his life a lot easier, Falcao also had a very impressive game and the Monaco hitman certainly looks to be making up for lost time; having missed the 2014 World Cup through injury.
Falcao's movement was intelligent throughout and given the quality of passers feeding him, he was regularly found in the final third. When isolated he held the ball up well and his link up play with the likes of Quintero, Rodriguez and Cuadrado undoubtedly helped them to have such impressive games.
Long regarded as one of the planet's deadliest finishers, Falcao showed exactly why when he made the scores 2-0. Though he had plenty of time after being slipped in, to flick the ball into the far corner with the outside of the boot as he did is far from an easy technique and topped a good evening's work for the number 9.
Jose Pekerman:
Boss Jose Pekerman also deserves credit for the win. Under pressure coming into the match, to start both Quintero and Rodriguez in such a crucial fixture showed huge courage from the Argentine and was far from the easy choice.
As good as they are going forward, neither of the two typically provide much in a defensive sense so to field both on the same pitch was certainly a bold move, but one which paid off massively, as mentioned above.
Overall, Pekerman set his team up perfectly and allowed his men to look comfortable throughout. The decision to drop deeper as the match developed helped Colombia to remain defensively strong and also forced Poland to play more aggresively, leaving room in behind to break; which resulted in both goals.
When you win such a high pressure game so convincingly, the manager always deserves credit and Pekerman is certainly no different in that regard.
Overall Conclusion:
This Colombian performance was more like those seen at the 2014 World Cup and though a tough game against a strong Senegal team awaits, La Tricolor look like they have more than enough about them to get the job done should they maintain the levels displayed against Poland.
Colombia didn't really have the chance to impress on opening day against Japan, going a man and goal down after 3 minutes but they certainly sent out a statement with their result here. After what we saw on Sunday, it'd be huge surprise if we didn't see Quintero and Rodriguez on the same pitch again against Senegal and with Cuadrado and Falcao also appearing sharp, Colombia look a real threat going forward and will be a danger to any nation they meet from here on in.
Follow Free Super Tips on Twitter to stay up to date with our daily tips and predictions or browse more football content on our website: