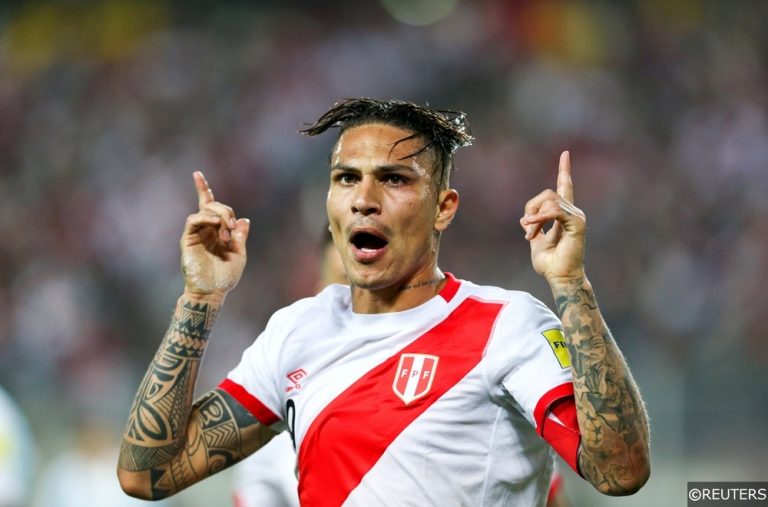 On the 1st of January, 1984, a boy named José Paolo Guerrero Gonzales was born. Few would know then, but he was to grow to be the leader and hero of over 30 million people, leading his country to their first World Cup in 36 years; a World Cup that that boy so cruelly no longer looks like being a part of.
Paolo Guerrero has had an illustrious career; 2 Bundesligas, 2 German Cups, One Brasileirão. A plethora of personal accolades, top scorer in the two editions of the Copa America, Striker of the Year in Brazil, the list really is endless. Guerrero even famously scored the goal that won Corinthians the Club World Cup against Chelsea. But none of that was what Guerrero dreamed for as a child; his dream was always to lead his country out at the world's biggest tournament
At the age of 34, Guerrero is heading towards the twilight of his career and representing the country he loves so dearly would have been the perfect swansong for a man that could easily have been forgiven for giving up hope and retiring from international football after Peru's last failed attempt at making it. Guerrero's uncle, José González, was a part of the last Peru squad to participate in the competition; but tragically perished 5 years later in the Alianza Lima disaster and now Guerrero looks like being denied what would have been a fitting tribute not just for his family, but everyone affected by the tragedy.
How has it come to this? A cup of tea. An infamous cup of tea that has put a permanent stain on not only Guerrero's career, but his personal character. Headlines around the world would have you believe the front man has been caught on a clear cocaine offence, but the details of the case are far more complex and the charges so trivial that even the captains of Peru's opponents in Russia have appealed for his presence when the action begins.
For more World Cup content, be sure to check out our betting blog. One of our featured articles there details other strange stories from World Cup history.
Trouble began for Guerrero after October's qualifying match away to Argentina; a routine anti-doping test flagged small amounts of benzoylecgonine, a metabolite of cocaine in Guerrero's system. He was initially banned for 30 days while further investigations were made, causing him to miss Peru's play-off matches against New Zealand to qualify for the World Cup.
By early December, Guerrero's charge sheet was drawn up and he was banned from all football activity for one year, breaking the heart of not just Paolo himself, but every Peruvian. Guerrero always maintained his innocence and began to mount his defence, posting on his official Facebook page that "I trust that the truth will soon be known and I will return to the fields to defend with soul and heart the colours of my country."
In the build up to the Argentina game, the Peruvian team were staying at Swissotel in Lima prior to flying to Buenos Aires, where Guerrero fell ill with a cold. To help relieve the symptoms he was given an Anisa tea, a totally above board beverage commonly used for its medicinal properties.
However another form of tea, called Coca tea is very common in Peru and other South American countries and as such, was sold regularly in the hotel. Made with the leaves of the plant used in the production of cocaine, it contains minute elements of the properties of the actual drug, but also has medicinal values and is commonly given to visitors to help prevent altitude sickness.
Guerrero's defence stems around the fact that the cup he drunk the Anisa tea was contaminated, most likely from inadequate washing after a person had previously drunk Coca Tea from it. All subsequent FIFA and Court of Arbitration for Sport investigations (CAS) supported Guerrero's claim; so minute were the traces of metabolite found in his urine.
The Swissotel were unwilling to support Guerrero's defence and refused to admit any wrongdoing, but both FIFA and CAS have accepted Guerrero's version of events, supported by scientific evidence, stating in their report that the striker did not intentionally ingest the substance, nor did he gain any sporting advantage from doing so.
As such, on the 20th December Guerrero's suspension was cut to 6 months, allowing him to defend Peru's colours at the World Cup. However, having already missed out on club Flamengo's Copa Sudamericana final, he wanted to clear his name once and for all and appealed to CAS for the suspension to be uplifted with immediate effect, a decision that eventually proved to be his downfall.
CAS once again accepted that Guerrero "did not attempt to enhance his performance by ingesting the prohibited substance" but also argued that the player should have taken better preventive measures,with the presumption being that he was fully aware of the popularity of Coca tea and the fact it would raise red flags on any anti-doping tests.
Once Guerrero's 6 month ban expired, he made a brief, goalscoring return for Flamengo but the CAS investigation, with the World Anti-Doping Committee calling for a long ban throughout it, came to the conclusion that the ban would be extended to 14 months, nailing the coffin on his World Cup dream and quite possibly his career.
A late, personal appeal to FIFA chief Gianni Infantino, with the support of the Peruvian Football Federation president Edwin Oviedo himself looks to be in-vain, with a FIFA statement explaining that whilst Infantino understands and sympathises with Guerrero's situation, he's unable to act now that CAS have made the defining decision.
As such, the World Cup has been left without one of its stars and a nation that should be overflowing with excitement and happiness has been left shattered by the news that it's prodigal son will not be a part of such a momentous event.
Quite how Peru replace their 69 cap, 24 goal talisman remains to be seen but for now all that can be felt is sorrow for the fact that the boy that grew to be the hero of children just like him will not be able to experience the swansong he has illusioned and fought for since the very beginning.
Follow Free Super Tips on Twitter to stay up to date with our daily tips and predictions or browse more football content on our website: