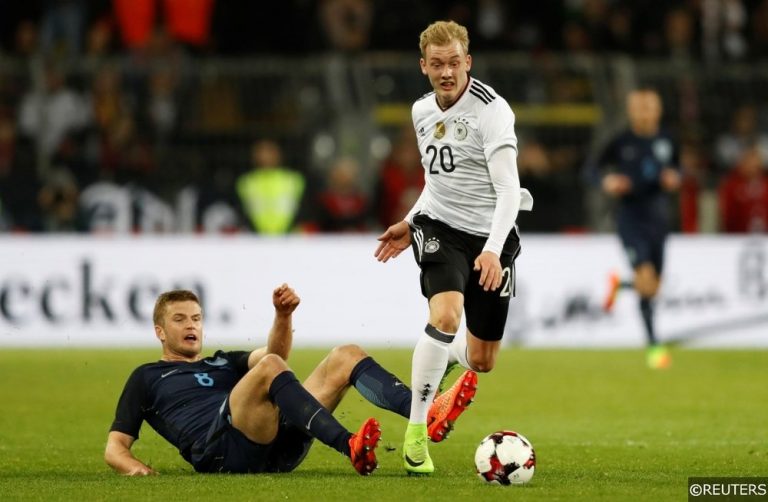 A lifelong Birmingham City fan, Tom relocated to Germany for five years after graduating from university, where his interest in the Bundesliga developed. He began writing about and betting on German football for FST in 2016. He's also an avid fantasy football player and closely follows the Premier League and European competitions.
If you find yourself asking whether Joachim Löw is "in-Sane" to leave Leroy Sane at home for the 2018 FIFA World Cup in Russia, then you need to take a closer look at the gifted young player that got the nod over him, Julian Brandt.
Sane's surprise exclusion from Löw's 23-man squad was met with gasps of shock and disbelief all over the world – how could a player that lit up the Premier League and was voted PFA Young Player of the Year not be included?! If Brandt is going to Russia in place of Sane, his club performances at Bayer Leverkusen must have been even better than Sane's at Manchester City right? Wrong.
So why is Julian Brandt, a player that tallied one less goal and twelve less assists for the 17/18 season, in the Germany squad over Leroy Sane? Free Super Tips explains.
Read More: Why was Leroy Sane left out of the Germany squad?
Brandt's Career so far
A winner of the Fritz-Walter Gold Medal – awarded to the most talented young players in Germany – in 2014, the now 22-year old Julian Brandt has been producing the goods for what feels like forever. Since being signed from Wolfsburg's youth academy, Brandt has spent his entire senior career to date at Bayer Leverkusen. It took just a month after his arrival at Leverkusen for Brandt to make his Bundesliga debut, and his quick rise through the ranks saw him feature in a Champions League match against the likes of Zlatan Ibrahimovic and Thiago Silva of PSG just a few days later.
Fast forward a few years and Brandt now has over a century of Bundesliga games under his belt and 15 senior caps for his country, almost half the number of self-proclaimed idol, Marco Reus. His last three years at Bayer Leverkusen have seen him involved in at least 12 goals per season, and his 11 assists in the 16/17 season were bettered by just five Bundesliga players, one of which being Bayern Munich's Thomas Müller. On the international stage, though he failed to make the cut to Germany's EURO 2016 squad, he featured in both the silver-medal-winning Summer Olympic 2016 squad and the 2017 Confederations Cup winning squad.
Read More: Joachim Löw names Germany's 2018 World Cup squad
What are his strengths?
Standing at just over 6 feet tall, Brandt is a bulky attacking midfielder who doesn't appear a natural footballer on first sight. His effortless first touch and quick decision making on the pitch, however, undermine that initial impression. His ability to maintain possession through a combination of strength and skill makes him very troublesome for defenders – he is one of the most gifted of a talented crop of young German attacking midfielders. Brandt modestly describes himself as having "relatively solid speed for someone of my height", something that also contributes towards winning aerial duels, though he understands his strengths are "accompanied by a few weaknesses" too.
Leverkusen's wonderkid might not be as rapid or as comfortable on the ball as Manchester City's Leroy Sane, but he's not far off. Both are left-sided midfielders, not too dissimilar in play-style, but Brandt does have a few things going for him that Sane doesn't to make up for that difference in ability. Brandt has a much wider range of experience when it comes to positioning on the pitch, having played in attacking midfielder and on the right wing in the past. His versatility in midfield is exactly the sort of thing coach Joachim Löw wants from his players, and it's something that Leroy Sane has been unable to replicate on the international stage.
Unlike most young prospects, the 22-year-old is also fortunate enough to already have a bucket full of top level experience too. Many up-and-coming stars struggle to get given consistent football at the highest level, but Julian Brandt has featured in all but six of Bayer Leverkusen's Bundesliga matches since the beginning of the 2016/17 season. Add to that his appearances in European or international competition and you have a player that has an understanding of football far beyond his age. Keep an eye out for him at the 2018 World Cup!
Read More: Germany's Rising Stars
What was his role in qualifying?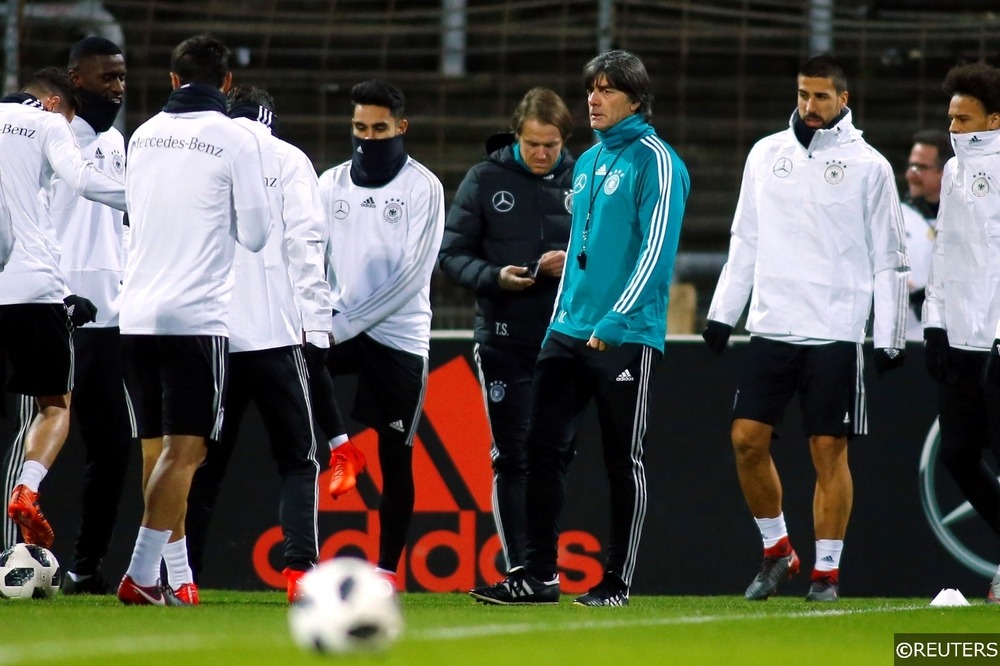 Julian Brandt made five appearances in Germany's 2018 World Cup qualifying campaign, gathering a total of 269 minutes on the pitch. In the earlier fixtures, he featured mainly as a substitute, coming on to replace Mario Götze, who did not make Joachim Löw's preliminary squad, and Julian Draxler in back-to-back matches. His impressive performances as fresh legs in the later stages of matches saw him moved up in Joachim Löw's rankings.
Towards the latter stages of the qualifiers, Brandt was awarded with three starts, producing a goal against San Marino and an assist for Sandro Wagner against Azerbaijan – Wagner was not selected for Germany's preliminary squad either! Admittedly, most players would shine in these sorts of fixtures, but his contributions nonetheless helped Germany advance to the World Cup finals with a perfect 10 wins from 10.
Read More: Germany's Potential Starting XI
What will his role be in Russia?
Joachim Löw is spoiled for choice when it comes to attacking options in midfield. Thomas Müller, Mesut Özil, Marco Reus, and Julian Draxler are all names further up the pecking order, so Brandt should be looking to make his name as an impact player off the bench. Think of him as the new André Schürrle – Schürrle made six substitute appearances in Germany's 2014 World Cup win, scoring three goals over the course of the tournament (two of which were in the 7-1 win over Brazil).
However, should striker Timo Werner not perform to his best on the world's biggest stage, a change of tactical plan could see Brandt utilized more frequently. It would be entirely feasible to see Löw play Müller as a center forward with Reus (left), Ozil (central) and Brandt (right) in behind him. Whichever way it pans out though, Brandt will be raring to run at defenders and give it 100% in his first senior tournament for Germany.
Let us know if you think Joachim Löw was right to take Julian Brandt over Leroy Sané on our Twitter page.
Follow Free Super Tips on Twitter to stay up to date with our daily tips and predictions or browse more football content on our website: