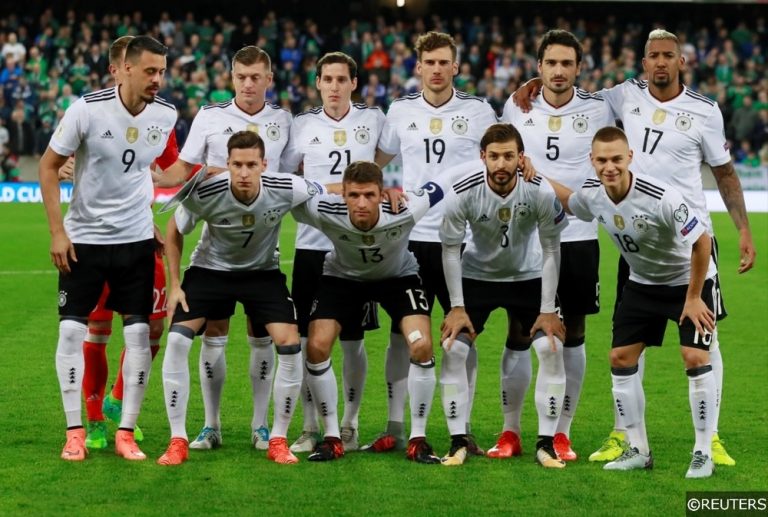 A lifelong Birmingham City fan, Tom relocated to Germany for five years after graduating from university, where his interest in the Bundesliga developed. He began writing about and betting on German football for FST in 2016. He's also an avid fantasy football player and closely follows the Premier League and European competitions.
We're just weeks away from the 2018 World Cup, where Germany will look to lift the trophy for a record-equaling fifth time. While some national team managers have had, for the large part, a hard time working out who's good enough to warrant a seat on the plane to Russia, Germany coach Joachim Löw has had to toil over which world class talents to leave behind!
Having now found proficient replacements for those retired from their 2014 squad, Löw looks to continue building Germany's success on the world's biggest international stage… and "Die Mannschaft" look in good shape to do just that. Germany are not only one of the most complete and competent squads heading to Russia this summer, but the stats back them up for a deep run too – Germany have not failed to get to the quarter finals since 1978!
Read more: Joachim Löw names Germany's 2018 World Cup Squad
Germany's Potential Starting XI: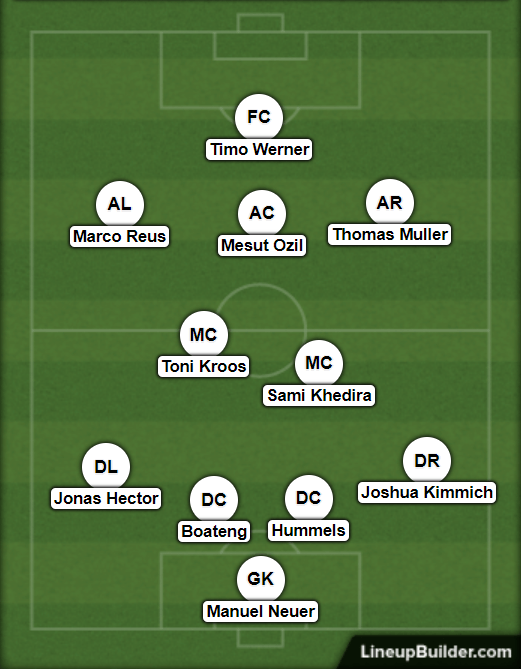 Formation: 4-2-3-1
Germany tend to play a distinct 4-2-3-1, with the goalkeeper (Manuel Neuer or Ter Stegen) playing an active role as a ball-playing sweeper (aka, the sweeper keeper). Such a set up makes it much easier for Germany's defenders to take more frequent risks. Both center backs are fairly static, though one usually stays a bit deeper to move the ball at the back (Mats Hummels), while the other tends to have a role more focused on interceptions, tackling and aerial duels (Jerome Boateng).
Just ahead of them in the middle of the park is one defensive motor (Sami Khedira) and one more dynamic midfielder (Toni Kroos). As either of Germany's wing-backs (Jonas Hector or Joshua Kimmich) push forward, the defensive midfielder tends to remain deeper for cover. Attacking movement from the back aims to overload opposition defense and create space for either the dynamic midfielder or the main attacking creator (Mesut Ozil).
Either of these (Kroos or Ozil) are then either able to return the play to the wing-back or now pick out any of the other attacking talents available (Marco Reus, Thomas Muller or Timo Werner). With a quick and clinical forward (Werner) also available for effective counter attacks, Joachim Löw's 4-2-3-1 formation is open to a very fluid style of play. Bragging plenty of individual skill and almost no weakness in any position, Germany's balanced mixture of both attacking and defensive coverage is second to none.
Read more: Germany's Timeline for the 2018 World Cup
Goalkeeper
Manuel Neuer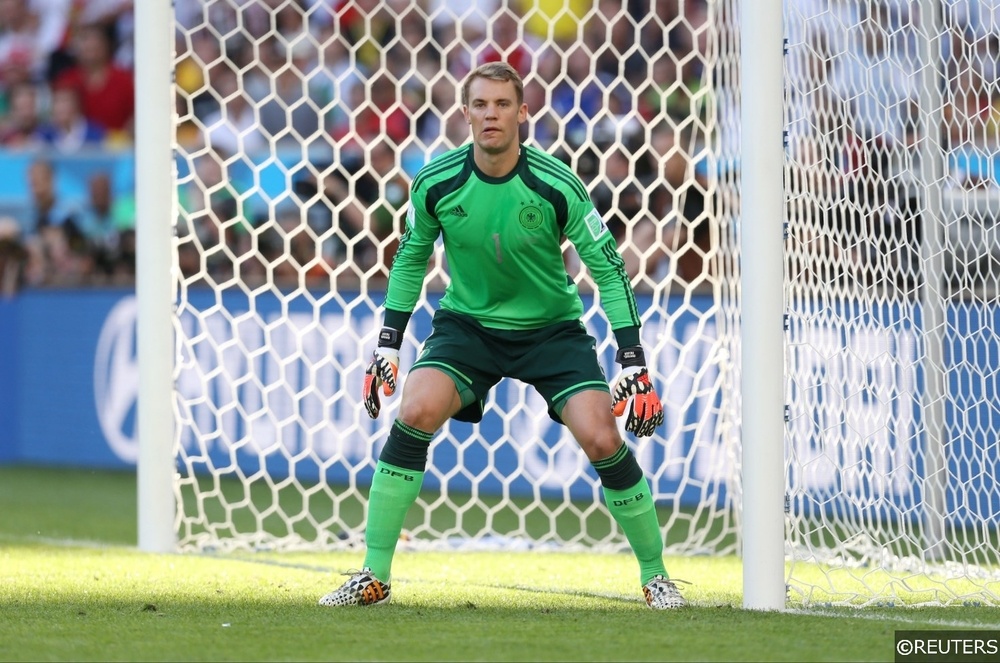 Neuer is arguably the best goalkeeper in the world in terms of all around play and experience. He had a fantastic World Cup in 2014 and was awarded the Golden Glove after keeping four clean sheets. Having spent the majority of this season sidelined with a foot injury though, he is facing a race against time for Russia. Neuer is expected to face Switzerland in the pre-tournament friendly on June 2nd, and if he's anywhere near 100% ready before Russia, he plays. If he plays, few stand a chance against a goalkeeper aiming to captain Germany to a successful World Cup defense.
Defenders
Left Back: Jonas Hector
After being relegated with Cologne in the 17/18 Bundesliga season, Jonas Hector became the only second-tier player in Joachim Löw's provisional squad for the 2018 World Cup. Why is that the case? Well, Hector has been Germany's established left back since making his debut for "die Mannschaft" in 2014 (36 appearances) and played every minute of their EURO 2016 campaign. An attacking midfielder in his youth, Hector not only completes his defensive duties competently, but also provides an unmatched instinctive attacking going forward.
Center Backs: Mats Hummels and Jerome Boateng
Mats Hummels and Jerome Boateng were not only a formidable unit in the latter stages of the 2014 World Cup, but the pair have also been teammates at club level since 2016. Bayern's defensive duo have both effective communication and a long-term understanding crucial to any central partnership. Between them, they also have 133 international caps for Germany, so experience is of no concern either. Injury-prone Boateng, who's just won a sixth consecutive Bundesliga title, is back in full training and should make it back in time for the opening match of the 2018 World Cup. For his part, Hummels has back-to-back Bundesliga crowns too and helped ensure that Germany conceded just four goals in qualifying.
Right Back: Joshua Kimmich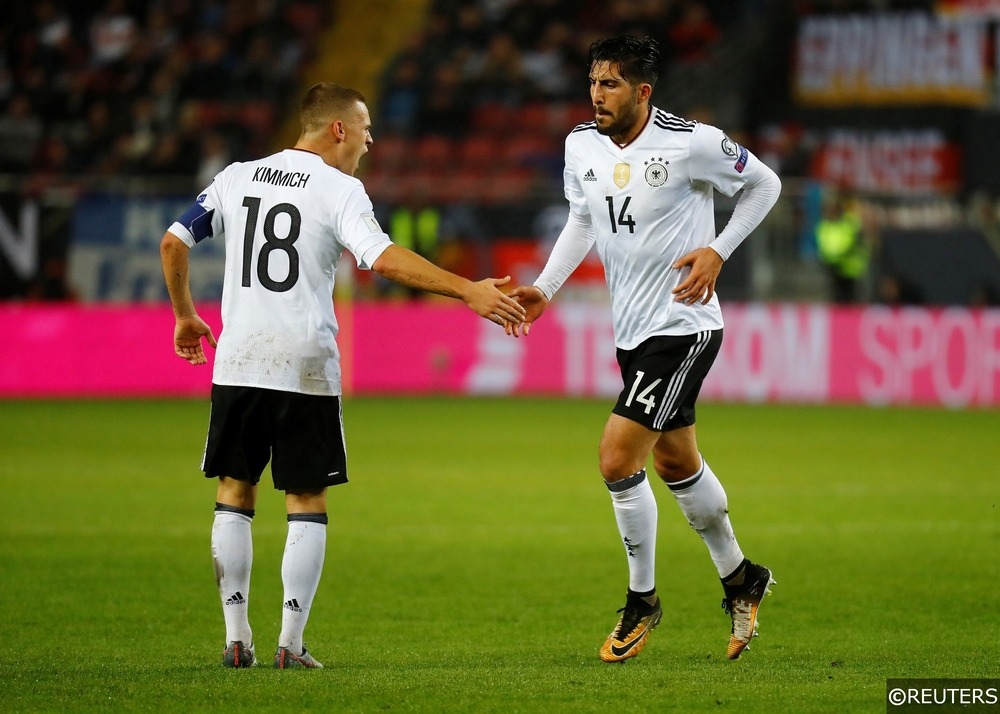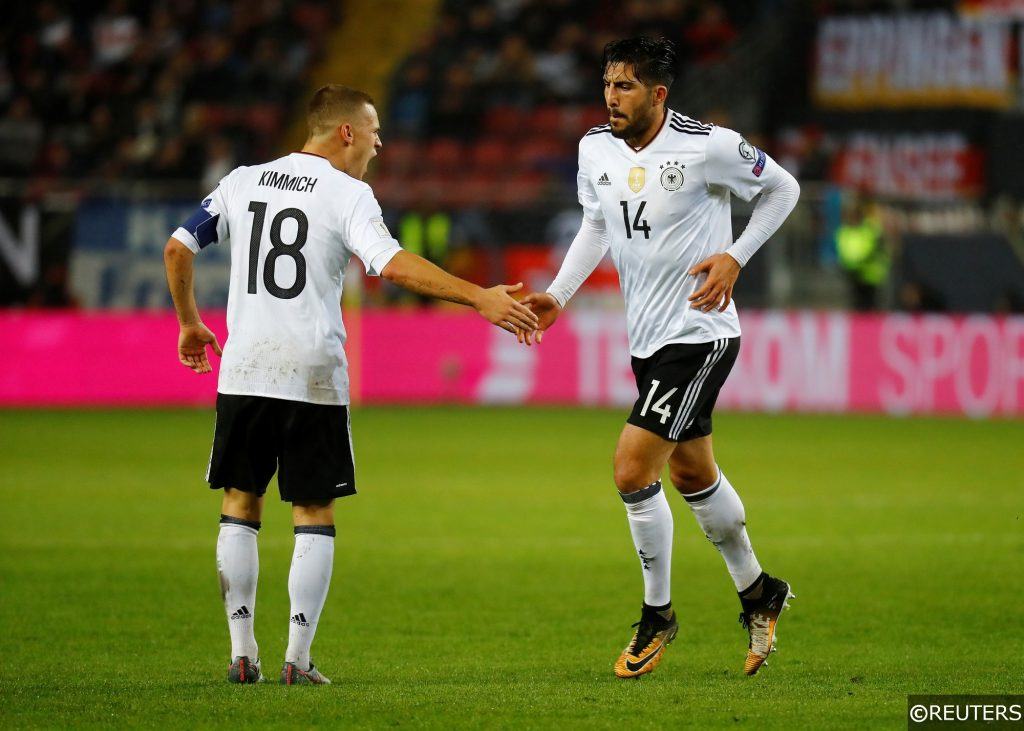 For his age, Kimmich is an amazingly consistent and durable player. As a former central midfielder, the versatile right-back is more than comfortable moving the ball around the pitch and making link up play with teammates. Joachim Löw has said that he "is one of the greatest talents I have seen in the past decade", but there is still work to be done. While Kimmich has adapted well to his change of position, he's still not the strongest player or best tackler of the ball. At just 23 years of age though, he does have plenty of time to work on what appears to be his only weakness… and everything in his career to date suggests we'll see that from him.
Read more: Germany's Rising Stars
Midfielders
Central Midfielder: Sami Khedira
Khedira is Germany's defensive motor. He's nothing short of world class. He has excellent awareness and understanding of the game and plays perfectly to Joachim Löw's style. Khedira is remarkably dynamic and well-rounded for a midfielder of his stature, meaning his is able to both recover the ball and join in Germany's attacking plays too. He is known to be somewhat "injury prone", but this shouldn't be too much of a risk with the capable likes of Ilkay Gundogan or Sebastian Rudy waiting for their turn in the spotlight.
Central Midfielder: Toni Kroos
Toni Kroos is the heart of both the Real Madrid and the German national team. He's arguably also Germany's best player and the perfect center midfielder. Joachim Löw's ultra-balanced style of football fully complements his attacking skills by allowing him to make the penetrating passes that he does so well to the forward line. In the 2014 World Cup he was playing more as a central attacking midfielder, but he'll likely be playing a bit deeper in Russia, similar to that of Bastian Schweinsteiger in 2014 or his current role at Real Madrid. With players like Ozil, Muller and Werner ahead of him, he won't be short for options when moving the ball forwards this summer.
Central Attacking Midfielder: Mesut Ozil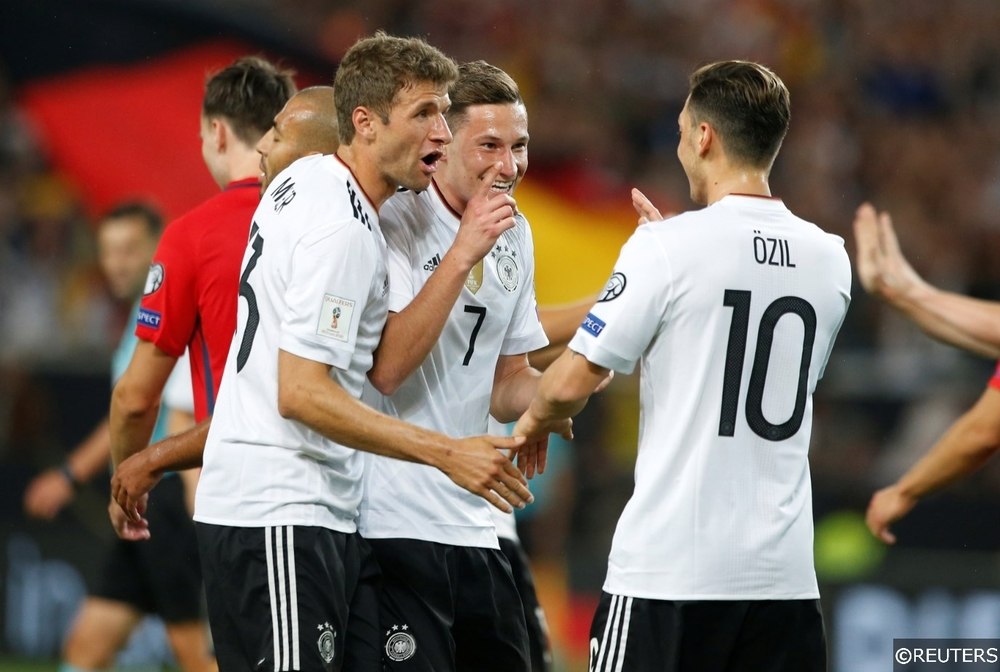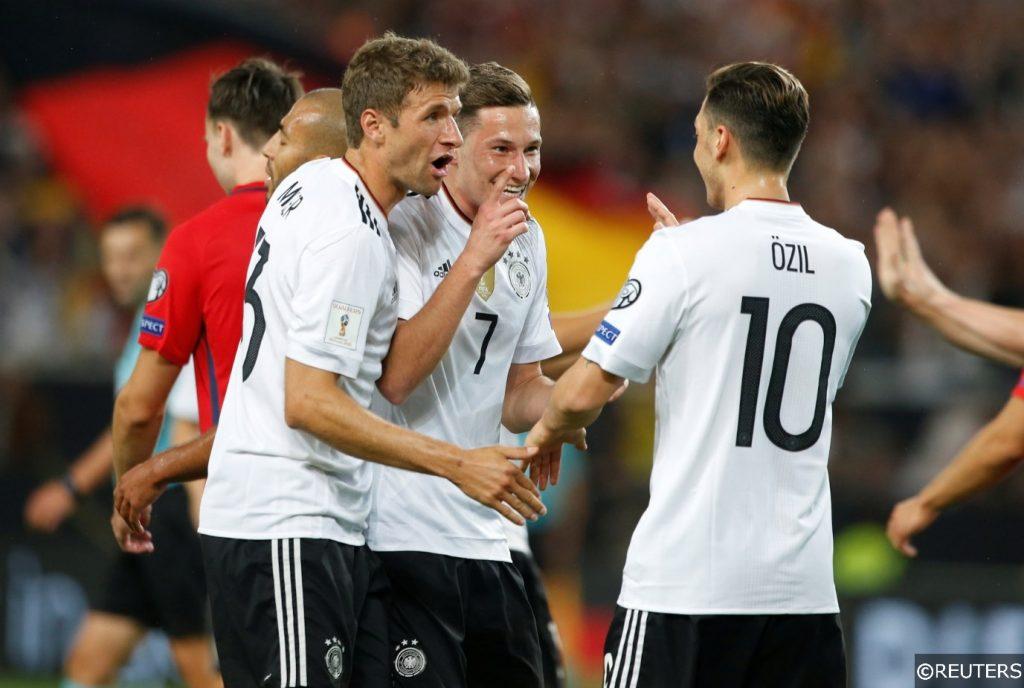 While Ozil often finds himself criticized at club level, whether that be for lethargic performances or by being mysteriously unavailable for some league fixtures, he remains one of the best pure creators in the world. He's consistently up near the top of the assist charts in the Premier League and his performances at the international level have been on par, if not better, than his best domestic ones. His international experience in the squad is second to none. With all the class surrounding him, he should not have no problems (or excuses) being back at the top of his game.
Right Attacking Midfielder: Thomas Muller
Müller is well on his way to becoming "Mr World Cup". At the 2010 World Cup, he scored five goals and earned himself the Golden Boot at just 20 years of age. After scoring another five in the 2014 World Cup, he's now just six goals short of Miroslav Klose's all-time World Cup finals record of 16 goal. Following an effective qualifying campaign for the 2018 World Cup, where the Bavarian-born forward scored five goals and created seven assists, Müller should be on of the first names on the team-sheet and be looking to make ground on Klose's record in his fifth major tournament at the senior level.
Read more: Germany's 2014 World Cup winners – where are they now?
Left Attacking Midfielder: Marco Reus
Of all the positions in Germany's starting XI, that of the left attacking midfielder is the one most open for debate. Any of Leroy Sane, Julian Draxler or Marco Reus could be utilised here, but Reus' impressive end to the 17/18 season at Dortmund could see him get his shot in the spotlight. Since returning from injury in February, Reus scored seven goals in eleven appearances and showed why he was previously called one of Germany's most lethal players. Having missed both of their last two international tournaments due to injury, he'll no doubt give everything to play a part in the 2018 World Cup, and his tremendous speed and ability down the left should prove as potent as any of their other options.
Forward
Timo Werner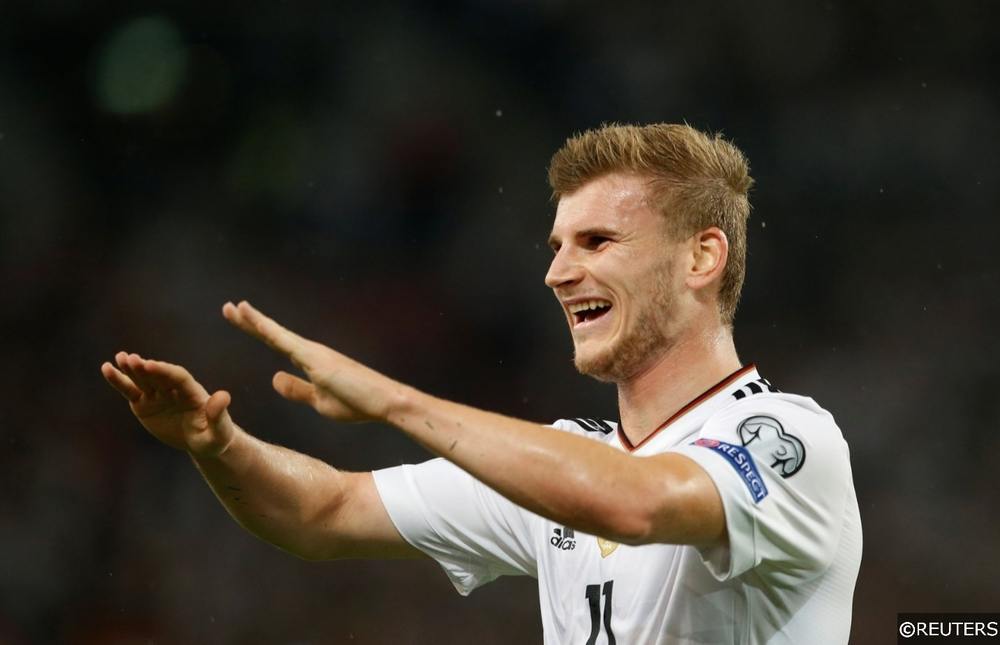 With many of his teammates already at the pinnacle of their international game, the pressure is on Leipzig striker Timo Werner this summer to replicate the scoring form of many a German forward before him. Up to now, this hasn't proven too much trouble. "Turbo Timo" has shown his ability to push himself into top gear and perform at the international level – seven goals in just 12 appearances for Germany show that much. Domestically, Werner has developed into one of the best strikers in the Bundesliga too, and is a proven finisher. His hold up play should prove sufficient enough to work alongside the plethora of midfield talents that Germany will employ.
Read more: Can Germany fill the boots left by Miroslav Klose?
Follow Free Super Tips on Twitter to stay up to date with our daily tips and predictions or browse more football content on our website: