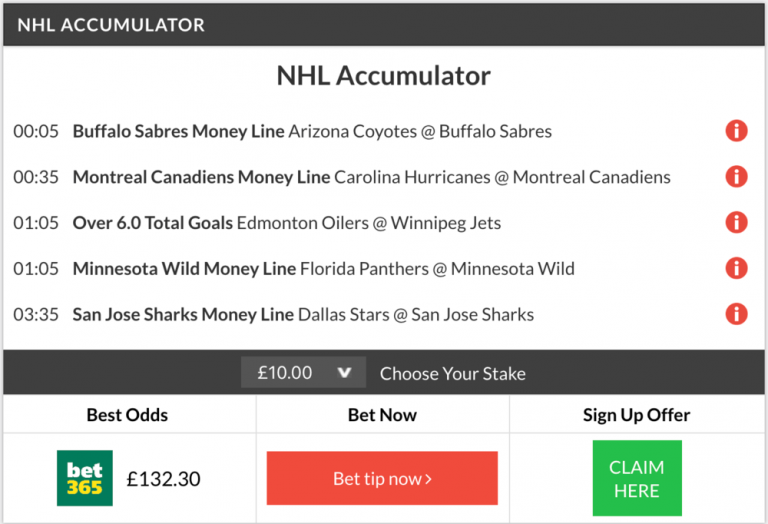 The winners just keep on coming here at FST!!
After a spectacular couple of Acca winners on the NHL the last few days (11/1 Acca winner on Monday & 10/1 Acca winner on Tuesday), our Hockey tipster has once again nailed it!
Last night he landed a 12/1 Accumulator which is the 3rd winner in the past 4 days. To make things even better he added yet another NHL Double winner which is his 6th winner in as many nights!
Here's how it went:
12/1 NHL Acca Lands
OVERNIGHT WINNEEEERRRRRRS!!!!

12/1 #NHL Accumulator + NHL Double LAND!!

Our 3rd NHL Acca winner in 4 days & our 6th straight Double winner!!

GET IN!!!!

BUZZZZINGGGG!!!!

— Football Super Tips (@FootySuperTips) December 14, 2018
The night kicked off with Buffalo and Arizona… and it was the Sabres who got the upper hand in this fairly evenly matched contest. After a 2-1 first period for the home team, no goals were scored in the 2nd which meant an intense final period. Luckily for us it was Buffalo who grabbed the 3rd goal and we landed our first winner on the Acca!
A high scoring game between Montreal and Carolina got us our 2nd winner. Despite e goalless opening period, we saw 10 goals over the next 40 mins of play! Montreal came out on top 2-1 and 4-3 in the final two periods good enough for a 6-4 win here.
Minnesota dominated Florida in the 3rd game of the Acca. It was 1-1 after the first 20 mins, but then they followed that up with two 2-0 periods which handed them an easy 5-1 victory.
Overtime was needed to decide the winner between Winnipeg and Edmonton. Luckily for us, we went for Over 6 Total Goals in this one which landed in the 2nd period, so the outcome of the game didn't matter as much. We were down to one final game on the Acca!
Despite Dallas going up 1-0 against San Jose in the 2nd period, the Sharks fought back and responded with 3 goals in that final game. They managed to overcome Dallas' late comeback attempt and came out on top 3-2 in the end to land our 3rd Acca in just 4 days!
Free Hockey Predictions
Be sure to bookmark our FREE NHL TIPS page of the FST website in order to be on the next winner! Tips go live around 6 pm every single day of the season!
Followers' betslips:
Big thanks once again to our followers for sending in their betslips to us on twitter:
BEAUTY!! Keep those NHL predictions coming!!! @FootySuperTips pic.twitter.com/YQox7SdCjs

— Hachemkhaled. (@hachemK) December 14, 2018
Boom great start to the weekend pic.twitter.com/jAvGslRJj3

— Antoine O' Hara (@jackban1984) December 14, 2018
Just a little one but all adding up, third win of the week on the ice hockey 🏒 pic.twitter.com/VRAYXhpYBQ

— Lewis Holland (@lewisholland_) December 14, 2018
Nice little wake up call pic.twitter.com/Vk98nOtOmk

— Anth Mullen (@AnthMullen) December 14, 2018
@FootySuperTips boom! not good for nerves though starting work early today kept checking on sharks game but boom! my favourite site to get betting tips pic.twitter.com/TBlSn2rN6h

— Darren Prichard (@Shadowmaster773) December 14, 2018
Boom pic.twitter.com/A8escYSpJ8

— Tommy S. (@Patriot44x2) December 14, 2018
You're helping pay for Christmas here Cheers lads pic.twitter.com/9hmjcxa7Qr

— roboff (@robofff) December 14, 2018