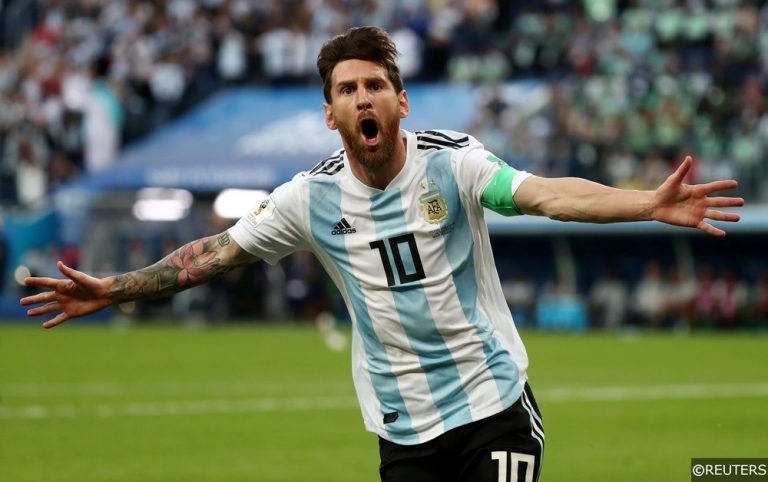 Debate has always raged on who the best football players of all time are – it's simply one of those endlessly fascinating questions. Who wouldn't want to rank the best legends ever? But all good things must come to an end, and we're afraid we're about to end the international dispute on history's best footballers.
Before we start, make sure to check out our football predictions for all the best tips on today's games.
Right, strap yourselves in, we're about to get stuck in to our top seven greatest football legends of all time.
---
7. Eusebio
Nation: Portugal
Notable Club: Benfica
Record-breaker: Eusebio is the highest goalscorer in Benfica's history, with 473 goals in 440 competitive matches.
We begin our countdown with Eusebio who was not only a supremely talented footballer but also a pioneering force in the 1960s. Born in Mozambique – then ruled by Portugal – the forward moved to Lisbon to play for Benfica in his late teens. His African origins led to him being named 'Africa's greatest-ever player'.
A devilish dribbler, Eusebio was also gifted with lightning pace – by his late teens he could run 100 metres in under 11 seconds. These qualities, supplemented by his thunderbolt of a right foot, made him a tremendous goalscorer. He scored twice as Benfica defeated Real Madrid in the 1962 European Cup final and famously scored nine goals during the 1966 World Cup.
But one of his greatest traits was his sportsmanship. After being denied a late match-winning goal by Alex Stepney in the 1968 European Cup final, Eusebio stopped and applauded the Manchester United goalkeeper.
He died in 2014, after which fellow legend Alfredo Di Stefano declared 'for me, Eusebio will always be the best player of all time.'
6. Franz Beckenbauer
Nation: Germany
Notable Club: Bayern Munich
Record-breaker: Beckenbauer has won the World Cup as both a player (1974) and manager (1990). 
Known as 'Der Kaiser', or 'The Emperor', Beckenbauer is generally considered the best defender to have played the game and one of the best football players ever.
Despite practically inventing the sweeper role by himself, the German actually started his career as a midfielder and came to international prominence after nullifying Bobby Charlton in the 1966 World Cup final.
But it was in the 1970s, by which time he had become a dominant centre-back, that Beckenbauer was at his peak. He captained Bayern Munich to three successive league titles between 1972 and 1974 and a hat-trick of European Cup wins between 1974 and 1976. 
His finest hour came with West Germany at the 1974 World Cup. Who can forget the iconic images of Beckenbauer lifting the famous Jules Rimet trophy?
Following a glorious playing career he became a successful manager with West Germany and Bayern Munich, and later played a key role in Germany being named hosts for the 2006 World Cup. There aren't many football legends bigger than Franz.
5. Johan Cruyff
Nation: Netherlands
Notable Clubs: Ajax, Barcelona
Record-breaker: The £922,000 fee spent by Barcelona on Cruyff in 1973 was a transfer record at the time.
Few have influenced the beautiful game as much as Dutch legend Cruyff. The winger not only invented new tricks like the 'Cruyff turn' but also entire ways of playing football. He even pioneered the use of shirt numbers outside the traditional 1 to 11, opting for the unusual 14.
Cruyff was blessed with immense skill and technical ability which complemented by acute positional awareness and footballing intelligence. A sensational spell at Ajax culminated in winning both the league and European Cup in 1973, with Cruyff delivering the performance of a lifetime to drag his side to victory over Juventus.
A world record transfer to Barcelona followed where, in his first season, he helped the Catalans win their first La Liga title for 14 years. Internationally, Cruyff's peak came at the 1974 World Cup when his famed Dutch side reached the final playing their unique brand of 'total football'.
Already a football legend, he went on to be a successful manager for both Ajax and Barcelona and was pivotal in the creation of the famed La Masia academy.
Cruyff features in our best footballing quotes of all time, but perhaps his most poignant is his declaration that: "Winning is an important thing, but to have your own style, to have people copy you, to admire you, that is the greatest gift."
4. Diego Maradona
Nation: Argentina
Notable Clubs: Boca Juniors, Barcelona, Napoli
Record-breaker: In a game against Italy in the 1982 World Cup, Maradona was fouled a World Cup record of 23 times.
Commentators often claim that the ball is glued to a player's feet, but never has this trope been more accurate than when describing Diego Maradona.
Standing only 5ft 5ins tall, the Argentine more than made up for his lack of stature with extraordinary dribbling ability and ball control. His low centre of gravity allowed him to turn on a sixpence and he supplemented that with outstanding goalscoring instinct.  
Maradona made his name at Boca Juniors before a world record transfer to Barcelona for £5 million in 1982. However, in one of the many controversies that were to follow the Argentine throughout his career, he was sold due to his part in an on-field brawl against Athletic Bilbao. His time at Napoli was more successful, and it was at the Italian club he became a football legend.
He enjoyed great success at international level too, with his crowning glory coming as he captained Argentina to World Cup glory in 1986. English fans will remember their side's encounter with Argentina for Maradona's infamous 'Hand of God' goal and for the forward's annihilation of the English defence minutes later in a goal known as one of the best of all time. 
3. Pele
Nation: Brazil
Notable Club: Santos
Record-breaker: Pele is the highest-scoring player in domestic football history, having scored 650 goals in 694 league matches.
"I had been undone by someone who was not born on the same planet as the rest of us." Those were the words of Benfica goalkeeper Costa Pereira after conceding a hat-trick to Pele in the 1962 Intercontinental Cup. Many other goalkeepers would echo these sentiments, with Pele going on to become one of the greatest goalscorers of all time.
But he wasn't just a prolific marksman. His agility, speed, stamina and outstanding ability with either foot made him the complete forward. Indeed, if he played today, he would certainly make our list of the best strikers in the world.
He burst onto the world stage at the 1958 World Cup, playing a key role in Brazil's triumph at the age of 17. He would finish his career with three World Cup winners medals – the only player to ever achieve such a feat – and the last of these, in 1970, lives longest in the memory. Pele formed part of what is generally considered the greatest international side ever assembled, in which he was accompanied by football legends Jairzinho, Carlos Alberto and Tostao.
At club level Pele played the majority of his career at Santos, where he scored "the most beautiful goal in the history of the Maracana" in 1959. Although there was no video footage of the game, the forward was said to have received the ball on the edge of his own penalty area and embarked on a mazy run past the entire opposition defence before beating the goalkeeper.
Pele played over 650 games for the club, and since his retirement has become a global ambassador for football.
2. Cristiano Ronaldo
Nation: Portugal
Notable Clubs: Sporting Lisbon, Manchester United, Real Madrid, Juventus
Record-breaker: Ronaldo is joint-top of the all-time international men's scorers with 109 goals in 179 appearances.
Relentless, dedicated, obsessed, Cristiano Ronaldo is an example for any aspiring footballer.
No player on earth has worked on improving themselves as much as the prolific Portuguese, whose record-breaking feats seem a world away from the youngster who struggled in his first couple of years with Manchester United. Initially hampered by a wiry physique and a lack of end product, Ronaldo evolved to become a supremely powerful and technically complete forward.
His outstanding performances earned him Premier League legend status and a world-record £80 million move to Real Madrid in 2009. The rest is history. He won three Champions League titles and became Los Blancos' all-time record goalscorer while at the Bernabeu, as well as being involved in a legendary tussle for footballing supremacy with Lionel Messi. He eventually moved on to Juventus in 2018, and commanded a staggering £104 million transfer fee that belied his 33 years of age.
'CR7' has always stepped up to the plate at international level too, and he played a key role as Portugal won Euro 2016 and is tied with Ali Daei as the all-time leading international men's scorer. He is undoubtedly one of the greatest of all time.
1. Lionel Messi
Nation: Argentina
Notable Club: Barcelona
Record-breaker: Messi has scored the most goals and made the most assists in La Liga history.
Despite having not retired yet, Lionel Messi is the greatest football legend of all time.
Not only is his technical ability other-worldly, nobody can both score and assist with the consummate ease of the diminutive Argentine. A one-club man, Messi holds almost every club record possible at Barcelona, as well as a mightily impressive trophy haul.
He wasn't always destined for the stars, however, and as a youth was dismissed by many in his native Argentina as being too small for football. But Barcelona were desperate to sign him, and paid for growth hormone treatment for two years as part of their package to bring him to Catalonia from boyhood club Newell's Old Boys. 
Messi has since reached the highest peaks, regularly scoring over 50 goals a season to help Barcelona dominate La Liga in the 2010s. He's also won four Champions League trophies and scored some of the most iconic goals in history, with his best arguably being his run and finish against Bayern Munich in 2015, in which defender Jerome Boateng was so bamboozled by the Argentine's dribbling he fell to the floor.
Despite his advancing years, Messi remains on top of his game, and won his sixth Balon D'Or in 2019 and is odds on to add to that this year after winning his first ever international trophy as he led Argentina to the Copa America this summer.
So there you have it, the world's greatest football legends. For more footballing insight, check out our football tips page!
Also in this series:
Best England Players of All Time XI
7 Longest-Serving Current Premier League Managers
7 Most Successful English Football Clubs
Free Super Tips is the home of Football Betting Tips. For detailed match analysis, check out our Football Predictions for today's games, or Tomorrow's Football Predictions if you're looking a little further down the road.