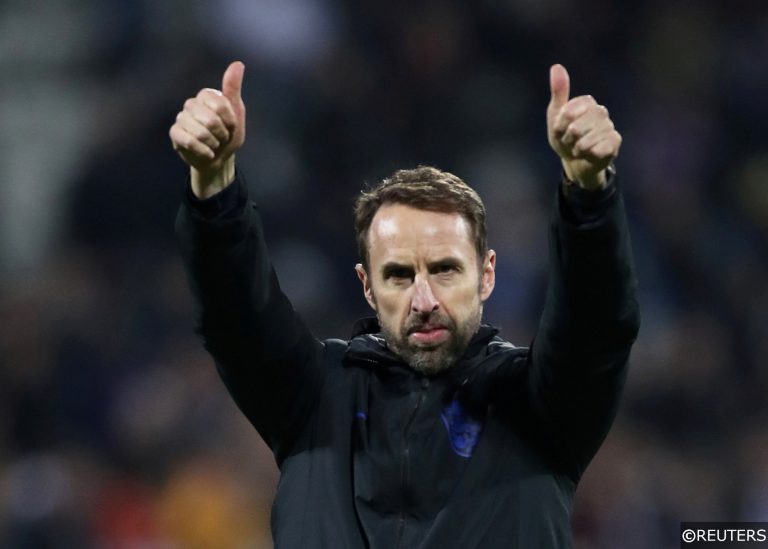 With England's World Cup well under way after that thumping 6-2 win against Iran, Free Super Tips sat down with former England star Chris Waddle about his expectations for the group, his views on the Premier League, and a review of his time at Marseille.
---
Just how impressive was that win against Iran and should fans dare to dream that it is finally coming home? How far do you think England can go?
You've got to dream because when you go into any tournament you've got to believe that you can win it.
England have come close in recent tournaments, they nearly won a Euros and a semi-final in the last World Cup so I can see why people will be thinking England have a very good chance, especially after yesterday's performance.
No disrespect to Iran, but it was like watching Manchester City playing a bottom of the pile League One team.
But you can only beat what's in front of you and I think England have been drawn a good group.
The good thing about it is I thought England might be lacking a little bit of confidence going into the tournament, but that should give them a big boost.
It is only Iran, and I don't think you can get carried away with it, but to score 6 goals in any match is a difficult thing to do and they could have scored more.
That side of it looks very good, I liked the look of the shape, and I thought the back four suited England.
Obviously, they'll come up against teams who will be a bit more attack minded than Iran who basically wanted to waste time from the first minute.
The games will get harder but watching Wales vs USA; I don't think any of those teams cause England a problem.
America play at 100mph and you can't do that for 90 minutes.
First half they were quite impressive, but second half they ran out of steam.
Wales came back into that game because they were awful in the first half, but the second half they came into it because USA ran out of steam.
It's hard when you play a lot of players who haven't had many minutes and it can be very demanding on the body.
I think Wales will have a problem with wanting to get Gareth Bale out there because he hasn't had a lot of football and the US have had their injury problems.
I think the group is set up for England to win it quite convincingly.
Have Bellingham and Saka all-but guaranteed they will be starting for the rest of the watches following their dazzling displays?
I think as we saw against Iran you can get a few goals up and start to bring players off to give them a rest.
You've got to think these players have played a lot of football over the last or two and to come straight out of the Premier League into the World Cup isn't easy.
You've got to use the squad wisely and I think we'll see Gareth Southgate do that, maybe not right now.
I think they've both definitely got the starting shirts and that XI that started will start again.
He's got the players on the bench where if he needs to change it then he can do.
The good thing for England is if they can win the second game and qualify, then the third game they can rest up a bit, but you obviously want to win the group.
He's got enough options to use his squad and I think the group stage are good games for players to come in.
For me the team selection gets interesting when you get to the last 16.
Could Bukayo Saka be England's most important player this tournament?
Yeah definitely, he can score a goal, he can make a goal and he's very confident right now.
That's the key when you're a player who wants to create and do the job that you're basically in the team for.
His job is to create and score and if he can keep doing that with the confidence, he's got then he could be a big player for England.
That's the key, as long as he has that confidence and belief in himself then he can go and express himself.
Against Iran he made it look easy and you can see when the ball comes to him, he doesn't think about anything he just gets hold of it and does it.
As long as he maintains that confidence then he will be a big player for England in this tournament.
Would you expect Marcus Rashford to come into the side after his impressive cameo off the bench against Iran?
He could keep bringing Marcus Rashford on, probably more on the left-hand side.
If Saka and Sterling aren't playing well in the game, then Rashford can come on for either of them.
He'll be an important player in this tournament if he starts or not.
Callum Wilson will obviously come on for Harry Kane if he looks tired or isn't doing it, but Rashford could also play up there if needed.
Marcus Rashford will get a lot of minutes and I wouldn't say they he wouldn't start games as the tournament goes on.
Raheem Sterling scored a good goal yesterday and looked quite sharp, but he hasn't had the greatest of seasons at Chelsea so far.
If he's not performing in a game, then I don't think Gareth would hesitate in bringing someone on like Rashford or a Grealish.
James Maddison is also someone to consider when he's back fit.
The one minor criticism I would have of England is that they keep the ball well but there doesn't seem to be that midfield player to spot the runs in behind.
Bellingham is a very good player; he carries the ball well and keeps it.
But sometimes when those forwards make those runs, England don't hit the ball early enough or long enough, it feels a bit safe at times.
A Maddison type player would see that pass and wouldn't hesitate in playing a 40-yard ball if someone's making a run.
Other teams aren't frightened to hit those balls if someone makes a run in behind and I think England lack that a little bit and wearier of giving the ball away.
You need that little bit of risk in your game if you're going to win tournaments, we didn't need it against Iran because we were far better.
But in the big games, you need those risk players which is when the likes of Maddison and Grealish could come into the tournament.
How big a blow is it for England if Harry Maguire is ruled out of group games after coming off with a suspected concussion, and who would you like to see come in for him?
I think he'll bring Eric Dier in like he did against Iran.
The problem they'll get in the defence is we'll start to come up against better opposition like the Americans who are lively.
In Weah, Pulisic and Sargent up front they've got willing runners.
That might be the one worry for England at the back, the pace at centre halve especially.
As the tournament goes on, we're tipped to get France in the quarters if both teams get that far and Mbappe's pace will really be a threat to our defence.
That's obviously down the road, but at the minute whoever he puts in I don't think will be a problem.
I would even look at playing Kyle Walker if he's ready to go as a centre-halve.
You don't really come up against teams who have a big centre-forward anymore, although you could say Kieffer Moore for Wales is one.
Kyle Walker is still good in the air anyway, so I would have a look at that possibility.
But I would imagine Dier would be the choice and disappointed if he doesn't get that shirt if Maguire is out.
What is your England prediction for Friday's game against USA, after that opening game performance?
I think you'll see America come out of the blocks quickly like they did against Wales.
That front three really pushed Wales back and they didn't let Wales play football.
They really got after them, got after every ball and kept picking up the second balls.
How they've developed the game in America is a lot better than it used to be, it's a good brand of football, but they don't know how to control games and slow it down.
That was their downfall, first half the game should have been put to bed and they could have lost in the end with the chances Wales had.
They just ran out of steam, whether the manager picks up on that or decides that's the only way the USA can play is up to him.
They'll give England a game for 45 minutes if it's at that high tempo, but I can see England scoring 3 or 4 goals if they start to tire in the second half.
Would there be any way you could see Gareth Southgate losing his job after this World Cup?
Football is a strange game, we're all on a high after winning a World Cup game 6-2 and I do fancy England to beat USA and Wales.
That's when the tournament starts for England and that's when we'll judge Gareth Southgate and judge England.
Going into the tournament I think a lot of people would have said England will win the group.
Unless you're an Iranian, Welsh or American fan, you would have said England will win this group when it was drawn.
The other teams are looking at taking points off one another because they aren't going to beat England on paper.
For me this group on was nailed on for England from the beginning, I was worried about a lack of confidence but they're playing teams who aren't really going to hurt them.
There's no Germany, Holland, Spain, Argentina, Brazil etc.
These teams they're playing are very beatable and England have more experienced and better players.
It starts for me in the last 16 if it's going to be Senegal or whoever they might play because that will be a difficult game.
From then one you then see where England are, if they get to the quarter finals and get knocked out people will say they did well to get there.
Let's be honest we expect England to get there.
I still think Gareth is a great manager for England but there will be a lot of critics out there if we get knocked out.
There's always expectation as England manager and he's dealt with those well in tournaments.
If we get to the quarter finals then we can take it from there, it won't make him a bad manager if England get beat by a quality side.
If England lose to France, does that make someone a bad manager? Not for me.
Tottenham sit in the top four despite not hitting top form, do you think they will get better or worse in the second half of the season?
We don't know what's going to happen after this World Cup and we don't know who Spurs are going to sign and whether Conte has a couple of players lined up.
If you're going to look at the weaknesses of Tottenham, then you have to look at the wing-back role.
In midfield it's good and the three forwards are very good.
The centre backs do a job, but the way they play is they sit back, let other teams have a ball and catch teams on the break.
It's a good system how they play, but it's difficult when you come up against better opposition because you have to defend very well.
There's no reason why Tottenham can't finish in the top four, but it'll be hard.
Manchester United are going to go on a run at some point, Chelsea will reset after their recent troubles, and you wouldn't write them off.
There's obviously Liverpool as well and Newcastle whether they'll be able to run the course or not.
Tottenham at the minute looked like the team who will finish 3rd or 4th, but a lot of things can change.
After the World Cup how many of these players will feel the effects of tiredness and fatigue.
If Harry Kane isn't playing or a Son, how Spurs really got the players to come in.
Their big players are all at the World Cup and if they come back feeling the effects then they're very difficult to replace.
Maybe they can get a couple of players in, but the club need to make sure they're clear on whether Conte will be there next year.
There's a lot of things where people are looking at Tottenham at the minute and thinking they should do this or that.
At the minute they've got a good chance of finishing in the top four.
If I had to pick an area where they need to strengthen, then they need to bring in two wingbacks who can play that role better than what they've got.
If they can get that sorted, then there's no reason they can't finish in the top 4.
Where do you stand on Antonio Conte and the suggestions Spurs fans are unhappy with his playing style? Should Spurs secure him to a new deal or not? Why?
I think the fans are still mixed, Tottenham fans love to see excitement and those flair players.
They want their team to attack, and they want to see exciting football.
Sometimes you can see when they don't get the results that's when it gets criticism and sometimes the three points covers up the cracks of the entertainment side of it.
Conte will say he's there to win games of football and to win trophies and his best way of doing that is to play this style of football.
You've just got to accept.
Whether the Tottenham faithful don't eventually like that, then that will be when it's time to move on.
Would I say he's the man to take Tottenham to a Premier League title or a trophy in the next two or years, I think it'll be down to the budget he's given.
It's always been a hard one, Tottenham fans want to see excitement, but they want trophies in the cabinet which has had cobwebs on for a while.
They want to get trophies and you have to understand that.
We have to remember that the stadium and the training facilities cost an absolute fortune, so in a couple of years' time Tottenham will be able to bring in more players.
They can start being in the market for player who cost £70 or £80 million.
The stadium is fantastic, and it can host events such as boxing, rugby and American football so it's bringing in good money.
Obviously, there's debts to still be paid off from the stadium and once that's sorted, in the next couple of years Tottenham should be in that position to buy top players.
Can they go on and buy those top players to help the club win a Premier League in the future and that's what the fans will be looking at.
In the meantime, I think Conte is a good fit and a decision has to be made on his contract.
Were you able to see Marcus Edwards against Spurs? Were you aware of him coming through at Spurs? Should Spurs explore buying him back? Can you see him playing for England?
He's a good player and technically he was very sound.
I think Pochettino once called him the English Messi and the lad has so much ability.
He lost his way a little bit obviously and he's been around a few clubs, but he's found his home at Sporting Lisbon.
He's playing as a false nine, technically he's very gifted and it's about putting a run together to find that consistency which he's found this season.
I'm sure there will be clubs monitoring his situation, not just in England.
Sporting sell players on as most teams in Portugal do, so there will be a lot of clubs interested.
It will depend on any buy-out clause or price Sporting put on him.
I don't know if he would come back to Tottenham because I don't think Tottenham would like to admit they've made a mistake.
They won't want to pay a lot of money to bring someone back who they once had for nothing.
Tottenham fans would love to watch a player like that because when he's on his game he's such an exciting talent.
I think there will be a lot of clubs monitoring him over the next couple of seasons and if he keeps his form up then he'll get a lot of tasty offers and I don't think it'll just be from English clubs.
How impressed have you been by Newcastle's resurgence under Eddie Howe and how far can they go this season?
They're going into the unknown at the minute, but you've got to say they've been brilliant.
The work rate, the pressure and the way they're playing at the minute everyone is playing to their capabilities.
You wouldn't really say there's a weak link in the side at the minute and confidence is there for all to see.
I was at the Chelsea game, and I know Chelsea are going through a sticky patch and don't look very good but Newcastle did a job on them.
They worked hard, made life difficult and didn't let them settle on the ball.
Eddie Howe's done a great job, his signings have worked, he's got the best out of players like Almiron and Joelinton.
Fans if they're honest would have been thinking why we have signed these players in the past few years.
Joelinton by accident became a midfield player and is now relishing in that role.
Almiron has been unbelievable in the past few months and Callum Wilson is finding his scoring touch which got him into the England squad.
All over the park it's difficult to identify a weakness where you think they could do with buying another player.
If you're going to compare the top four race, then you have to say they're in a good position because they don't have many midweek European games which can take a lot out of you.
They can just focus on the Premier League and the cups, but as long as they're in the top four then that will become a focus.
It's hard to say at the minute that they won't finish top four but they're going to have a blip at some point.
They can't keep playing the way they are, they're going to have a dip at some point, and it'll be how they come through that dip that seals it.
I think they'll definitely finish top six, and I wouldn't go against top four, but I think there will be a few teams challenging in the second half of the season.
They're in there by merit right now, full of confidence, so there's no reason why they can't carry on.
Is a top four finish a genuine option for Newcastle now? Has Eddie Howe surprised you with what he's done with this group of players?
Eddie Howe did very well at Bournemouth with what he achieved at that club getting them up the leagues.
He had a good budget to work with and he brought in players who seemed to gel well together, and it always seems to be a happy camp wherever he's been.
He's carried that on with Newcastle, the team seems to be full of confidence since he walked in.
There hasn't really been a time where he's had to go in on the players because they've all performed.
The atmosphere at the stadium is unbelievable, the fans have bought into this new ownership, the style of play and the players.
They've given everyone confidence in the stadium, so everything is going so smoothly at the minute.
Every club will have a blip at some point, it's just how you get through it.
There will be a run of games where results might not be going well, then it'll be important to see if he can keep the confidence up and make big decisions on when to bring players in and out.
That's all part of being a manager, at the minute it's going very well, and I bet they can't wait for the next Newcastle United game.
He didn't need this break; he didn't need the World Cup so it'll be interesting to see how they get on when they're back.
You signed for Bernard Tapie at Marseille. You were an original Galactico. When will be the right time for Newcastle to start trying for the likes of Neymar and Mbappe? Can you see a Galactico approach at Newcastle in the future?
They're the biggest spenders in the last year or so if you think about it.
Manchester City have bought players, but they've sold some as well to make up that money.
Newcastle have thrown a bit of money at it and bought in quite a few players like Isak.
Botman wasn't a cheap signing, so there's a lot of players who they brought in for not the smallest fees, but they've all done very well.
That has got to be the goal for Newcastle United, to be up there with the likes of Manchester City and Liverpool.
Everyone keeps talking about the money the owners have and the ambition of the club has got to be that they want to challenge these teams.
They should want to win a Premier League, an FA Cup, League Cup and even the Champions League.
That has got to be the goal, it's pointless coming in as one of the richest clubs in the world and accepting 4th every season.
There's no sense in it, their goal is to strive to get better and better and become a team where everybody reckons, they have a chance in these competitions.
They've got to start winning silverware at some point, it might be a bit early right now but with the way they're going that process could speed up.
Next season you've got to say they've got to be top four and challenging for trophies.
Moving to Marseille in 1989 was arguably a massive step in your career. While you weren't the only English player to move abroad during the time of the country's European ban, how was life in the south of France? Was it a change you wanted?
I didn't see it coming if I'm being honest.
I had just signed a long-term deal at Spurs, and I was very happy at Tottenham.
I got a little disheartened after 87/88 Tottenham got rid of a lot of players such as Clive Allen, Glenn Hoddle and Richard Gough.
A lot of players left and suddenly it became a rebuild.
I was 28 or 29 at the time and I thought this could be two or three seasons before we get something out of this team.
We had a lot of young players coming through, but I was quite happy to see where it went and get on with it.
Obviously, the transfer fee came in from Marseille which was the price Tottenham had set for me.
All of a sudden, I was gone, I didn't have a plan but looking back it was the right thing to do and I did want to play in Europe because of the ban at the time.
I looked at Marseille's team and I thought there was a very good chance of winning the Champions League there.
I thought if it didn't work out then I could always come home and luckily for me it did work out.
Looking back, it was the right move at the right time.
During your Marseille days, you played with some of the world's best such as Papin and Stojkovic, how was it to play with those players, did you feel you were in the presence of Marseille's Galactico's?
Yeah, it had that feel, if you look at Marseille's history they're a team who are up and down.
They have two or three great seasons, then they have three or four where you're wondering what's happening.
Someone then comes into the club to try to make them great again and they start to go on a journey before something goes wrong.
They just can't seem to compete at the top every year like PSG do now.
Marseille have always been an up and down club, so I was quite lucky that when I got there, they were on a high.
They were very ambitious and wanted to be the best team in Europe, so when I got there it was me walking into a team full of French internationals.
Brazilian, Ghanaian, Uruguayan, Yugoslavia which became Serbia for Stojkovic.
I was playing with players who were international footballers, there were some world class talents and some very good footballers.
Everywhere we went we entertained, and everyone would be looking at Marseille.
I loved it there; I had three great years at Marseille.
If I said to a manager this is how I like to play football, Marseille would say to me yeah go do it then.
Terry Venables in my last year at Tottenham gave me free reign and it continued at Marseille; I had license to do what I wanted.
That's how I wanted to play football and luckily enough I found that team who gave me the license and they were an outstanding team.
It wasn't like joining a team who were plodding along, we were winning trophies and entertaining.
How would your 1990/91 Marseille team go against today's PSG? Would you fancy Papin against Ramos and Boli against Mbappe?
It would be a great game.
With modern day you can't really tackle anymore like they used to do, although it wouldn't really affect me.
I just think we'd be better defensively than PSG.
We had Basile Boli, Bernard Casoni and Carlos Mozer who were three top defenders.
They were pacey, great in the air and aggressive, but could play as well.
Manuel Amoros and Eric Di Meco were both French internationals, so we had a lot of talent defensively and I think it would be better than PSGs.
Attacking wise you could say whatever, both teams have a lot of attacking quality.
Midfield would probably cancel each other out but it would be a great game to watch.
Either result I don't think would be a shock to anyone, but it would have been a hell of a game if you could have made it possible.
I would say we were as good as PSG are today definitely.
What have you made of Marseille's revival under Pablo Longoria? Have you had contact with him? How did you experience the clash with Spurs? Was it a fair result home and away? Could you liken Marseille fans to Newcastle's?
Marseille have got to be in that top 3/top 4, they have to make sure they get themselves in that pack.
I thought the Champions League was a little bit too much for them this season, I felt they were a team who would do well in the Europa League.
I didn't think they were a Champions League outfit in terms of getting through to the later stages and I couldn't see Marseille getting that far.
They had two great games against Tottenham getting a draw in the first game and then they were by far the better team in France.
Tottenham sat back and offered pretty much nothing before coming out in the second half and attacking more, ultimately nicking it at the end.
That could have been a draw, so you could have said the two teams were on a similar level and if we're honest I don't think Tottenham will win the Champions League.
Marseille could have gone through that night; it wasn't easy for Tottenham.
But for French football and for European football then Marseille needs to be in the competition on a regular basis.
Marseille are a huge club and they need to be in that top two every year and unfortunately money talks.
If you haven't got the budget to compete, then you might not even be in Europe some years.
But Marseille needs to be in these European competitions.
You were so close to European glory before losing out to Red Star Belgrade, how do you look back on your time abroad, the prime years in your career?
I just look back with pleasure, I loved it.
I had three years there and enjoyed travelling all over France.
I was well liked wherever I went because I think people enjoyed the style of football that I played, and I just tried to entertain as much as possible.
You obviously have to play to win, but I wanted to try and entertain the crowd.
I was given the license to do that, and I unfortunately couldn't make the game against Tottenham.
But speaking to others who I know that went, they told me everyone still asks about me and still loves me.
I left in 1992 and I still get contact from the club asking me to go out for games.
I'm hoping to do that this season and whenever I have gone back it's like I never left.
It feels like I'm still a player, that's the amount of respect I get and it's mutual from my end to the club as well.
I loved my time there, it was a fantastic experience and I always look out for the results, hopefully one day the glory days can come back.
---

Build better bets with our free betting tips, predictions and accumulators, every day.
More betting news:
Here at Free Super Tips, we cover the entire English Football League, as well as the World Cup. Make sure to check out our Championship Predictions, League One Predictions and League Two Predictions, all covered by our betting experts.