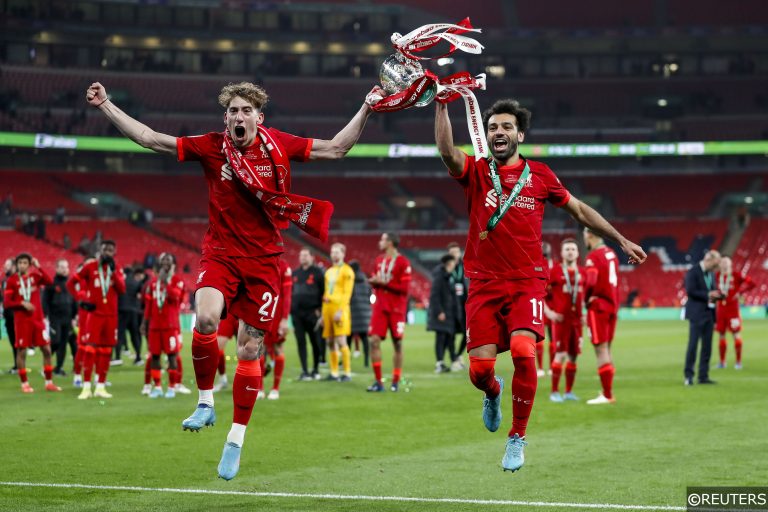 After an explosive start to the 2022/23 Premier League season, we sat down with Didi Hamann to discuss Liverpool's 9-0 win against Bournemouth, Haaland's start for Manchester City, and his predictions for the Champions League this year.
If you want our predictions for the Premier League or Champions League then follow the links!
---
Does winning 9-0 change things for Liverpool or do they still have issues? If so, where?
I don't think it changes much in terms of the issues Liverpool have.
Obviously, it shows that this team is still capable of beating teams heavily as we saw against Bournemouth.
But I think that midfield area still does remain an issue because Liverpool don't get enough goals from midfield.
It doesn't change that problem too much, but what it gives the team is that confidence back ahead of two tough games coming up.
It was very important to get that first win of the season, but I still feel that midfield area needs looking at.
Do you think Jordan Henderson's time as a Liverpool starter is over?
I don't necessarily think it's a Henderson issue in the midfield, we've seen over the years that whenever Henderson plays or is needed, he was an important player.
I think even last season, he played a lot of games coming off the bench and more often than not made an impact.
He brings something to the team every time he plays, so I don't think it's fair to just single out Henderson.
I think it comes more down to the balance of the side in general.
There's been a big change at Liverpool this summer with Sadio Mane leaving and we still have to wait and see what Darwin Nunez brings to the side in that aspect.
But one of the problems for Liverpool for a while is having goals from midfield in open play, they simply don't have that.
Henderson for me is still a very important player for Liverpool, but I think the balance of Fabinho and Milner along with Henderson doesn't give you that threat from midfield.
There's Harvey Elliott as well who is a very exciting talent, but he's still raw so you can't be relying on him to get those goals.
I watched Newcastle versus Manchester City last week and a player like Joelinton would be ideal for Liverpool.
Somebody who has a physical presence, someone who is technically gifted and has energy to get up the pitch into attacking areas.
Liverpool's issue in the midfield is that they have too many players that are similar to one another, so they need that different dynamic.
I'm not saying Joelinton is the answer, but if Liverpool could get someone who is a similar type of player, then it would be a perfect fit.
How impressed have you been with Harvey Elliott this season?
He's done really well to come back from that injury and hasn't looked out of place and the same goes with Carvalho when he's played.
The're both very exciting players and I think Liverpool as a club are the right fit to bring young players through.
Both players will need time to develop, but if they continue on the right track then Liverpool will have a couple of gems in their squad.
Elliott was looking good before that injury; he's taken some time getting back up to speed but he's done very well so far this season.
We just have to hope he stays fit and continues to contribute to the side.
In the future, could you see Trent Alexander-Arnold being moved to midfield?
I think he used to play there in his youth, so for me it's probably worth trying.
Obviously, there's a lot of talk about his defensive abilities as a right-back, he wouldn't be defending one on one as much as a midfielder.
We all know his passing capabilities as well and he's got a brilliant strike on him from 20 or 25 yards out.
It could give him the freedom of the pitch in that role, but I'm not sure Jurgen Klopp is totally convinced on the idea.
He's obviously capable of stepping into that role with the attributes he has, so I think it could be something worth trying.
Liverpool have other options at right-back such as Calvin Ramsay or Joe Gomez if they really wanted to experiment with Trent in midfield.
Do you think Liverpool fans are right to feel annoyed by FSG's lack of spending compared to other top six clubs in recent years?
I think they do have a right to feel frustrated, but this can always be the case with supporters no matter who you support.
You've got to say that the team over the past five years, yes Liverpool may not spend as much as the other teams, but they always stay competitive.
I think that's a success in itself.
We see with Newcastle right now; they aren't spending silly money on players they don't need.
They're only spending money on players who they really want and that's what we've seen from Liverpool since Klopp walked through the door.
Sometimes fans can get annoyed because their team isn't bringing in someone who could fill a problem area.
But as the club and Klopp himself have said before, if it isn't the right fit then we won't sign someone.
Liverpool won't sign players if they're desperate, they're patient with the transfer strategy and to be honest I think it's the right approach to take.
You shouldn't just sign players for the sake of it.
But I do understand the frustrations of the fans because there are areas that need improving, but the way Liverpool have handled these things in the past has been spot on, so you have to trust that they'll get it right again.
Any surprise at how quickly Haaland has settled at Man City?
If you put balls in the box, then he'll score.
I watched him against Newcastle, and he was hardly involved in the game in the first half, but then he comes alive when the ball breaks free in the box to score that poachers goal.
The question with Haaland isn't if he will score because that's obvious to see he will.
The question is will Haaland integrate into the team because in the games overall he hasn't been involved.
Against Bournemouth I think he touched the ball 7 or 8 times, so even though they won 4-0 they didn't really need him to be more involved.
There's no doubting his finishing ability when a chance arrives, but I'm still waiting to see how he fits into the team long term.
Could Erling Haaland break the single season Premier League goal scoring record this season?
Of course, he can if he stays fit.
That's the big question, he's had quite a few muscle injuries in his career and when he was at Dortmund so it's a concern.
These sorts of injuries can keep you out for six to eight weeks if not longer depending on how serious they are so it could change the whole complexion in terms of his goal scoring.
But if he stays fit, then I think he has every chance of doing that.
Is this the year Manchester City win the Champions League?
I think Haaland could be the deciding factor, but I think if you look at Pep Guardiola over the past 15 or 20 years, he's never really wanted a proper centre-forward.
It's just the way he's always played his football and what his preference is, but obviously he's worked with some top strikers in the past.
I don't think we should get too carried away though, it's only been four games so far.
The dynamic of the season could change in a few months' time, there could be injuries to key players which would obviously make things difficult.
I think people are putting Manchester City favourites because of the Haaland signing, but against Bournemouth and Newcastle he was hardly involved.
I know he's got six goals in four games, but I'm still sitting on the fence a little bit to see how it plays out.
It's always a big talking point at Manchester City to see whether they can win the Champions League.
They're capable of course, but there's a lot of things that can change and if Haaland doesn't fit into the way the team play, then that could also cause problems.
Would Man City be making a mistake if they sell Bernardo Silva this summer?
Well, they let Jesus and Zinchenko go who are turning out to be quite important players.
I think it all comes down to what Bernardo Silva wants, I'm not sure what the club thinks but I can't imagine that the'd want to let him go.
If Bernardo Silva did want to go, then I think he would be a big big loss to Manchester City.
Ederson has fallen under a lot of criticism recently; do you think it's justified?
Not really.
I think he's been a pretty solid keeper for Manchester City over the years.
Sometimes you just have to accept the odd mistake, I can't remember him making many since he joined the club.
Overall, he's been a very solid keeper, so I don't think it's fair to criticise him.
Did Werner give up too easily or was he right to leave Chelsea and return to RB Leipzig?
Well, he was at Chelsea for two years or so and he's had his chances to impress.
I think he became disillusioned at Chelsea; he was given more than enough chances to impress but failed to do so ultimately.
I do think he's a player who needs the support of the manager and backs him up.
With Thomas Tuchel I don't think it's been the case for Timo Werner, he had a spell where he contributed towards that Champions League win, but other than that we simply haven't seen enough.
You've got to say that he hasn't been a regular fixture at Chelsea and with the World Cup coming up I think the only move for Werner was back to Leipzig and the Bundesliga.
He needs the game time because obviously he wants to play for Germany in Qatar, so I'm not surprised that he chose to come back.
Are Chelsea getting their transfer strategy wrong?
I think you've got to integrate these signings which Chelsea clearly aren't doing.
If you look at Liverpool for example, their strength in the last few years isn't the players that they've brought in, but how they've been able to integrate into the team from day one.
Every player who has come in has functioned within the team and adapted quickly to how Liverpool play.
If you look at Chelsea, there's so many examples of players who have joined but can't function within the team.
There's Werner, Barkley, Lukaku, Ziyech and Pulisic who are all players who cost a lot of money.
None of them have brought too much to the table and the same can be said for a few other signings Chelsea have made.
I don't think it's necessarily just down to the player in a lot of cases, it's down to the way in which they're integrated at the club and having trust from the manager.
What can West Ham expect from Thilo Kehrer? Is he a good signing?
He certainly brings a lot to West Ham, he's a good defender who is very quick.
I think it'll be important for him to have a set position because we've seen that he can play across the back four.
But I do think going forward he is limited, but as a centre-back he could turn out to be a very good player.
He's physically strong, he's very quick and he certainly gives West Ham options at the back.
What have you made Sadio Mane's first weeks with Bayern? How have the fans and German football overall taken to him?
He's started the season really well, obviously they won the first two games comfortably and with quite a few goals in hand.
I think he's settling in really well; he's celebrated the wins with the fans in their end.
He seems to be enjoying it so far, he is the type of player who always looks like he's enjoying his football and I think that's when you get the best out of him.
You just let him play and get on with it which is what he's doing at the moment.
He's scored a few goals already and he's been involved in others, so I think the Bayern Munich faithful is quite happy with him already.
I think it's a great bit of business to see him playing in the Bundesliga and it's obviously a great transfer for Bayern Munich.
Bayern Munich's attack has been excellent so far this season, do you foresee any issue down the road because the team lacks a true No.9?
Well, it hasn't looked that way so far because the team has been free scoring and free flowing.
Obviously, you look at the weekend and I think Bayern Munich had 30+ shots at goal, with some people saying if Lewandowski would have been there then they win the game.
It remains to be seen at times there will be games where he's missed because he scored 40 goals.
Now there's an opportunity to share the goals round and we'll have to wait and see.
It doesn't matter if Mane scores 20 goals or whatever it might be, it's just important that he scores the important goals because that's what Lewandowski did.
The juries out on that situation, but it's something that they couldn't change.
He wanted to leave, he wanted a new challenge, and they got a decent transfer fee for him.
So far, they've not missed him but playing without a number 9 isn't easy.
They're not used to it, so it could provide issues in certain games as the season goes on.
Is it going to be interesting in the Champions League games with Bayern Munich and Barcelona being drawn together?
It'll be very interesting because people in Munich say it was always meant to happen and of course Haaland will be going back to Dortmund as well.
Lewandowski coming back to Munich will be the biggest story, but I watched Inter Milan last season and they were very close to knocking Liverpool out.
Inter Milan were the better side at the San Siro, and they went 1-0 up at Anfield before undeservedly going down to 10 men.
Alexis Sanchez was sent off after they scored and I think if he wasn't, then I think there was a chance Liverpool could have been in real trouble.
It's a really tough group so I';m a bit worried when people in Munich say it's good to have Lewandowski back because Barcelona have a very good side this season.
So, I think the group will be really tight and I don't think it's a forgone conclusion that Bayern Munich qualify from this group.
As of now, one of Julian Nagelsmann big tasks will be managing the abundance of attacking talent on his roster. Do you think he'll be successful in managing all of those strong personalities?
It's a big ask to be honest and that's always the biggest challenge at these clubs.
When you've got 20 plus players it's difficult to keep them all happy at once.
Look at De Ligt who was a huge signing in the summer for €80 million and he's only started one game so far.
You need to be very sensitive and have a plan to keep all these big players happy and it's a big ask for a manager.
Within a day or within a week, if one player is unhappy with things it could unsettle a whole dressing room and that's the biggest task for Julian Nagelsmann.
So far, it's ok, but we're only four games into the season.
Obviously when the Champions League comes around then it'll help because there's more games.
But it'll be very interesting to see how he handles the whole situation because Bayern Munich have so many top players.
Everyone will be expecting to play and around 7 or 8 of them can't play every week.
It's a big big job and I'm very interested and intrigued to see how it goes.
Matthijs de Ligt was a big money signee but has yet to break through into a consistent starting spot for Bayern Munich. Do you think it is just a matter of time before that happens?
Apparently, he had some fitness issues before he signed so that will have something to do with his absence.
He went straight to America, but with the travelling it meant he couldn't train that much but I think he was behind schedule fitness wise.
We're three weeks into the season now so there shouldn't be an issue now.
There's only the case of Hernandez and Upamecano playing really well.
Upamecano made a mistake on Saturday, so there might be an opportunity to now bring him in and play him.
But there's a lot of competition if you look at the squad, it's probably as good as a squad as any Bayern Munich's had in the past.
If he doesn't play next week, he just needs to bide his time and wait for his chance.
How important is it to have that competition in squads?
You have to have competition in a squad and that is at any level.
The worst thing for a football club is if you have eight or nine players who know no matter how they play, they'll be picked for the next game.
You need competition for places because it brings out the best in everyone.
I think it's absolutely essential that you have that competition for places.
At the same time, you can have too much competition which obviously makes it hard for a manager, so there's a fine line when it comes to these things.
---

Build better bets with our free betting tips, predictions and accumulators, every day.
More betting news:
To take full advantage of our Free Football Tips we recommend you take a look at our Free Bets page, where you can compare all the best free bets and special offers from the country's top bookmakers.