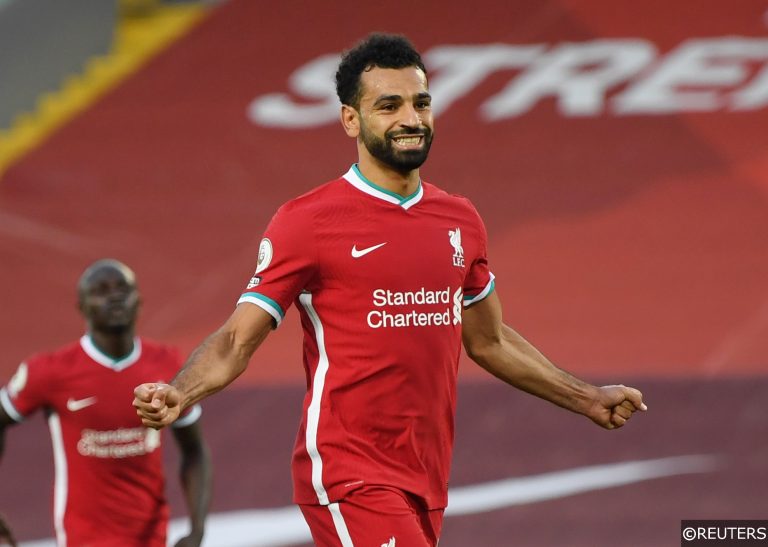 Gareth Freeman
@TheGFreeman
Sports Journalist at FST, Gareth qualified as a journalist after graduating from university and spent over a decade as a freelance broadcast journalist, commentator and tipster before joining FST. Now living in Manchester, he is a long suffering Bolton Wanderers fan who also enjoys boxing, the NBA, tennis and rugby league.
Liverpool are in contention to win what would be an historic quadruple but Manchester City stand in their way in both the Premier League and the FA Cup, while there is a chance the two Premier League heavyweights could meet in the Champions League final.
Former Liverpool and Manchester City midfielder Didi Hamann is perhaps better placed than most when it comes to predicting how the Reds' battle for three more trophies will play out so we caught up with him for his thoughts, with the German also providing his opinions on the future of Mohamed Salah, Liverpool new boy Luis Diaz and some transfer speculation from the Bundesliga.
---
Mohamed Salah is still refusing to sign an extended contract with the Reds, do you think anyone will compromise or can you see him leaving for free?
We've seen similar things happen at Bayern Munich, Alaba left on a free for Real Madrid and Sule is moving to Dortmund now.
Usually if players leave football clubs, then they're sold before their contract runs out, especially if they can't negotiate on a new one.
I don't think he'll leave on a free next season, it's just part and parcel of football and the business.
Players try to use their position at the club to try and get the contract you want.
The least likely option is that he'll leave next summer, Salah will either go this summer for a fee or he will extend his contract.
I'm not sure on what his intentions are, there were rumours before that he wants to leave and if that's the case then he would have to be replaced.
It would be a huge loss for Liverpool though, I've spoken before that he's someone that gets compared to strikers.
He's in the same bracket as some of the best strikers in the world, he puts up incredible numbers and he plays out on the wing.
He's one of the top three players in the world right now, so of course he would be very hard to replace.
How impressed have you been with Liverpool's newest signing, Luis Diaz?
He's been brilliant.
From my own experience and seeing other players, it takes you a while to adapt to the English game.
That's because it's more physical, it's quicker and the referees aren't blowing the whistle as often as they do in other countries.
He's been incredible so far, his performance in the Carabao Cup final was relentless before he came off before the penalty shootout.
But he's slotted right in, his work rate off the ball, he's very direct with it and I think he's a player that every team needs and can do with.
Two of your former clubs Liverpool and Manchester City are going head-to-head in the title race, who do you think will eventually win it?
I think Liverpool will come out on top, but it's a really exciting title race and there's that game at the Etihad coming up.
It's great for the fans and it's great for the league.
Last season, around Christmas we had a few teams in the running for the title before City put it to bed within two or three months.
It's good to have a title race and they're the best two teams in Europe at the moment.
There's also the potential that they clash in the Champions League final as well and there's a good chance that happens.
Obviously both teams have two more opponents to put aside, but they've dominated English football and the Premier League for four or five years now.
We all remember that title race where Liverpool got to 97 points and still fell short of City, it's just incredible.
Any other year that wins you the title and I think it just shows how good the two teams are.
Do you think Liverpool have a genuine shot of winning the quadruple this season?
They've got a very good chance of doing that, I don't think there's too many teams that get to April with a genuine possibility of achieving it.
Obviously, there's the game at the Etihad, which is huge for the Premier League title race, they've got a decent draw in the Champions League to go further.
Manchester City in the semi-final of the FA Cup is obviously a tough fixture, but they've got a good chance at that quadruple right now.
The only question mark will be that injury to Trent Alexander-Arnold, we'll have to see how quickly he comes back because he's a hugely important player.
There's a possibility Liverpool could lose one or two games from now until the end of the season because it'll be very demanding and very testing on the players.
Salah's coming back with some disappointment from missing out on the World Cup and losing in the African Cup of Nations, so it's interesting to see how he reacts.
So, there's two or three obstacles for the team to overcome and then they've probably got to beat City two or three times to achieve that goal.
Their record against City, especially at the Etihad, isn't the best, so they've got to do it the hard way.
But at least they're still in with a chance come April and that just shows you the quality of this team.
When Jurgen Klopp came over from the Bundesliga did you think he would do as well as he has done with Liverpool?
No, I didn't expect him to achieve what he has done, I knew he was an exceptional manager before he walked into Liverpool, but I've seen many exceptional managers fail in the Premier League.
It is a different game, it's a different country and different culture, but what I think helped him is that the people in the club at Borussia Dortmund is similar to Liverpool.
It's a working-class city, people want to see the team work hard and graft and that's what Klopp has always demanded of his players.
He's assembled a squad that is right up there in five years which I didn't think was possible.
There's a lot of teams with more financial power than Liverpool, so it makes it even more impressive when you look at his success.
If you look in relation to what other teams spend, the two Manchester clubs for example have spent a lot and one's a very good team and one's an average team.
But even United have a net spend three or four times bigger than Liverpool's.
It makes you realise even more how incredible a manager Jurgen Klopp is and the job that he's done at Liverpool.
What has been German football's reaction to how Thomas Tuchel has handled and guided Chelsea since they were put up for sale? Has his response impressed you?
I think the reaction has been similar to the one in England, I think he's handled it really well and he's found the right words in a difficult situation.
A lot of that work was undone by that statement they put out ahead of the Middlesbrough game where they wanted it behind closed doors.
It does make you wonder who's in charge of the business relations at the moment because it was just unbelievable to read.
I found it quite incredible that Chelsea thought they had the right to make that statement because of the troubles they're in.
I couldn't believe I read it, so Thomas Tuchel's words have been undone by that slightly.
But apart from that, I think he's been very good with the way he's handled it and the way he's kept a lot of people at the club calm, especially the players.
If you were a Paul Pogba or Ousmane Dembele would you be seriously considering an offer from Newcastle? Why/why not?
I think it depends on what stage of their career are they at.
If you want to win titles within the next two or three years then it probably won't happen at Newcastle, there might be a cup win, but I can't see them winning a league any time soon.
In the mid-term, if they keep spending then they will challenge and they will be in the Champions League at some point, there's no doubt about that.
Then again, it's not easy when you have that sort of money, you've got to spend it wisely which doesn't always happen.
They've done a very good job though; I didn't think they'd get themselves out of trouble as quickly as they have done.
There's still some work to be done, but I think they will be able to attract players because they'll be able to afford bigger and better wages than a lot of other teams.
What have you made of Joelinton's change from striker to midfield? Does Eddie Howe deserve credit? Is he a better now than what you saw with Hoffenheim?
Eddie Howe certainly deserves a lot of credit, as does Joelinton.
It's very unusual that this happens, if somebody plays up top then they want to score goals and it's what they've done all their life.
To transform somebody into a midfielder, then Eddie Howe has to be given huge respect for that.
Having said that, I felt he would have a bigger impact as a striker in England even before he joined.
I've seen him in the Bundesliga and he's a really good player and I'm surprised he didn't find his feet for such a long time.
He's a very capable player, but the job Eddie Howe has done with him at Newcastle is incredible.
We have seen several stories in the past few weeks detailing how players like Niklas Sule and Robert Lewandowski have felt underappreciated or disrespected due to lack of contact from the club during key negotiating periods. Do you think the Bayern bosses are learning from this and will change their tactics moving forward?
Of course, I think they'll learn from it and they probably have to.
We shouldn't forget in Rummenigge and Hoeneß they lost two people at the top of the hierarchy who made the club in the last three or four decades.
They were the face and the voice of the club for such a long time and when you lose these two people, then you always have a transition period where things can be unsteady.
I think that's where Bayern Munich are at the moment, it can be unsatisfying for fans or for people to see Alaba and Sule leave on a free.
Sule staying in the Bundesliga is at least still good for the league, but it's obviously a situation that the football club doesn't want to be in.
We know with the pandemic the stadiums haven't been filled for the past two years, so even for Bayern Munich financially, they have to look where they need to get the money from.
So, to lose players on a free is a double whammy in this period.
I'm sure they'll learn from it, but the questions in the short term are who will or who can replace him because it's a huge loss for Bayern.
Bayern Munich is having trouble identifying a centre-back for the roster next season. With Andreas Christensen reportedly going to Barca and Antonio Rudiger's wages too high, is there a defender that Bayern Munich should be targeting to help replace Niklas Sule?
There's one in Freiburg at the minute, Schlotterbeck who played against Holland recently for the German national team.
He's only young, left footed and he's not only technically very good, but he's also tough.
In my opinion, this is the obvious target.
They tried at Christmas, but Freiburg wanted too much money, so to get him on a free would be the ideal choice.
He plays with the national team now and he plays like he's been there forever.
He's a brilliant player and I know it's a huge step up from Freiburg to Bayern, but I think he's the type of player and character who could do that because he's a leader.
At the moment, Bayern play with three French lads in Pavard, Upamaceno and Hernandez and Alfonso Davies to return.
I think it's important that they have someone who commands that backline and organises others around him.
Champions League football helps attracts players, but the one thing Bayern don't have at the moment is an organiser, so that's why they concede so many goals and give away so many chances.
Dayot Upamecano has been linked with a move to Real Madrid, would you be disappointed if he did leave despite his troubling first season at Bayern?
I think if Real Madrid want him in the summer, then there's a chance that they'll get him.
At the moment, he's effectively third choice and he was bought to lead the line at the back for Bayern.
If Real Madrid want him, then I think there's a decent chance that they might get him in the summer.
If Robert Lewandowski leaves Bayern Munich opts to leave Bayern Munich and Erling Haaland is too expensive for Bayern, what would be your solution for Bayern Munich's centre forward position next season?
To be honest, I don't see anybody bar Haaland at the minute.
Either way it will be a downgrade, I don't think Haaland is on the same level as Lewandowski right now.
The question will be whether the club opts to give him another year on the top of the year he has left or whether they want to give him another two years, I'm not sure.
It'll be in the negotiations with Lewandowski and his team, but if he was to leave then I don't see a centre forward being suited apart from Haaland.
They way Bayern play with the wingers, you need someone who can play up front on his own.
They need someone with a bit of pace and physicality, and I don't see anyone other than Haaland at the moment.
Lot of talk about Bayer Leverkusen winger Moussa Diaby moving to England; have you been impressed by him over the last 18 months? Can you see him playing for Arsenal or even Newcastle?
He's been brilliant and he's very quick, once he starts running at people then he becomes very difficult to stop.
He's still very young, he's had to take his time to settle into Germany, but he's had some great moments over the past two seasons.
He's really come into his own this season, his finishing is exceptional which isn't always the case with wingers.
He's very calm in front of goal, a great crosser of the ball, very good left foot and he's lightning quick.
There's nothing not to like about him and actually I think if Mohamed Salah was to leave Liverpool, then Diaby would be the logical solution to replace Salah.
I'm not saying Salah is as easily replaceable as that, I just think Diaby would have the talent and the capabilities to replace him at some stage.
When you look at Erling Haaland's form this season, is the hype around him justified? Should he join Man City, can he avoid the adaption problems of Jadon Sancho and Timo Werner? Having seen how Guardiola adjusted his system at Bayern Munich for Robert Lewandowski, how will City change when Haaland arrives?
Well Pep Guardiola played Lewandowski on the wing once or twice, so it just shows you that he believes in the way he plays.
He's got one centre forward right now which is Jesus, and he doesn't really play there when he is on the pitch.
Guardiola seems reluctant to play a centre forward through the middle, so I can't see Haaland going to City.
There's a lot of strong reports in the papers, but I think it's quietened down a little bit again, but I can't see him joining City.
I don't think Guardiola is keen on centre forwards in his system and he's not going to change now, that's a given.
It's worked for him all of his career, I know he hasn't won the Champions League since Barcelona, but he's still had a lot of success.
This is why I can't see him changing his system and why I don't see Haaland going to City.
Would he have any problems adapting to the Premier League?
I wouldn't think so, he's a physical player and he likes that physical challenge.
I think if anything he would thrive on the challenge of playing in the Premier League, so I wouldn't see any problems there.
The only issue is where would he go?
Liverpool have Diaz now, Jota who's been brilliant and he wouldn't really fit into the system because they want a number nine who links the play.
Haaland isn't that sort of player, and I can't see him at Manchester City.
If Lukaku was to leave Chelsea, I'm not sure Haaland would want to go.
And then there's Manchester United, but I don't think they're winning the league in the next five years.
So does he want to join a club where that might not happen or does he think he's the player to galvanise that club.
He's a confident young man don't get me wrong, but there's that many issues at United that I don't see them being anywhere near the title which is what I think Haaland wants.
The question will be is there a club where he wants to play that suits him and matches his ambitions.
I think it's unlikely he ends up in the Premier League this summer.
You have played with unbelievable players but who is the best you've shared the field with?
You play with players at different stages of their careers, I played with Lothar Matthäus when he was well in his 30s, so he obviously wasn't the player he was when he was 25 or 27.
I've played with some brilliant players, Carragher and Hyypia who was an unbelievable buy for Liverpool.
There are some hugely talented players, Nicholas Anelka who I played with for half a season was one of the best talents I've ever seen.
But you always look at players who change games, the easiest thing to do in football is defend, the hardest thing is to create chances and score goals.
Steven Gerrard could do that and obviously I could see his development.
I joined the club when he was 18 and I played with him for seven years and probably some of his best years I was his teammate.
I think the quality he had from midfield is something not many players have nowadays, he could do everything.
He was a brilliant crosser of the ball, he could score a goal from anywhere, he had great vision and technique.
He was just an all-round world class player and that's why I would have to go with Steven Gerrard.
---

Build better bets with our free betting tips, predictions and accumulators, every day.
More betting news:
298/1 golf double for The Chevron Championship & Valero Texas Open
12/1 & 9/1 accas land as FST kickstart the week with 9 winners!
In The Mixer: How many trophies will Liverpool win this season?
Punter wins over £500k from a £2 bet!
13/2 Acca for the Champions League quarter-finals
Free Super Tips is the home of Football Betting Tips. For detailed match analysis, check out our Football Predictions for today's games, or Tomorrow's Football Predictions if you're looking a little further down the road.