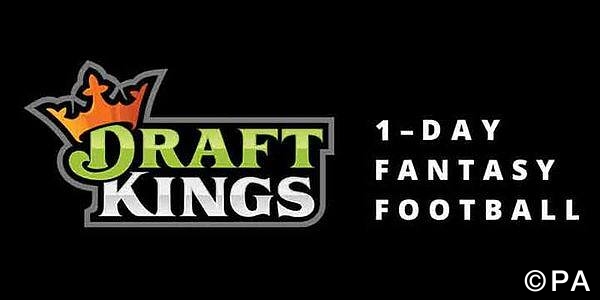 A lifelong Birmingham City fan, Tom relocated to Germany for five years after graduating from university, where his interest in the Bundesliga developed. He began writing about and betting on German football for FST in 2016. He's also an avid fantasy football player and closely follows the Premier League and European competitions.
DraftKings are daily fantasy sports giants in the US and they've now launched in the UK for the new Premier League season!
For those who don't know how the DraftKings 1-day fantasy format works, find out all you need to know by following the link below:
DraftKings Daily Fantasy Football Explained
$20,000 Premier League Striker and $20,000 Premier League Golden Boot!
Gameweek 9 of the Premier League is almost upon us and DraftKings have plenty of competitions for those who like a quick return on investment through a 1-day fantasy format.
DraftKings "Premier League Striker" gives you seven fixtures to select your eight man fantasy team from, all for an entry fee of just $3 (deposits and withdrawals will be converted at a competitive rate). $3 entry can potentially scoop you a huge chunk of the $20,000 prize pool, which has a $1,000 top prize!
DraftKings "Premier League Golden Boot" follows exactly the same format, just at a higher buy in. $27 is the entry for that competition, which also has a $20,000 prize pool but a $1,500 top prize!
We've put together the following article to help give you an edge over the rest of the field when deciding who should make the cut in your team. See our lineup and read more below!
Who to Buy
Theo Walcott (Arsenal) or Arsenal Players

Theo Walcott's brace in Arsenal's 3-2 win over Swansea earnt him a double digit DraftKings score (31 points) for a 5th consecutive Premier League appearance. While goals and assists are, of course, important to earning points, the right winger has also raised his fantasy point per game (14.9 FPPG) with a further 36 shots, 17 shots on goal, 26 crosses, 15 fouls drawn, 16 tackles won and 7 interceptions. His constant presence in the attacking third has made him the 5th best player available (by FPPG) this weekend, and, arguably, the best value player available at $8,900 given his form.

Hosting the out-of-form Middlesborough shouldn't prove too much of a challenge for the in-form Arsenal and, as such, any of their starting 11 are worth consideration. Notably, forward Alexis Sanchez has earnt some huge point hauls in recent weeks, though he's also the most expensive player available this weekend at $10,500. Mesut Ozil has also found some scoring form with 3 in Arsenal's mid-week 6-0 win over Ludogorets. Hector Bellerin is a defender who often benefits under the DraftKings scoring system for being such an active full back.

Romelu Lukaku or Yannick Bolasie (Everton)

Lukaku has been in top form ever since he broke his 1139 minute goalless run with an 11 minute hat-trick against Sunderland back in September. He has scored 9 goals (and assisted 1) for club and country over his last 7 competitive appearances, taking double digits DraftKing scores in 6 of these – the highest single earning being 45 points against Sunderland. Lukaku maintained his average of 16.3 FPPG with a goal against Manchester City last time out and although he is the 3rd most expensive player available at $9,200, he's a must have for this weekend's match against Burnley.

Yannick Bolasie hasn't been as prominent, but he still has a respectable 10.4 FPPG average thanks to his involvement going forward. Bolasie has picked up an assist in 3 of Everton's last 5 matches and grinded out plenty more points from 17 shots, 57 crosses and 10 fouls drawn. He's a decent alternative to Lukaku at $8,000 if your budget can't stretch that far.

Troy Deeney or Jose Holebas (Watford)

Though Troy Deeney earnt just 1 point in last weekends trip to Middlesborough, he has Watford's highest FPPG average for a forward thanks to his 3 goals and 1 assist so far this season. Deeney is one of the cheaper forwards available at $7,600 and also has the extra advantage of being the designated penalty kick taker. Given that Watford are against strugglers Swansea this weekend, who have conceded 8 goals over their last three matches, we think it's likely he'll add to his tally there.

Left back Jose Holebas is also on our list for his prominence up the left wing over Watford's recent matches. He scored the only goal against Middlesborough last time out and tallied himself double digits for the 2nd time in three matches when added to the 5 crosses, 3 tackles won and 6 interceptions he also contributed. Holebas has a respecatable 10.2 FPPG average, but is one of the more expensive defenders available at $5,700.

Xherdan Shaqiri (Stoke) or Stoke Players

Though none of Stoke's players appealed to us over the opening weeks of the new season, their 2-0 win at home to Sunderland last weekend should help with their momentum. Stoke have another "winnable" match ahead of them on Saturday, away to Hull City, who conceded 6 goals last time out. Though Xherdan Shaqiri has just 1 goal on the board after four Premier League appearances, he still has a 12.1 FPPG average thanks to how the DraftKings scoring system works. Shaqiri racked up a decent 11 points last time out for his 3 shots, 1 shot on goal, 8 crosses and 1 foul drawn.

Other Stoke players, such as, Joe Allen, who has scored 4 goals in his last three, and Marco Arnautovic, who assisted one last time out, could also prove decent investments given Hull's form. All of the above also have reasonable price tags between $6,200 and $7,800.


Tom Heaton (Burnley)

Even though we fancy Lukaku against Burnley, Tom Heaton makes it onto our list because of how goalkeepers score points under the DraftKings Fantasy format. Burnley conceded three against Southampton last weekend and it could have been many more if not for the 11 saves made by Heaton. He took away 16 fantasy points for his efforts and is is one of the best value goalkeepers available at just $4,000.
Who to Avoid
West Brom Players

West Brom have another difficult fixture this weekend as they travel to Anfield to face Liverpool. Liverpool dominated last week's 0-0 draw at home to Manchester United, taking away their first clean sheet of the season in the process, and are the Premier League's second highest scoring team with 18 goals in 8 matches – an average of 2.25 goals per game. While Tony Pulis is notorious for his organisation at the back, as demonstrated well in last weekend's 1-1 draw at home to Spurs, they'll likely be pushed to their limits against Jurgen Klopp's lethal quartet of Coutinho, Lallana, Mane, and Roberto Firmino.

Swansea Players

Swansea's change of managers certainly had an immediate affect on the side who managed to score 2 goals away to Arsenal. While Watford aren't the strongest competition to host this weekend, the main reason for the exclusion of Swansea players is simply a question of "where are the points going to come from?". Gylfi Sigurdsson is the obvious choice after being played as a false nine last weekend. He had a decent game and scored with a wonderful curling left shot past Petr Cech, earning 23.3 fantasy points in the process. However, he's the joint third most expensive player this weekend and whether he's worth almost 1/10th of your budget is a balance of risk versus reward.

Meanwhile, though Leroy Fer has had also had decent run of form overall, he has scored in just 1 of his last four appearances and has taken away a maximum of 7 points when he's failed to convert. Swansea have conceded 8 in their last three matches too so we can't realistically look ahead and imagine they'll hold a clean sheet either, ruling out bonus points for their defenders.

Sunderland Players

Sunderland are another side who just can't seem to stop conceding. The Black Cat's are yet to keep a clean sheet this season and all of their defenders, with the exception of wing-back Patrick van Aanholt, have an FPPG lower than 4.2. Though Patrick van Aanholt is another who frequently finds himself involved on the wings, which is often rewarded under the DraftKings scoring system, without the prospect of extra points from a clean sheet, we find it hard to justify his $5,600 price tag.

Otherwise, Jermaine Defoe has been about their only threat going forward, averaging 10.2 FPPG. However, he's another player who tends to take away very few points from matches in which he doesn't score – 7 points is the most earnt without scoring. For $7,400 of your budget, we feel there are plenty of other "lower risk" investments, despite Sunderland playing the out-of-form West Ham this weekend.

Ross Barkley or Kevin Mirallas (Everton)

Last weekend's trip to Manchester City saw both Ross Barkley and Kevin Mirallas start on the bench – only the latter featured at all after coming on for the last 10 minutes. Both players have seen themselves fall away from form – and their FPPG average drop – after their strong starts to the season. With doubt around their inclusion in the starting 11, we'd advise steering clear of the pair for the time being.

Defensive Midfielders

Defensive midfielders are simply the lowest point earners in DraftKings fantasy. Though their cheaper price tag may be tempting, players who's sole responsibility is to reclaim possession and pass it onwards will earn you very few points. Any winger from a weaker side, such as Robert Snodgrass from Hull City, will often earn more points and be involved with more of the action than the best central midfielders, such as N'golo Kante.