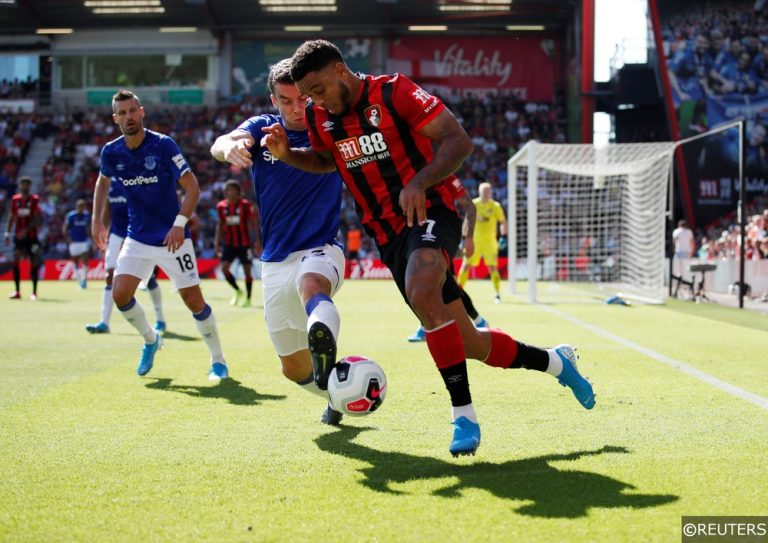 Simon Winter
@simonjwinter
Born in the south east of Ireland, Simon put his life-long love of football to good use when he started a successful independent blog in 2010. That opened up an alternative route to a career in journalism, and having had work published across a number of sites and publications, Simon joined the staff at Spotlight Sports Group in 2018.
Having already discussed Asian Handicaps and detailed how you can approach that market with more confidence, we decided to recalibrate our analytical powers to take aim at another of the bookmakers' relatively underutilized half time offerings.
This time we will be focusing on the "half time result" market, where punters try to forecast the result of a particular fixture at the 45-minute interval (W/D/L).
Naturally, depending on the fixture and the strength of each team involved, the odds for each half time outcome will vary.
For example, in Manchester City's Premier League game away to Crystal Palace on October 19th, the Citizens are priced at around 8/13 (1.61) to be winning at half time, while the Eagles are priced as long as 15/2 (8.5) to hold a half time advantage.
The fixture from the same date between Everton and West Ham looks a much more even match up, and the half time result odds reflect that. You can get around 8/5 (2.6) on the Toffees to be in front after 45 minutes or 11/4 (3.75) on West Ham to be ahead at the same juncture.
Odds vary depending on the fixture you look at; however, our research shows that the middle option of the three half time result possibilities, the draw, represents your biggest chance of winning.
The half time draw is rarely priced below evens for any listed fixture each week and our data suggests that there is a real opening in the market to exploit. Let's take a closer look at the numbers:
Looking for more betting guides? Read our article explaining why the highest scoring half markets are worth exploring.
Premier League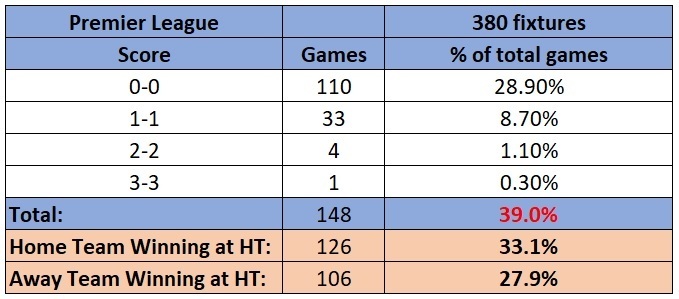 We start our analysis with a look at the half time results figures from the 2018/19 Premier League season. Right off the bat, we can see that just under 40% of the 380 Premier League fixtures contested last term were level at half time, a percentage that finishes comfortably higher than the home team winning and away team winning at half time figures.
It's also worth noting, that away teams held a half time lead in 27.9% (106) of last season's 380 Premier League fixtures – tha was the highest number of half time advantages held by visiting teams in any of the domestic divisions we analyzed.
Visit our Premier League predictions page to read all of our experts' latest English football betting tips and match previews.
Championship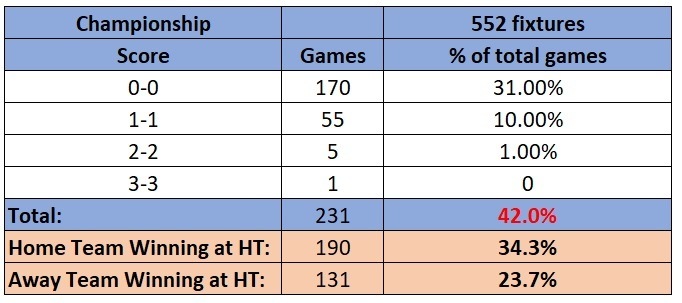 In the Championship last term, the drawing at half time trend continues with impressive consistency. In England's second tier, 42% of the 522 matches contested last season were level at half time and a huge 31% of those 231 draws were 0-0 stalemates at the half time interval.
The Championship's 42% drawing at half time figure dwarfs the corresponding home team winning and away team winning at half time statistics, which marks the division out as one to keep an eye on this season too.
A full 46.2% of the Championship's matches during the current 2019/20 campaign were all square at the break, which suggests the division remains a potentially profitable league that's worth exploring in the half time result markets.
La Liga

Spain's La Liga improved slightly on the Championshp's promising half time draw figures, with 42.6% or 162 of the league's 380 fixtures 2018/19 going in level at half time.
The Spanish top flight generally returns fewer goals than it's big league counterparts across Europe, something that's also reflected in part in the half time statistics we compiled. 125 or 33% of the 380 games played in La Liga last season were 0-0 at the interval. That's one third of the entire number of games played last term that saw little to no first half action.
For the best Spanish football betting tips and match previews, make sure to read our La Liga predictions page.
Serie A

In Serie A last season, a whopping 43.7% of the 380 fixtures played were level when the referee blew his whistle for half time. Just under 33% of those draws were scoreless, while the number of 1-1 half time scores (38) was the joint highest among the leagues we analyzed.
In the current 2019/20 season, Serie A's draw at half time figure stands at 44.9%, a percentage that screams that the top of the Italian football pyramid should be one of your first ports of call in the half time result markets this term.
Ligue 1
Ligue 1 topped the rankings for the highest percentage of matches that were level at half time in our research, with a hefty 44.7% or 170 of the competition's 380 fixtures in 2018/19 going in all square at the break.
It's also interesting to note, the Ligue 1 returned the fewest instances of away teams holding a half time advantage. The visiting side went into the break in front in only 21.6% or 82 of the 380 matches contested in Ligue 1 last year.
40% of the games played in the 2019/20 iteration of Ligue 1 so far this term were level at half time, with the away side holding an advantage in a much healthier looking 26.6% of games in the division since the summer. A hint perhaps, that Ligue 1 is more competitive this season than it was last?
Bundesliga

The perennially exciting Bundesliga returned the lowest percentage of half time draws in 2018/19 in our study, with just 38.6% of the league's games going in with everything to play for at the interval.
The Bundesliga generally tends to leave Europe's other major leagues in the dust when it comes to average goals per game, and that would go some way to explaining the remarkably low prevalence of 0-0 half time scorelines last term. Just 25.8% of matches in Germany's top league were 0-0 at half time in 2018/19 – which is comfortably the lowest percentage of the leagues covered in this article.
Conclusion
Our research shows that there are plenty of positive statistics to work with when betting in the half time result markets. 100% of the six leagues we analysed produced a higher percentage of half time draws than any other half time outcome.
Ligue 1 ranked highest with 44.7% of their matches level at half time, ahead of Serie A with 43.7% and La Liga with 42.6%.
On average, 41.7% of the total combined games from the six different leagues we scrutinised were level at half time. That's an incredibly high figure and a useful stat to be armed with when assessing the half time scores and results markets.
Looking for more football betting tips? We've got you covered over in our match preview section.