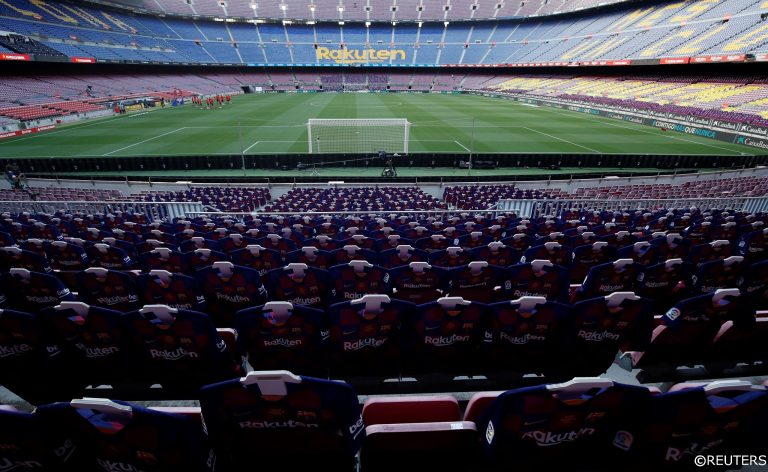 Content Editor at Free Super Tips, Alex was born in the shadow of Old Trafford and is an avid Man Utd fan. After graduating from university he combined his love of football, writing and betting to join FST and now closely follows goings-on in all of the top European leagues.
Two months ago we celebrated the start of the new season by welcoming thousands of fans back into stadiums across Europe after a season of Covid-enforced absence.
It has been a joyous period of time for football fans across the world and the novelty of having capacity-crowds back still hasn't worn off.
Peel away the emotions of the matter, however, and there are some important(ish) questions still up in the air. Do fans actually make a difference and, if so, has home advantage returned to its pre-Covid levels yet?
Now that we have a decent sample size to work with, how about we answer some of these burning questions?
---
Was home advantage absent last season?
Much was made of the absence of fans back when Project Restart kicked into life last summer as teams, fans and punters alike wondered whether the well-validated theory of home advantage would be null and void in a fan-less world.
That didn't quite turn out to be the case, but there was a definite downward trend in home advantage and this is supported in the data.
I compared the percentage of home and away wins across the English Football League and the top five European leagues, analysing the difference between the 2018/19 season (the last full season with fans present) and the echoing, cavernous stadiums of the 2020/21 campaign.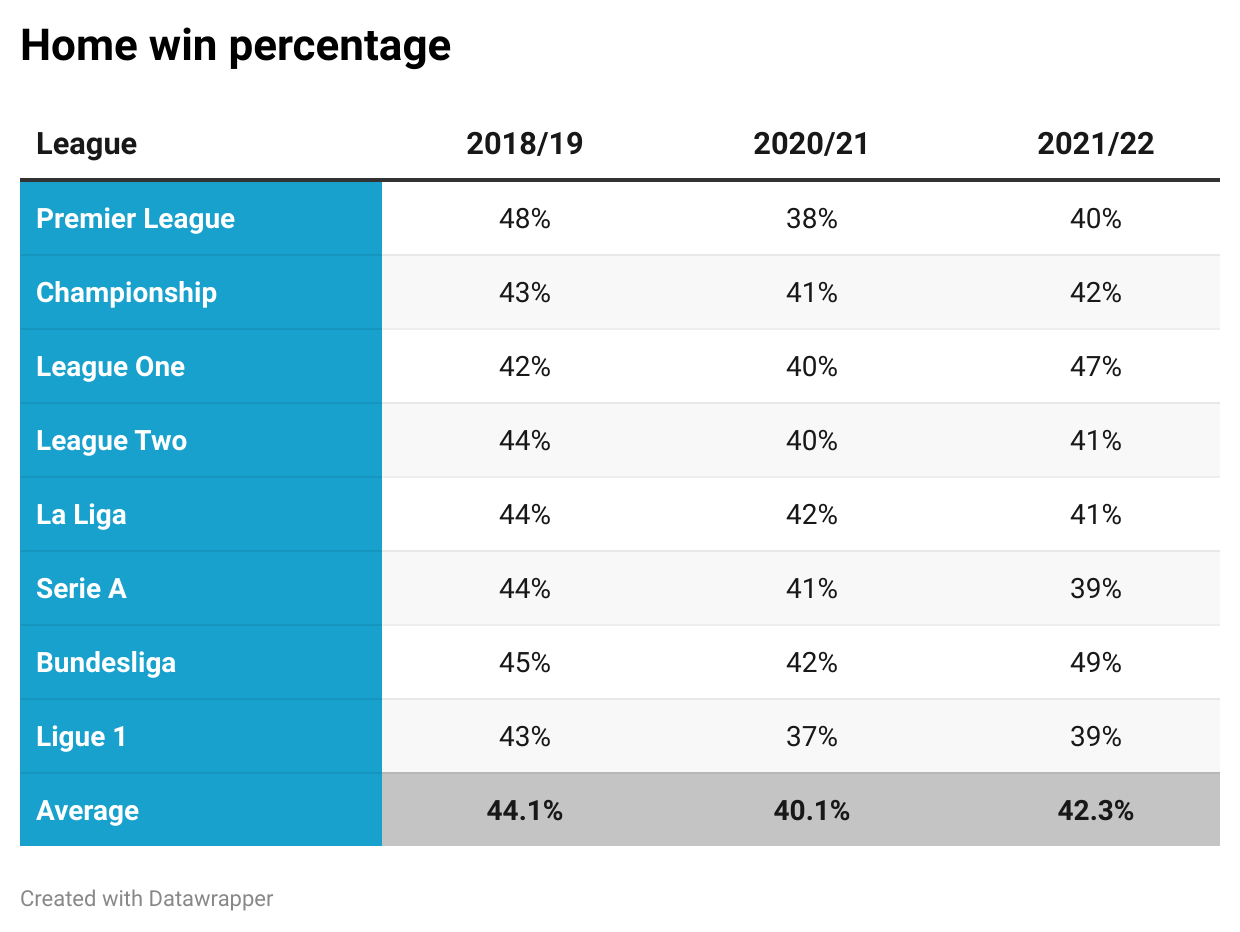 The result? Home wins, on average, were 4% less likely (down to 40.13%) and away wins were almost 5% more likely (up to 34.38%) without fans present.
Every single one of the eight divisions analysed saw a decrease in home wins and seven of them saw an increase in away wins.
The Premier League was one of the hardest hit, with home wins decreasing by 10% and away wins increasing by 6%. Ligue 1 was up there, too, seeing home wins decrease by 6% and away wins increase by 10%.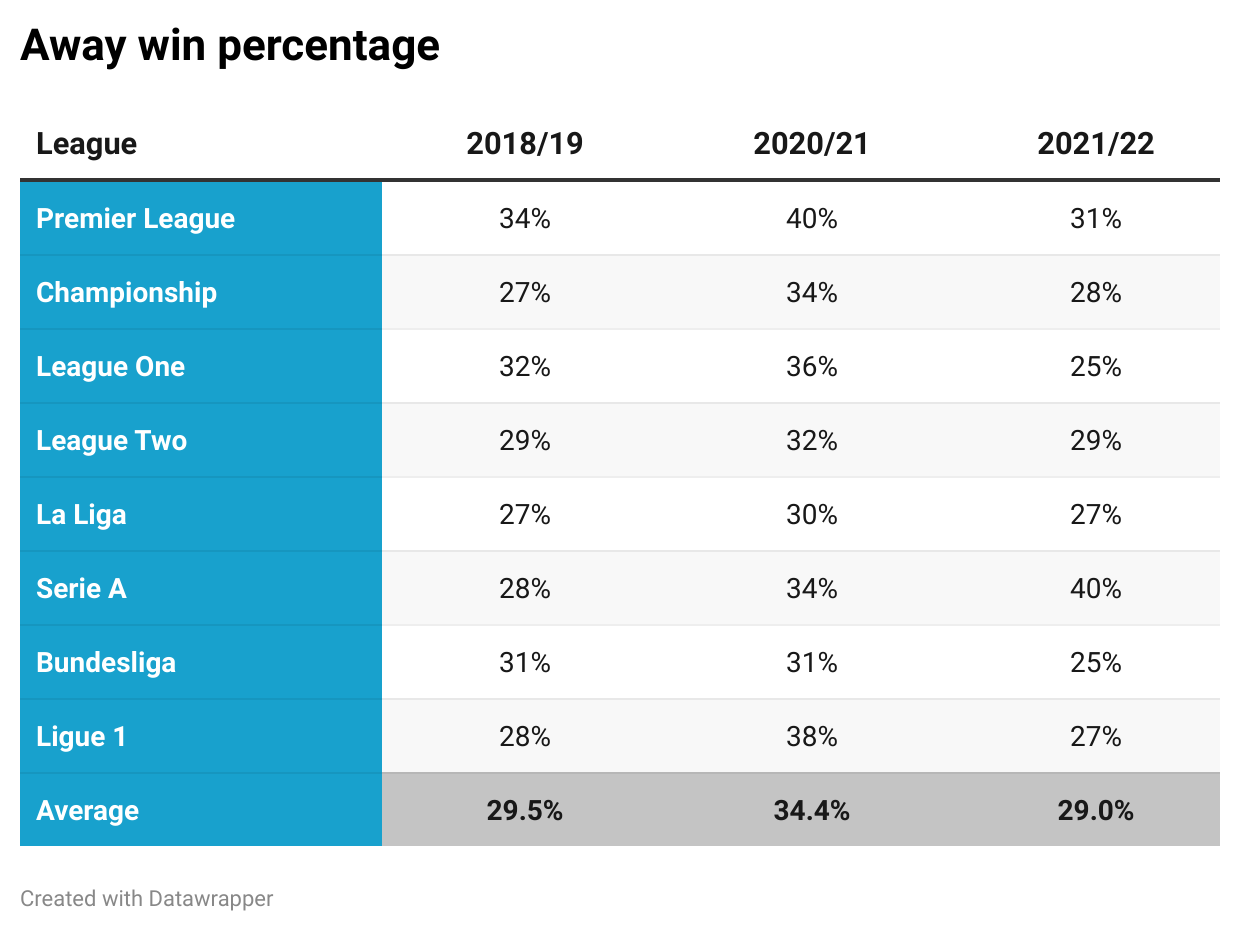 But is it back now?
We can safely say the removal of fans had a big impact, but what about the reintroduction of them?
Fortunately for all you faithful match-going fans the tables above finally confirm that we do make a difference.
Home wins are still down on 2018/19 levels but they have increased by over 2% on last season, while away wins are back down to pre-Covid levels at 29%.
Sample size is an issue when looking at this season, but all leagues barring Serie A have shown a decrease in away win percentage and all leagues apart from Serie A and La Liga have seen the home win percentage increase.
What can we assume from this? Italy is an anomaly and the return of Spanish fans has seen an inexplicable rise in the number of draws.
You might also notice that the Bundesliga has maintained the highest home win percentage across all three seasons and almost half the games this season have been won by the home side. Fancy backing them all home teams (barring those playing against the big-three) to win this weekend? That's a tasty 92/1!
---
What about other markets?
Home advantage isn't the only aspect of the game that fans have an impact on so I decided to take a look at a couple of other interesting avenues.
The first – goalscoring rate – came up with nothing of note. The average goals per game dropped from 2.71 in 2018/19 to 2.67 last season and now, with fans back, is back up to 2.70. Hardly a massive difference and nothing we can really work with from a betting perspective.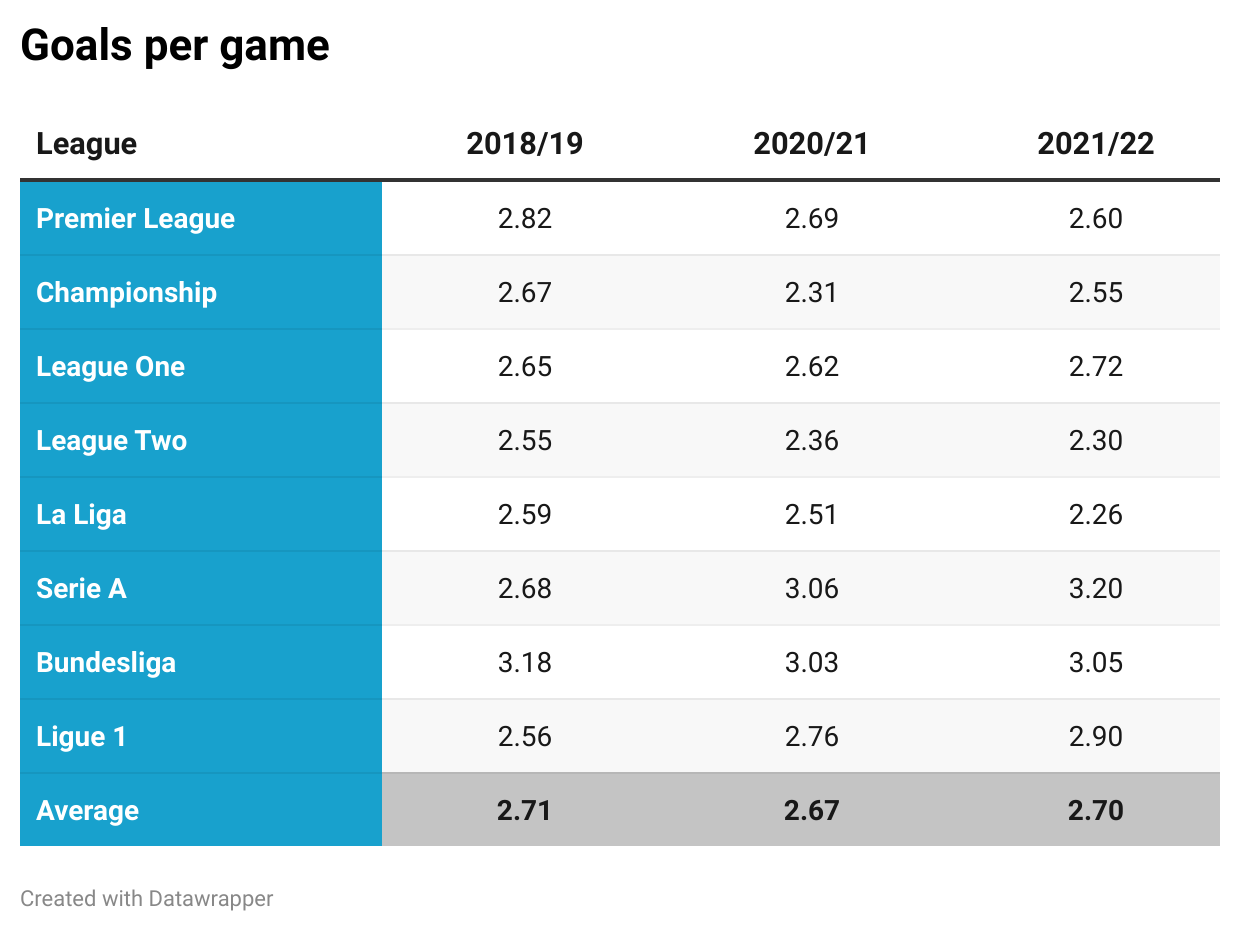 My other hunch brought much clearer results. In an ideal world the referee would apply the law of the game with accuracy no matter what the situation, but I think we can all agree this isn't the case. Referees are human and can be swayed by emotion and the roar of 50,000 screaming home fans certainly brings emotion into play.
I looked at the average number of cards per game picked up by the away teams across the EFL and the top five European leagues. Seven of the eight leagues saw this number drop between 2018/19 and 2020/21 and all eight have seen an increase from last season since the fans returned.
It's a significant difference, too. On average, away teams pick up 0.34 more cards per game than they did last season, with the Championship (+0.54), League One (+0.42) and League Two (+0.46) seeing the biggest differences.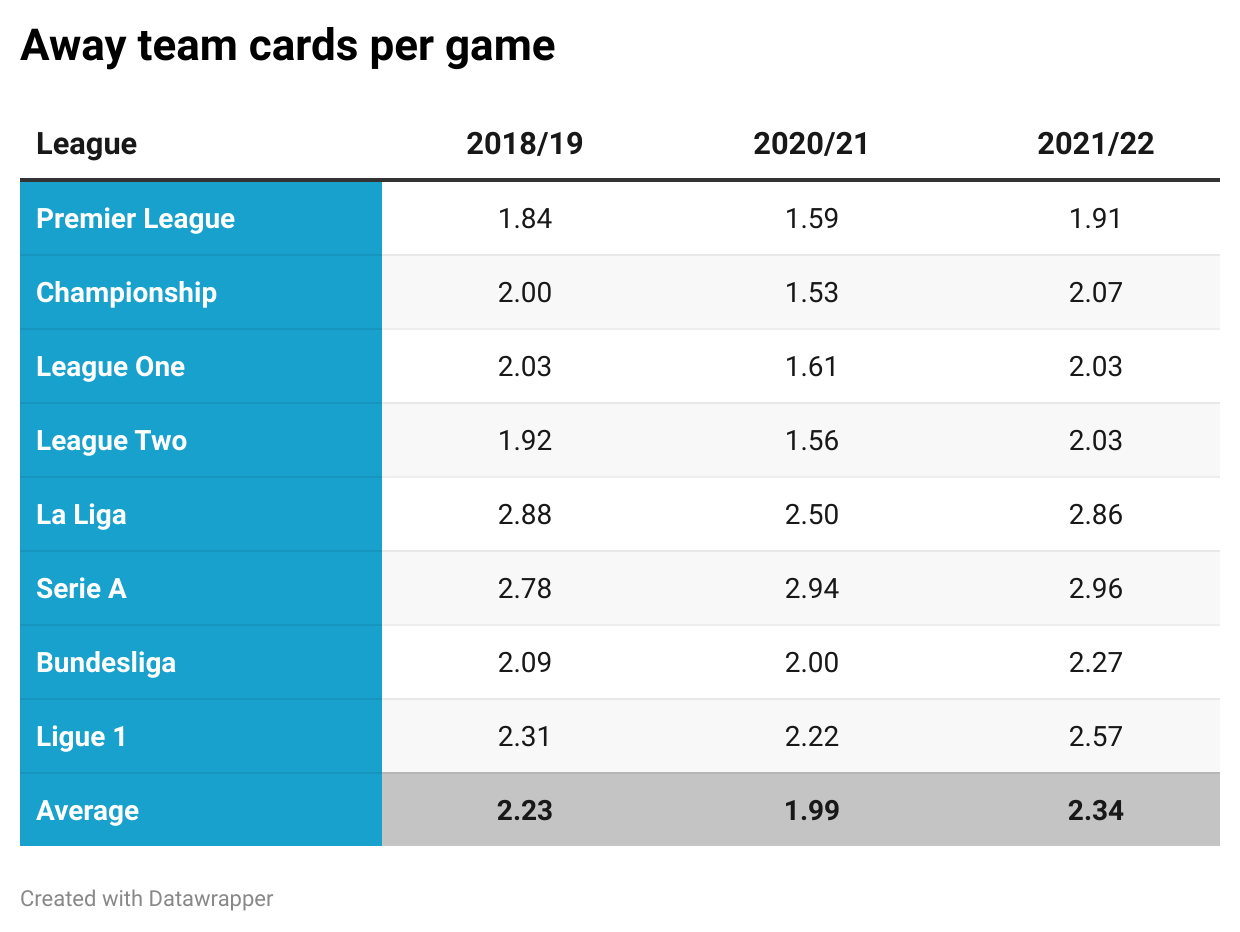 You may also note a significant difference between England-based referees and their European counterparts.
Every single European league analysed shows a big increase in cards per game for the away side than any English league, with Serie A and La Liga referees being particularly card-happy.
Want some more specifics? Torino, Venezia, Atletico Madrid, Granada and Getafe are all averaging more than four cards per away game this season and 15 of the 40 teams involved in these leagues are averaging at least three cards per away game.
That's something to think about when the card markets are priced up later this week!
---
More betting news:
Fantasy Premier League: When should you use your chips?
4 winners on Saturday including 19/1 & 17/2 accas!
We're hiring! FST are recruiting freelance content writers
Our Football Predictions hub covers all the major leagues in world football, including our ever-popular Premier League Predictions.