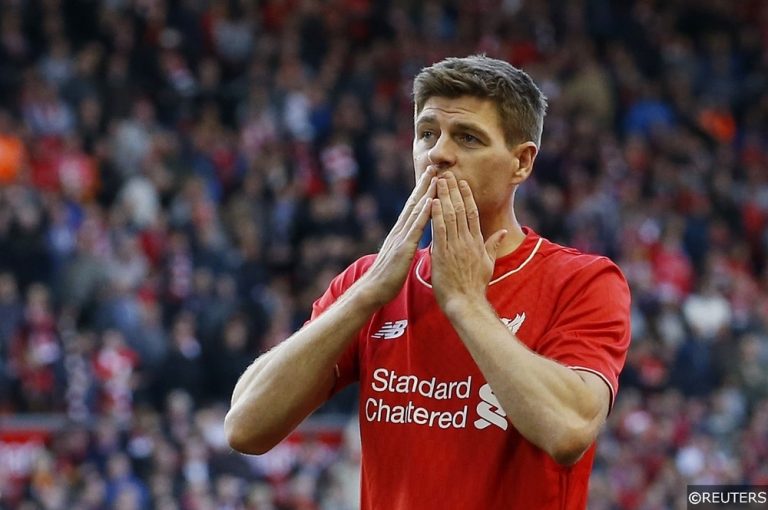 Simon Winter
@simonjwinter
Born in the south east of Ireland, Simon put his life-long love of football to good use when he started a successful independent blog in 2010. That opened up an alternative route to a career in journalism, and having had work published across a number of sites and publications, Simon joined the staff at Spotlight Sports Group in 2018.
Football players are often described as dim-witted simpletons who have more tattoos than braincells. While some consider that stereotype to be a little unfair, the funny football quotes we've complied below seem to back up those demeaning characterisations.
From bizarre analogies and interview idiocy to nonsensical natterings and wry wit – we've got enough classic football quotes to keep you vibrating with laughter.
If you haven't seen the first two parts of our best football quotes series, you can check them out here and here.
Read More: Check out our dedicated Premier League page with match previews, predictions and free betting tips here.
Funny football quotes: The Players
"Apparently, when you head a football, you lose brain cells, but it doesn't bother me. I'm a horse. No one's proved it yet have they?"
David May
"I'll tell you what my real dream is. I mean my absolute number one dream that will mean I die a happy man if it happens. I want to see a UFO. They're real. I don't care if you look at me like that. UFOS are a definite fact and I've got to see one."
Paul Gascoigne
"You've got to take the rough with the smooth. It's like love and hate, war and peace, all that boll*cks."
Ian Wright
"I can see the carrot at the end of the tunnel."
Stuart Pearce
"I always used to put my right boot on first, and then obviously my right sock."
Barry Venison
"I'm as happy as I can be – but I have been happier."
Ugo Ehiogu
"It was like deja-vu all over again."
Shaka Hislop
"Left alone with our own heads on, we can be pretty mental."
Tony Adams
"It's a no-win game for us. Although I suppose we can win by winning."
Gary Doherty
"He's started anticipating what's going to happen before it's even happened."
Graeme Le Saux
Read More: Unbelievable tech-ers: Why tech equals success for Premier League shirt sponsors
"It's great to get the first trophy under the bag."
Michael Owen
"My parents have been there for me, ever since I was about 7."
David Beckham
"I definitely want Brooklyn to be christened, but I don't know into what religion yet."
David Beckham
"I was really surprised when the FA knocked on my doorbell."
Michael Owen
"It's going to be difficult for me – I've never had to learn a language and now I do."
David Beckham on his move to Spain
"The stars above Italian club's badges show you how many times they have won the Gazetta."
David James
"I dreamt of playing for a club like Manchester United, and now here I am at Liverpool."
Sander Westerveld
Read More: International break boredom? Not on Football Index!
"Liz Hurley, she's nice. I'd take her to Pizza Express – no posh restaurants. We'd go for a pizza then to watch Grease or something."
Phil Neville talking about his ideal date in 1996
"I knew my England career was never going to get off the mark again when manager Graham Taylor kept calling my Tony. That's my dad's name."
Mark Hateley
"I would not be bothered if we lost every game as long as we won the league."
Mark Viduka
"I don't believe in superstitions. I just do certain things because I'm scared in case something will happen if I don't do them."
Michael Owen
"I've been consistent in patches this season"
Theo Walcott
"If you don't believe you can win, there is no point in getting out of bed at the end of the day."
Neville Southall
"Without being too harsh on David Beckham, he cost us the match."
Ian Wright
"What Carew does with a football, I can do with an orange."
Zlatan Ibrahimovic
"I couldn't settle in Italy – it was like living in a foreign country."
Ian Rush
"I'd like to play for an Italian club, like Barcelona."
Mark Draper
"I never make predictions, and I never will."
Paul Gascoigne
"Do you remember when we played in Spain in the Anglo-Italian Cup?"
Shaun Newton
"I've never wanted to leave. I'm here for the rest of my life, and hopefully after that as well."
Alan Shearer on Newcastle United
"I was watching the Blackburn game on TV on Sunday when it flashed on the screen that George (Ndah) had scored in the first minute at Birmingham. My first reaction was to ring him up. Then I remembered he was out there playing."
Ade Akinbiyi
"I was surprised, but I always say nothing surprises me in football."
Les Ferdinand
"Lionel Messi can do some amazing things, but anything he can do Joe Cole can do as well, if not better."
Steven Gerrard
"My heart has only one colour: blue and white"
Joao Pinto
"Getting kicked in the shin, is painfull but it doesn't hurt."
Nuno Gomes
"I would like to say hi to my parents, especially my mother and my father."
Sebastjan Cimerotic
"Football is like chess, but without dices"
Lukas Podolski
"It gives me…..goose bubbles."
Jens Lehman on the atmosphere at Highbury
"Everything in our favour was against us."
Danny Blanchflower
"I'm more afraid of my mum than Sven-Goran Eriksson or David Moyes."
Wayne Rooney
"I think that France, Germany, Spain, Holland and England will join Brazil in the semi-finals."
Pele
"I have a good record there. Played one, won one, and hopefully it will be the same after Saturday."
Steven Gerrard
"All the sheep in this country and there's no bloody bacon!"
Paul Gascoigne in a New Zealand hotel for breakfast
Make sure to keep an eye out for the next installment in our funny football quotes series.
Follow Free Super Tips on Twitter to stay up to date with our daily tips and predictions or browse more football content on our website: