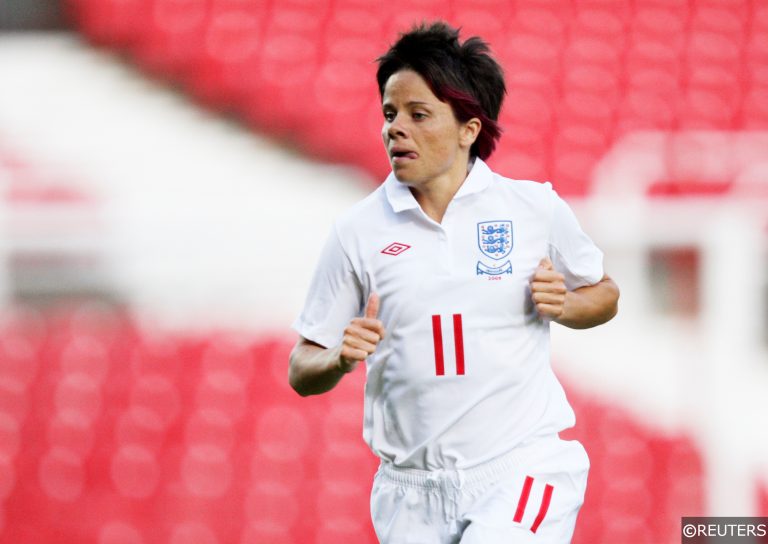 Free Super Tips
@FootySuperTips
FST caught up with former England international and Doncaster Rovers Belles forward Sue Smith this week to get her thoughts on England's chances in the Women's Euro 2022, her favourites for the tournament, and any dark horses worth keeping an eye on.
We also asked her about the latest transfer news linking Raphinha to Arsenal, Sadio Mane's move to Bayern Munich, and how to keep players safe following recent pitch invasions.
What do you make of this England team going into the tournament?
This might be me being a typical England fan, but I think they've got to be one of the favourites.
When you look at the squad, it's very competitive and there's that mix of exciting young players with the balance of experience in the likes of Jill Scott, Ellen White, Demi Stokes and Lucy Bronze.
I think they've got a really nice mix in terms of players.
The fact that it's a home tournament is an advantage, but that of course brings its own pressure with it.
But if they can get the nation behind them, then that's going to give the team that little boost.
They have a manager in Sarina Wiegman who knows how to win home tournaments, she has that previous experience which she can pass on to the players.
England in general just have a lot of really exciting players, players who most supporters want to go watch because they'll get you off your seats and cause other teams' problems.
The fact that there's a lot of players in there that are versatile is a plus in my opinion.
I know some might have said that's a negative, but I see it as a positive because other teams are going to look at them and go 'where are they going to play?'.
There are players who can play right across the front line, Leah Williamson can be central midfield or centre halve.
Having that versatility will certainly help England, especially in the latter stages of the competition.
This could just be me being a proper England fan, but I think they've got a great chance.
With it being a home tournament, how big of an opportunity is this for the Lionesses to deliver a major international trophy?
It's a huge opportunity, but as I've said a home tournament can bring pressure with that.
When you've got all your family and friends coming along to watch you, you know you've got this nation behind you, pressure and expectation comes on your shoulders.
I do feel like this group of players can take that, but England need to go to that next level because I think we've come so far.
The team have been to the latter stages of competitions, we got to the final in 2009 of course and finished runners up to Germany.
So now England need to go on and win it, I think the players know that and they're ready for it.
They desperately want it, and they have belief that they can do it which is so important because when you look at their group it's quite tricky, but they should have more than enough to get through.
Austria will be a tough game, Norway have a lot of WSL players in that side so England will know their players well.
They've got a Ballon d'Or winner in Ada Hegerberg coming back which is a huge boost for them.
But England should progress, it's after that where it could get difficult when you look at the quarter final and semi-final stages.
It's a real opportunity for this England team to go and win something though and raise the profile of women's football even more.
Hopefully they'll bring in more fans because you do see that in the men's game where maybe some people don't watch football, but they get suddenly engulfed with England supporters and start supporting their hometown teams.
People start going to matches and England matches, so you hope that will happen with the women's game as well.
But I do think it's a huge opportunity for this England team to win a tournament, they look ready for it and I think they're ready to embrace it.
Although they won 3-0 vs Belgium, England didn't have the best of times in front of goal. What do you feel needs to change (if anything) to get England's forwards firing? Is it just a matter of time before it clicks?
I think it's just a matter of time and peaking at the right time in major tournaments.
When you look at England's forward line, I think it's got real quality.
Lauren Hemp for me is going to be one of the standouts in this tournament and England's strengths are getting the ball out wide and delivering crosses into the box.
Whether it's Ellen White, Beth England or Alessia Russo as the centre forward, they're all good at getting on the end of things.
As long as they all peak during the tournament then that's the most important thing.
They got the win in that friendly which is the most important thing as a confidence booster and for Sarina Wiegman it's about trying new things.
That could be trying players in different positions or getting minutes into players like Fran Kirby who has been out for a while.
Getting her back fit is important, but when you look at the forward line in general there's a lot of different abilities and skills.
You've got pace, you've got dribbling ability, strength and clinical finishers which shows the strength in depth.
You could probably pick the front three and know that if you need an impact from the bench then there's loads of players who can come in and make an impact and that's a huge boost for England.
How big a role will the friendly vs the Netherlands play in showing where Sarina Wiegman's England team is at? Would you use that game as a test for the planned Euro 2022 starting XI?
It's going to be a tougher test than the Belgium game and obviously it's Sarina Wiegman's old side, so she'll know what they're about.
They'll know what her managerial style is as well, but you've got to play tough sides like that to prepare you for the tournament ahead.
Any team that has Viv Miedama in it is going to be tough because she's going to cause you problems.
I think from an England perspective they need to stop the Dutch from going forward, but not limit themselves in an attacking manner.
That'll be key to balance the two and I think she will try and get minutes into some players like Fran Kirby.
She hasn't played since February, so making sure she's sharp and feeling fit is important for England because she can be a match winner.
The other side is not giving too much away in these friendlies, you don't want to play all your cards before a tournament.
But there is that argument for some consistency, whether that's your backline and goalkeeper building up those relationships on the pitch.
I don't know if she'll play her best XI or the XI she has in mind for the first game in the Euros, I think it'll be a mixture but it'll still be a strong side.
There will be quite a bit of rotation and I still think there is competition for places in the England side.
When you look at the last friendly, the players who came off the bench made a difference, so they'll be thinking that they can get in that starting XI.
For a manager it's great, but for a player it's horrible because you want to know that it's your position.
But as a manager it's good to see because you know the players are ready and all pushing each other to the next level going into a tournament.
Leah Williamson has looked comfortable in her new role as captain, is she going to be key for England in this tournament both on and off the pitch?
I think she's going to play a huge role, but Leah Williamson is brilliant because nothing seems to faze her.
When you watch her as a player and having that weight of the captain's armband on, it doesn't change her at all.
When you talk to players or coaches who work with her on a regular basis, they'll tell you she's always had those leadership qualities from a young age.
Whether that's on or off the pitch, the way she speaks to players which is so important.
The fact that it doesn't faze her is huge because when you're walking out at Old Trafford in that first game with a capacity crowd in a major tournament, it's only natural to feel nervous.
But I think she'll just take it in her stride and the other players will look at how she's handling it and that calmness will hopefully pass on throughout the team.
From a quality perspective, Leah Williamson is a brilliant player.
She's had a great season at Arsenal despite having that injury which kept her out for a few games, but you could see Arsenal missed her during that time.
She brings a lot of quality to the team both defensively and the way she can start attacks off from deep.
She'll probably play in the midfield, but to have that versatility of being able to step into the defence will be huge.
She's a role model for many, I think she sets really high standards which will be important to the younger players looking up to her.
Does it help Leah Williamson that there's a lot of experience in this squad?
I think so because they will help her along, whether it's Ellen White, Lucy Bronze, Demi Stokes or Jill Scott whoever it is.
These players have that experience of being at major tournaments and have been captain or vice-captain at some stage in their careers.
They'll pass that knowledge and experience on, and it seems to be a really good group.
When you speak to the players, it can be easy to say, but they seem to really get on and have a real togetherness about them.
If Leah needed anything or wanted any advice, then I'm sure she would go and ask some of these experienced players.
Millie Bright and Ellen White are second and third in line, so they're real strong characters but people who would help her if she needed it.
It's massively important when you've got that mixture.
Ellen White has been brilliant for England in recent years, what is it about her on the international stage that brings the best version of Ellen White?
It's class to watch as a fan because she's a player who works so hard.
When you talk about true professionals, then Ellen White is right up there because she does everything she possibly can to make sure she's the best player she can be.
Whether that's in terms of recovery, extra training sessions or analysing herself.
She has slightly changed her game and adapted things so that she scores more goals and is in the right positions.
She used to work so hard, but she wasn't in the right position at times.
I think it was Mark Sampson who started it off, I remember him saying "it's brilliant that Ellen White is back defending in her own box but get yourself in a position where you can score goals."
That's what she's worked on, her movement in and around the box is brilliant and we know she can finish.
It helps when you have quality players out wide like Beth Mead, Lauren Hemp, Nikita Parris and Chloe Kelly.
There are so many great wide players who can get a ball into the box.
I think if you get a Lauren Hemp, Ellen White and Chloe Kelly in a front three playing, then that's a Manchester City front line so they're used to playing together.
But Ellen loves playing for England, I spoke to her before they went away on camp and she cannot wait, she's so excited to get going.
That's what she's like, she loves playing football and pulling on that England shirt, so hopefully she has another successful tournament.
There's a slight debate over who should be the number 1 between Mary Earps and Ellie Roebuck, who do you think should get the nod?
It's difficult to pick one, but the positive is that there's competition in those places.
You know you've got to perform otherwise there's someone waiting to take your position.
I would probably go with Mary Earps and that goes down to Ellie Roebuck being injured and having a disrupted season.
Mary Earps has been number one for a while and Sarina Wiegman has told her that it's going to be the case, so she'll be prepared for it.
She's been the most consistent performer over the WSL, she's got those leadership skills, those communication skills and she's a great shot stopper.
Even though she hasn't played in major tournaments, she's been to them as a squad player, so she knows what it's about.
It's important to develop those relationships between your goalkeeper and your back line, so to sort that out before the tournament is vital.
I'm sure England will be working on that communication during training and in these friendlies.
Back in 2019 England swapped their goalkeeper throughout the tournament, how important is it to have a settled number 1?
It is important and it's interesting because teams in the WSL this season have swapped their goalkeeper.
There might be one goalkeeper who is better with their feet, so they play in games where you play the ball out from the back.
Other goalkeepers who are more commanding and better coming out, so they play in those types of games.
I'm a bit old school, I like a settled goalkeeper with a settled back line because I do think it's important to have that consistency.
I think Sarina Wiegman will have an idea and will be working on it to have that relationship between your goalkeeper and two centre halves.
As a defender you want to be able to trust and know when your goalkeeper is coming out to claim crosses.
For me I would stick with a settled goalkeeper and centre halves to get that consistency, but I see the argument from the other side.
If you have a goalkeeper who is good with their feet and you need to play a certain way, but an all-round goalkeeper like Mary Earps can do that.
She's got a bit of everything which is important, you can't say she's better at one aspect of goalkeeping to another because she can do it all.
Who are your favourites to win the Euros? Any dark horses? A country you feel might underperform based on their draw or potential route to the final?
I think Spain are a lot of people's favourites and that's down to the success of Barcelona, how they play and how technically gifted they are.
I was looking through the teams and that Spanish squad is scary; their midfield is filled with quality and they have so many players who can control a game.
They've got to be given a chance of going far in this tournament and they're a team that want to take that next step.
They probably haven't reached the levels that they want to reach, but my own personal opinion is that Sweden could cause some problems for teams.
I don't think anyone has really spoken about Sweden, but when you look at them on paper, they're a settled side, the team have been together a long time, they all know what is expected of each other, and they are very well organised and very disciplined.
They obviously got silver at the Olympics, but they have a lot of togetherness and organisation throughout the team.
They're going to be really difficult to beat, but they're also going to cause you problems going forward.
They're a very fit and athletic side who have a real belief for going for them.
If I had to pick somebody other than England, then I would go with Sweden.
Who's your pick to finish top goalscorer? Is there anyone that can contest with Hegerberg, Putellas, Miedema and Katoto?
It's hard to look past those names, but again with an England hat on you would go with someone like Ellen White.
But if you think England will go to the latter stages of the tournament then Ellen White will have to be clinical and score the goals which she has done in past tournaments.
It's difficult to look past Miedema though when you look at her stats in terms of assists and goals because it's some very impressive numbers.
She's doing it for both club and country, her movement is excellent and there's a lot of quality players in and around her.
She comes alive in the box, we all know she can drop deep and pick out passes in a number 10 role, but when she's playing as a number 9, she can score all types of goals.
So, it's difficult to look past Miedema, Katoto for France is a young exciting player who a lot of teams are looking at.
She'll be key to that French side if they go to the latter stages of the competition, so she could be in with a shout as well.
Raphinha is being linked with a move away from Leeds United this summer, how big of a loss will it be to Leeds?
It would be a huge loss, he's a standout performer Raphinha and I've really enjoyed watching him play.
If you want someone to make something happen, then he's the go to player and he's exciting to watch.
A lot of Leeds fans would say they enjoy watching Raphinha play football and of course Leeds will want to keep him after staying up.
If they can keep him for another season then that would be great, but if they don't, can they get enough money for him.
I think we know he's ambitious and he wants to play in the Champions League because he's capable of it.
Leeds will be desperate to keep hold of him, but if they don't then can they get a decent price for him is the question.
Arsenal is a rumoured destination, would he fit into that team?
If he went to Arsenal, I would think it'll be because Pepe leaves.
If Pepe leaves then that transfer could potentially happen, and I can imagine most Arsenal fans would be happy to have a player like Raphinha there.
The prospect would be pretty good, he's still young which fits with the Arsenal style and philosophy.
He's got Premier League experience and Premier League quality and he can be a match winner.
If you play for Brazil, then you've obviously got something about you and I certainly think Arsenal fans would be happy to have him there.
But the competition for places would be huge, so I think someone like Pepe would have to leave if Raphinha was to go to Arsenal.
Would Adama Traore be a capable replacement if those rumours are to be believed?
We all know his attributes and we know he can be unstoppable at times when he's at full flow.
He's a difficult player to mark and keep quiet, but his numbers haven't been the best in terms of goals and assists.
The way that he can turn defence into attack is phenomenal at times, but I'm not sure about him fitting into Jesse Marsch's style.
He doesn't seem to play with wingers and Traore is an out and out winger.
It'll come down to whether Jesse Marsch changes system with the players he's looking to bring in, possibly switching to a 3-5-2.
The fact that they've signed a right-back may not suggest that though.
But Traore is certainly someone who can cause a lot of problems for teams, he can turn defence into attack quickly and is exciting to watch.
I'm just not too sure whether he fits into a Jesse Marsch system and the way he wants to play.
How do you think Liverpool will cope with Sadio Mane leaving for Bayern Munich?
It's a huge loss because he's been a consistent performer for several years.
The fans absolutely love him and rightly so because he's been so consistent and performing at a high level since he joined.
He's scored a lot of important goals and created important moments.
For such a long time we looked at that front three of Mane, Firmino and Salah and you wondered how it could ever be broken up or get better.
But then they go and bring in Jota and Diaz giving them five quality players battling for those front three positions.
When Mane does leave, it will be a loss and it will upset some Liverpool fans, but they've brought in one of the most exciting talents in football in Darwin Nunez, so Liverpool have made a real statement in this window.
That's what Liverpool have to do as well as the other big teams like Manchester City, you've got to keep evolving and trying to change things.
If you're going to get rid of a player who's been brilliant for you for such a long time, but he's 30 years old, so going out and bringing someone in with a lot of potential I think is a good move.
Liverpool have done so well with their recruitment over the past few years and those replacements for Mane are already there.
Liverpool will just move on and try to get to a bigger and better level then they're already at.
Is it a good signing for the German giants even though he's into his 30s?
I think it's a great signing for Bayern Munich and he'll be a great success in Germany.
Yes, he's 30 years old, but he's still at the top of his game and he's still one of the fittest players and producing some top-quality performances.
He'll still provide a lot of goals and assists and help Bayern Munich go to the next level.
There's going to be a lot of competition for places in that side, but I think the level that he sets will turn out to be a top-quality signing for Bayern Munich.
You wrote a strong column following the headbutt from a fan on Billy Sharp last month, we've seen a lot of scenes towards the end of the season with pitch invasions, what needs to happen to keep players safe on a football pitch around these times?
I actually felt like a bit of a spoil sport writing that and saying fans shouldn't come onto a football pitch.
When you look at the majority of fans who come onto the pitch, it's to celebrate with their team and what they've achieved.
It's often a celebration, but for the incidents we've and the small minority of idiots that come on and spoil it, then it just can't happen, and they can't let fans onto the pitch.
You just worry what else is going to happen and the Billy Sharp incident was just horrific to see.
I was watching the game and thinking how great of a game it was and I was excited for the fans who were celebrating.
But then I saw that headbutt and I thought it was disgusting and my attitude towards it completely flipped.
I think everybody felt the same and there were more incidents happening around that time, it just can't happen.
Players and staff need to feel safe and must be protected, even the fans going onto the pitch have to be protected from other fans.
I don't know how they're going to do it, I know the guy who headbutted Billy Sharp was jailed, so that had to be the case really.
People need to know that if you go on and assault someone then there will be consequences.
I think tougher sanctions for the clubs might be a way forward if fans know if it's going to affect your club in some way.
It would be difficult for all security and police to stop all those people from going on, so do fans need to self-police potentially.
It's a tough subject, but tougher sanctions need to come in and it just can't happen anymore.
Even though the majority go on to celebrate, you just always fear that something bad could happen and it could be so much worse, so we need to protect everybody involved.
Is there an opportunity for the governing bodies to come together with a plan before we reach this point in the season?
If that's an option, then it's a brilliant option to have.
Some clubs have come out and said they wouldn't be able to afford extra security or policing, so maybe that's where the governing bodies come together with the police to help.
If clubs can't afford to do it and they can't afford to have more stewards or police presence, then help them out to stop it.
When you know teams could potentially achieve survival or promotion, then it's obvious it's going to happen.
It just has to be stopped in some way because we have to protect the players, the staff and everybody at a football game.
It must be a safe environment and I think everybody is worried that something else is going to happen.
This is just based on the actions of a small minority unfortunately, so more policing or sanctions in some way must be brought in.
There were talks of points deductions and other things, but something needs to be done that's enough to stop people entering the pitch.
When you're at games you hear announcements of not going on the pitch and that there will be a fan, but how do you fine 30,000 people?
You simply can't, so it needs to be something more that stops people from doing that.
---