Alan Shearer's switch from Blackburn Rovers to Newcastle United in 1996 is the most expensive signing in Premier League history when adjusted for transfer market inflation, according to new research.
We have scanned through the current 20 Premier League teams' most expensive purchases since the league's creation in 1992 to find every club's 'real' record signing by looking at the transfer fees through the lens of today's market.
Shearer's move for £18.9m – a world record fee at the time – would be the equivalent of £157.7m in today's footballing money, making him more expensive in real terms than the likes of Paul Pogba (£150.4m) and Kevin De Bruyne (£125m).
The findings won't make happy reading for Chelsea fans, whose record signing is the purchase of Fernando Torres from Liverpool. The Spanish flop's transfer fee in 2010 would be the equivalent of £122.1m today.
---
The 'real' record football transfer of every Premier League club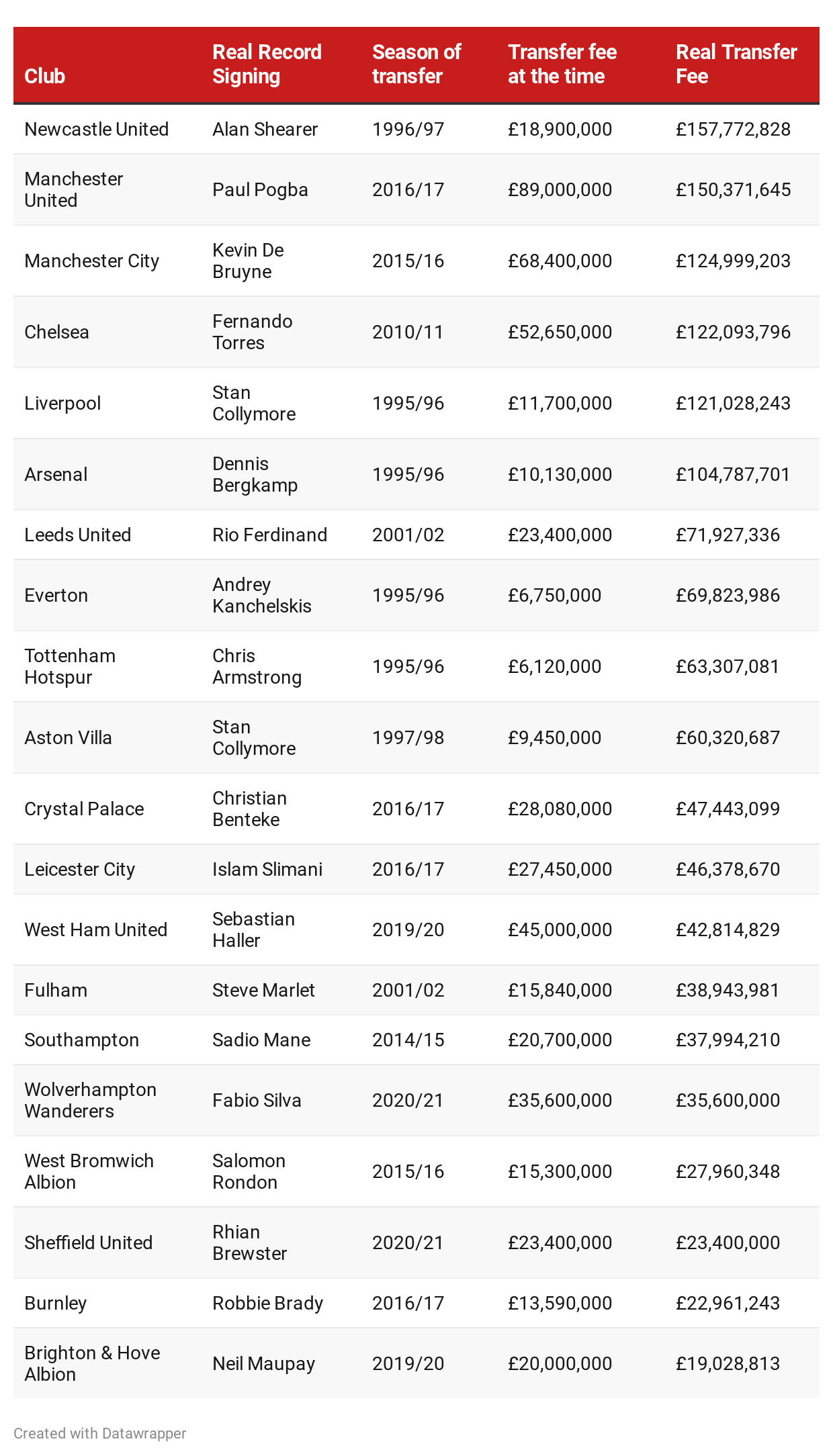 ---
Premier League transfer record breakdown
The fees paid for players over the last few years have completely distorted the transfer market, and it means clubs are regularly breaking their transfer records as a result. So, we wanted to account for the inflated prices we see today and find out which transfers were disproportionately high for the era.
Topping the list is Alan Shearer's move to Newcastle, which was a world record at the time but this research shows just how much the Magpies were prepared to pay for him in 1996.
It's no surprise that both Manchester United and Manchester City feature highly in the 'real' record transfers, with Paul Pogba and Kevin De Bruyne respectively, but it's Chelsea's signing of Fernando Torres that will make blues fan's eyes water with a whopping £122m price tag in today's market.
Stan Collymore appears twice on the list, featuring as both Aston Villa and Liverpool's record purchases – the latter fee equating to £121m for the move to Anfield.
Six of the 20 clubs have bought a player for more than £100m based on the market prices today, with Dennis Bergkamp's move to Arsenal in 1995 costing the equivalent of £104.8m.
Despite the hefty price tag for troublesome Spurs midfielder Tanguy Ndombele, Tottenham's 'real' record signing actually took place back in 1995, with the purchase of Chris Armstrong. The centre forward's move from Crystal Palace is valued at £63.3m in real terms.
Sheffield United and Wolves are the only teams whose record signing actually joined this season. The Blades' signing of Rhian Brewster and the arrival of Fabio Silva at Molineux are still the most expensive purchases for each side respectively, even after adjusting for transfer fee inflation.
Newly promoted sides, Fulham and Leeds both broke their transfer records in 2001 with Steve Marlet and Rio Ferdinand respectively, whilst West Brom's record signing was Salomon Rondon in 2015. Marlet scored just 5 league goals for Fulham in his three-year stint, whilst Rondon managed 28 in the same time. Rio Ferdinand proved a shrewd signing for Leeds leading them to a Champions League semi-final in his first year at the club, before being sold to Manchester United after his second season.
The Toffee's record signing was Andrei Kanchelskis in 1995, who joined Everton for a club-record £5m, before being sold midway through his second season. Despite his short stint at the club, Evertonians will remember Andrei for an outstanding first season, leading Everton to a top-6 finish and scoring twice in the Merseyside Derby. A good signing, given his inflated transfer fee, but disappointing he didn't stay longer.
Sadio Mane will be known best as Liverpool's star winger, but it's not the Merseyside club's transfer record he broke. Before he became a red, Mane signed for Southampton costing a record £20m which in today's market would be the Saints biggest.
Burnley are renowned for keeping the purse strings tight and have not broken their record since signing Irish left-back Robbie Brady for an inflated £23m, despite being a mainstay in the Premier League since. Christian Benteke still plays a supporting role for Crystal Palace and Sebatian Haller is still fighting for his place at West Ham, with inflated transfer records of £47m and £43m respectively.
Brighton have the lowest 'real' transfer record with Neil Maupay who is in his second season at the Seagulls. We are yet to see what Maupay can go on to achieve, but at an inflated £19m Brighton fans will be pleased with their value for money.
How we calculated the 'Real' Transfer Fee
Inflation rate calculation assigned a 'typical fee' for each year based on a combination of each current Premier League clubs' most expensive signing that season, the top 10 transfers in the world that year and the world record transfer fee at that date – transfer fees were then scaled up based on the difference in 'typical fees' between years
Transfers included were the top transfer fee for each of the current 20 Premier League sides each season between 1992 and 2020. Transfer feeds were taken from transfermarkt.co.uk.
---
More FST News:
FST's The Bet Builders with Statman Dave