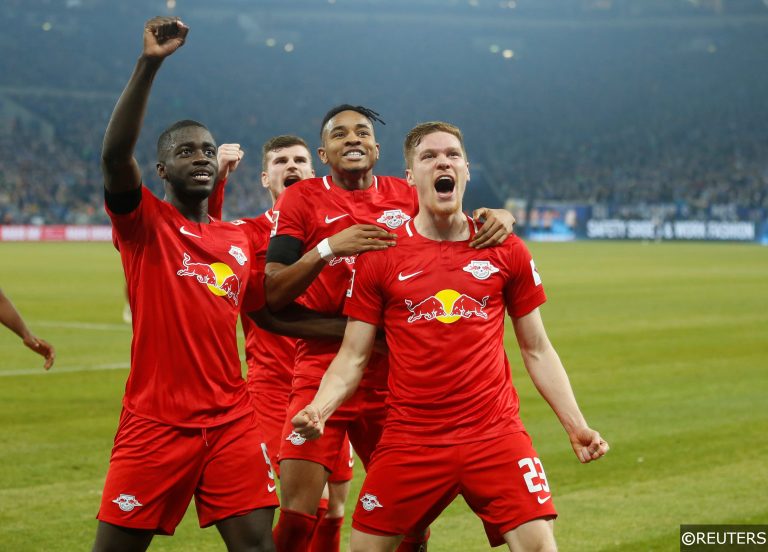 Simon Winter
@simonjwinter
Born in the south east of Ireland, Simon put his life-long love of football to good use when he started a successful independent blog in 2010. That opened up an alternative route to a career in journalism, and having had work published across a number of sites and publications, Simon joined the staff at Spotlight Sports Group in 2018.
This weekend, the Bundesliga will become the first of Europe's major leagues to resume amid the coronavirus crisis – and Germany's top-flight is certain to gather hordes of new football-starved fans from around the world, who will be tuning in to absorb as much live action as they can.
If you're a newcomer to the world of "fußball", but want to build some of that emotional attachment and deep interest that only supporting a club can bring – we're here to help.
You might be finding it tough to pick a German outfit to pin your allegiance to between now and the end of the 2019/20 campaign, so we've put together some suggestions on who to follow based on the Premier League team you might already support.
Ready to adopt a Bundesliga team? Read on!
Remember – we'll be covering all the the German top-flight action extensively with match previews and tips on our Bundesliga predictions page.
Augsburg — Burnley
Die Fuggerstädter are capable of springing an upset or too, but inconsistency is a major problem. Augsburg don't play the prettiest football, but they aren't too fussed about pleasing the purists. Sound familiar Clarets' fans?
Bayer Leverkusen — Leicester City
A vibrant young team packed to the brim with exciting emerging talent battling hard for European qualification. They could have their best players cherry picked before next season however. Similarities to burn these too.
Bayern Munich — Manchester United
Two commercial behemoths and traditional domestic big-hitters, both clubs can rightfully claim to be the biggest names in their respective leagues and countries. Supporting Bayern could also offer United fans a rare chance to experience that winning feeling again. Sorry.
Borussia Dortmund – Liverpool
Dortmund and Liverpool have an anthem and a manager in common, but beyond their love of 1950's show-tunes and charismatic coach Jurgen Klopp, several players have also represented both clubs including Karl-Heinz Riedle, Nuri Sahin, Patrick Berger and Philipp Degen.
Borussia Monchengladbach — Aston Villa
With a shared successful history and sprinklings of European success in the late 70's and early 80's, both Gladbach and Villa have also fallen on hard times in the modern era, and had to clamber back up from recent spells in the second tier. Kindred spirits.
Eintracht Frankfurt – Tottenham Hotspur
After falling just short of success towards the end of memorable European runs last season, both Frankfurt and Spurs have been unable to fulfill expectations so far this term. Still, all is not lost and adequate time remains to salvage something from the campaign.
Fortuna Dusseldorf – Brighton
Not exactly a Bundesliga staple, Fortuna Dusseldorf are fighting tooth and nail to hang on to their top division place ahead of the bigger budget clubs around them. Like the Seagulls, Fortuna will almost certainly be trying to keep their heads above water for the remainder of the season.
Freiburg – Southampton/Crystal Palace
A familiar Bundesliga face over the last decade and a largely inoffensive outfit, Freiburg are always present, winning some, losing others and generally offering a competitive foil to the league's bigger names. Proud of their southern roots, Freiburg have more than a few things in common with both Southampton and Crystal Palace.
Hertha Berlin – West Ham
Two capital-based clubs who have been throwing cash at problems that they just can't seem to fix. Both play at vacuous Olympics inspired stadiums, while making lots of noise about progress that never seems to happen.
Hoffenheim – Watford
Decent 2018/19 campaigns were immediately followed up by frustrating ones this season. Both Hoffenheim and Watford are capable of bloodying the noses of the division's leading lights, but you just never know what you are going to get the rest of the time.
FC Koln – Newcastle
Two hugely passionate fan bases that have been starved of success – fans of Koln and Newcastle should have plenty of shared anguish to talk about. Neither club will expect much between now and the end of the season, though mid-table limbo is a comfortable fit.
Mainz 05 – Bournemouth
Maintaining their respective top-flight statutes against the odds for several seasons while operating on a limited budget, Mainz and Bournemouth both have a fight on their hands to drag their way to survival in 2019/20.
Paderborn – Norwich City
Paderborn look like exiting the Bundesliga at the first time of asking following their promotion last year. A bit of a yo-yo club, they never really look at home in Germany's top tier. Happy go lucky tourists enjoying the experience that won't be too upset when they are demoted again.
RB Leipzig – Manchester City/Chelsea
RB Leipzig are a cash-rich, heavily financially backed entity that are largely loathed by supporters of "real" clubs across Germany. Their fiscal might has allowed them to rapidly climb up the domestic ladder in the Bundesliga, though most fans there see them as the personification of everything that is wrong with the game. More than a couple of parallels to chew over in there. It's not all negative though – they also play some of the best football in the league…so, there you go.
Schalke 04 – Everton
A team that plays in Blue and often overshadowed by their more successful local rivals, Schalke have an enormous, loyal fan base in Gelsenkirchen and are considered a sleeping giant in the Bundesliga. They are pushing for a top six finish this season and Everton fans should enjoy following their journey.
Union Berlin – Sheffield United
The hipster's choice. A newly promoted team punching above their weight and doing it entirely their own way. Blades supporters will see much of their own story reflected in Union Berlin's recent tale of triumph.
Werder Bremen – Arsenal
Werder are a former domestic powerhouse that used to thrill supporters and neutrals alike with their easy on the eye football. However, now they are a bit directionless and a shadow of their former selves. Despairingly familiar Gunners fans?
Wolfsburg – Wolves
Too obvious? We're okay with it. Apart from almost being name twins, both clubs are located in cities at the heart of heavy industry and are in the mix for a European qualification place this season. The kinship is strong here.
More FST News: