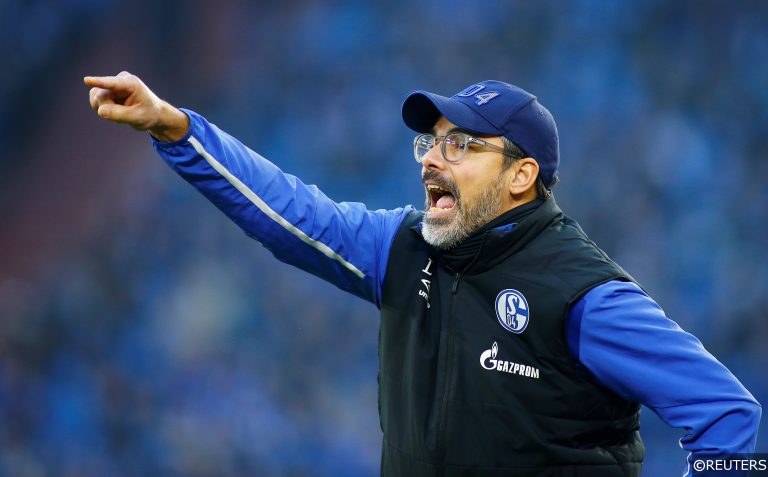 Simon Winter
@simonjwinter
Born in the south east of Ireland, Simon put his life-long love of football to good use when he started a successful independent blog in 2010. That opened up an alternative route to a career in journalism, and having had work published across a number of sites and publications, Simon joined the staff at Spotlight Sports Group in 2018.
The Bundesliga has been given the green light to return after its lengthy coronavirus-induced shutdown, and the German top-flight will become Europe's first major league to kick back into gear when it resumes next weekend.
Already, excitement is steadily starting to build ahead of the return of elite level football and fans right across the globe are adopting Bundesliga clubs to support from now until the 2019/20 campaign finishes.
With over a quarter of the season left to contest, there is lots still to play for at both ends of the Bundesliga season, and a scan of the competition's remaining fixtures reveals some crucial looking, stand-out match-ups.
Let's take a closer look at some of the games to look out for over the coming weeks along with the full Bundesliga fixture list itself.
Remember – we'll be covering all the action with match previews and tips on our Bundesliga predictions page.
Matchday 26
Borussia Dortmund vs Schalke
One of German football's most heated local rivalries, the Rivierderby is undoubtedly the pick of the games from the first set of post interval fixtures.
Schalke are much improved this season under David Wager, but do they have the tools to upset their title chasing local antagonists?
Union Berlin vs Bayern Munich
Bayern Munich make their first ever Bundesliga trip to play Union Berlin, who have already bloodied the noses of Dortmund and Gladbach at the Stadion an der alte Föresterei earlier this term.
Matchday 27
Hertha BSC vs Union Berlin
A Berlin derby awaits on Match 27 in an eagerly anticipated contest between Hertha and Union. In the reverse meeting between the clubs earlier in the campaign in November, Union came out on top thanks to an injury time penalty.
Borussia Mönchengladbach vs Bayer Leverkusen
Gladbach's clash with Bayer pits two clubs chasing Champions League football against each other. With the sides just six and eight points off the top respectively, a win for either side could also potentially provide the fuel for a late outside dash for the title
Matchday 28
Borussia Dortmund vs Bayern Munich
This is definitely one you can't afford to miss. With the clubs going head-to-head for the Bundesliga title, Matchday 28's Der Klassiker has all the makings of a classic. As things stand, Dortmund are four points behind Bayern, though they will need a far better showing than their performance in their 4-0 battering in Bavarian last year, to grab the gap-closing victory they need.
Werder Bremen vs Borussia Mönchengladbach
Werder Bremen need points and lots of them if they are to avoid being relegated from the Bundesliga for the first time since 1980. Their home form will be key to their chances of survival and they host high-flying Borussia Gladbach in another huge fixture at the Weserstadion on Matchday 28.
Matchday 29
FC Köln vs RB Leipzig
With title favourties Dortmund and Bayern clashing the week before, RB Leipzig, who are five points off top spot themselves, will need to capitalise on every opportunity presented to them to remain in this season's title race. Three points are must when the travel to play Köln, though the Die Geißböcke were in excellent form before football's enforced hiatus and will go toe-to-toe with Julian Nagelsmann's side.
SC Paderborn vs Borussia Dortmund
In late November, Borussia Dortmund and Paderborn produced one of the games of the 2019/20 season when they shared the spoils after a dramatic 3-3 draw at the Signal Iduna Park. Der BVB were three goals down at the interval, but fought back to grab a point with a last gasp equalizer from Marco Reus. However, another slip up against the relegation certainties could completely derail their title bid.
Matchday 30
Bayer Leverkusen vs Bayern Munich
Leverkusen have been in electric form in 2020 and were the last team to topple Hansi Flick's Bayern side when a brace from Leon Bailey earned Bayer three points in a 2-1 win in Munich back in November. With Bayern target Kai Havertz in tow, Die Werkself are capable of throwing another spanner in the works for the defending champions on June 5.
Freiburg vs Borussia Monchengladbach
Gladbach have Champions League qualification in their sights this season, and having beaten Freiburg 4-2 earlier in the season in an end-to-end encounter, Die Fohlen will back themselves to do the double. However, Freiburg are a notoriously tough nut to crack at the Schwarzwald-Stadion and will be out for revenge.
Matchday 31
Bayern Munich vs Borussia Mönchengladbach
Gladbach are one of only four teams to have beaten Bayern Munich in the Bundesliga so far this season, and having upset the odds to beat them 2-1 in November, they will be aiming to repeat the trick in Bavaria on June 12.
Schalke 04 vs Bayer Leverkusen
Before the Bundesliga's break, Schalke and Leverkusen held on to the league's final European qualification berths in 6th and 5th respectively. And while they were separated by a vast looking 10 points gap, the teams are evenly matched enough on the pitch to put on a real show in Gelsenkirchen.
Matchday 32
Werder Bremen vs Bayern Munich
Week 32 throws up some fascinating looking head-to-heads, two of which promise to have major knock-on effects at the top and bottom of the table. 17th placed Werder Bremen host current leaders Bayern Munich in the first key contest, and with just three games left to navigate, every point counts for both.
RB Leipzig vs Fortuna Düsseldorf
On the same day, RB Leipzig in 3rd meet 16th placed Fortuna Düsseldorf adding to the drama that could unfold at opposite ends of the standings. Die Roten Bullen were comfortable 3-0 winners when the sides last played in December and will expect to run up a similar scoreline.
Matchday 33
RB Leipzig vs Borussia Dortmund
In the penultimate weekend of the 2019/20 season, two of the current members of Bundesliga's top three meet in what looks a bona fide season defining contest between RB Leipzig and Borussia Dortmund. The game pits Timo Werner against Erling Haaland and Jadon Sancho – and with so much attacking talent on show, it's little wonder the teams drew 3-3 before Christmas.
Schalke 04 vs Wolfsburg
While much could change between now and when Schalke and Wolfsburg are scheduled to play on June 20, at present, the clubs in question look the likeliest contenders for the 6th and final European qualification place in the Bundesliga. Their meeting on Matchday 33 could prove decisive.
Matchday 34
The 2019/20 season's final day where all number of potential scenarios could play out!
Borussia Dortmund are the only member of the Bundesliga's title chasing trio to finish with a home game (vs Hoffenheim), while Bayern Munich and RB Leipzig play at Wolfsburg and Augsburg respectively.
If Werder Bremen's fight for survival goes down to the wire, they will have to win at home to Köln stay up, and hope that Fortuna Düsseldorf are undone at Union Berlin.
Elsewhere, Gladbach and Leverkusen's pursuit of Champions League football ends with home games against Hertha Berlin and Mainz, while Europa hopefuls Freiburg and Schalke round things up with what should be a keenly contested tussle at the Schwarzwald-Stadion.
2019/20 Bundsliga full remaining fixture list
Saturday 16th May
14:30 – Borussia Dortmund vs Schalke
14:30 – FC Augsburg vs Wolfsburg
14:30 – Fortuna Dusseldorf vs SC Paderborn 07
14:30 – Hoffenheim vs Hertha Berlin
14:30 – RB Leipzig vs SC Freiburg
17:30 – Eintracht Frankfurt vs M'gladbach
Sunday 17th May
14:30 – Cologne vs Mainz
17:00 – 1. FC Union Berlin vs Bayern Munich
Monday 18th May
19:30 – Werder Bremen vs Bayer Leverkusen
Saturday 23rd May
14:30 – Bayern Munich vs Eintracht Frankfurt
14:30 – Cologne vs Fortuna Dusseldorf
14:30 – Hertha Berlin vs 1. FC Union Berlin
14:30 – M'gladbach vs Bayer Leverkusen
14:30 – Mainz vs RB Leipzig
14:30 – SC Freiburg vs Werder Bremen
14:30 – SC Paderborn 07 vs Hoffenheim
14:30 – Schalke vs FC Augsburg
14:30 – Wolfsburg vs Borussia Dortmund
Tuesday 26th May
19:30 – 1. FC Union Berlin vs Mainz
19:30 – Bayer Leverkusen vs Wolfsburg
19:30 – Borussia Dortmund vs Bayern Munich
19:30 – Eintracht Frankfurt vs SC Freiburg
19:30 – FC Augsburg vs SC Paderborn 07
19:30 – Fortuna Dusseldorf vs Schalke
19:30 – Hoffenheim vs Cologne
19:30 – RB Leipzig vs Hertha Berlin
19:30 – Werder Bremen vs M'gladbach
Saturday 30th May
14:30 – Bayern Munich vs Fortuna Dusseldorf
14:30 – Cologne vs RB Leipzig
14:30 – Hertha Berlin vs FC Augsburg
14:30 – M'gladbach vs 1. FC Union Berlin
14:30 – Mainz vs Hoffenheim
14:30 – SC Freiburg vs Bayer Leverkusen
14:30 – SC Paderborn 07 vs Borussia Dortmund
14:30 – Schalke vs Werder Bremen
14:30 – Wolfsburg vs Eintracht Frankfurt
Tuesday 2nd June
19:30 – Werder Bremen vs Eintracht Frankfurt
Saturday 6th June
14:30 – 1. FC Union Berlin vs Schalke
14:30 – Bayer Leverkusen vs Bayern Munich
14:30 – Borussia Dortmund vs Hertha Berlin
14:30 – Eintracht Frankfurt vs Mainz
14:30 – FC Augsburg vs Cologne
14:30 – Fortuna Dusseldorf vs Hoffenheim
14:30 – RB Leipzig vs SC Paderborn 07
14:30 – SC Freiburg vs M'gladbach
14:30 – Werder Bremen vs Wolfsburg
Saturday 13th June
14:30 – Bayern Munich vs M'gladbach
14:30 – Cologne vs 1. FC Union Berlin
14:30 – Fortuna Dusseldorf vs Borussia Dortmund
14:30 – Hertha Berlin vs Eintracht Frankfurt
14:30 – Hoffenheim vs RB Leipzig
14:30 – Mainz vs FC Augsburg
14:30 – SC Paderborn 07 vs Werder Bremen
14:30 – Schalke vs Bayer Leverkusen
14:30 – Wolfsburg vs SC Freiburg
Tuesday 16th June
19:30 – 1. FC Union Berlin vs SC Paderborn 07
19:30 – Bayer Leverkusen vs Cologne
19:30 – Borussia Dortmund vs Mainz
19:30 – Eintracht Frankfurt vs Schalke
19:30 – FC Augsburg vs Hoffenheim
19:30 – M'gladbach vs Wolfsburg
19:30 – RB Leipzig vs Fortuna Dusseldorf
19:30 – SC Freiburg vs Hertha Berlin
19:30 – Werder Bremen vs Bayern Munich
Saturday 20th June
14:30 – Bayern Munich vs SC Freiburg
14:30 – Cologne vs Eintracht Frankfurt
14:30 – Fortuna Dusseldorf vs FC Augsburg
14:30 – Hertha Berlin vs Bayer Leverkusen
14:30 – Hoffenheim vs 1. FC Union Berlin
14:30 – Mainz vs Werder Bremen
14:30 – RB Leipzig vs Borussia Dortmund
14:30 – SC Paderborn 07 vs M'gladbach
14:30 – Schalke vs Wolfsburg
Saturday 27th June
14:30 – 1. FC Union Berlin vs Fortuna Dusseldorf
14:30 – Bayer Leverkusen vs Mainz
14:30 – Borussia Dortmund vs Hoffenheim
14:30 – Eintracht Frankfurt vs SC Paderborn 07
14:30 – FC Augsburg vs RB Leipzig
14:30 – M'gladbach vs Hertha Berlin
14:30 – SC Freiburg vs Schalke
14:30 – Werder Bremen vs Cologne
14:30 – Wolfsburg vs Bayern Munich
More FST News: