There are two schools of thought when it comes to assessing Ernesto Valverde's tenure as Barcelona boss. On one hand, his Barcelona side have been the class act in Spain by some distance and are on course for back-to-back domestic doubles. Since Valverde took charge, Barca have collected a staggering 35 more league points than a Real Madrid side that has conquered Europe in 4 of the past 5 years. The Catalans have only lost 4 times in La Liga under Valverde with 2 of those defeats coming in matches that didn't really matter after they'd already clinched the title.
Valverde's time in Barcelona therefore has to be judged as a success by all reasonable standards. However there will be few tears shed if he does leave the club this summer and there is growing speculation that he might. For many in Barcelona, woeful collapses last year in Rome and last week in Liverpool proved Valverde's tactical deficiencies and with the nature of those defeats so similar, the only logical conclusion to draw is that Barcelona and their coach haven't learnt their lesson in Europe, at least on the big nights that really matter. Even before Anfield, there were sections of Barcelona's huge global fanbase who had turned on a man whose playing style they view as the antithesis of the 'Barca way'.
The problem for Barcelona though is that there are some pretty underwhelming options on the list of potential candidates to replace him. Here are the current front-runners:
Check out our dedicated La Liga page with links to all our betting tips and match previews here.
Ronald Koeman – 15/8 to be the next Barcelona Manager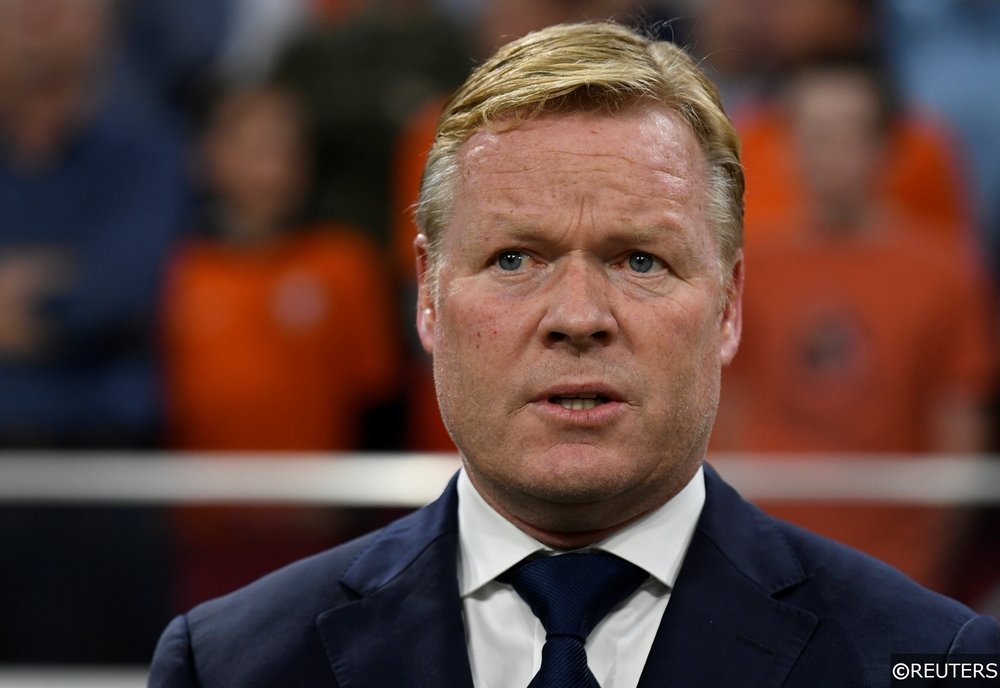 It will come as a surprise to certainly many Everton fans that Ronald Koeman is the current favourite to take over the reigns at Camp Nou. He was sacked by the Toffees in October 2017 with his side in the relegation zone and has since taken over as the new boss of the Dutch national team and has to his credit helped spark a turnaround in their fortunes, although he has benefited from the emergence of some of the brightest young talents in European football.
The main reason Koeman is favourite is that he remains an iconic figure at Camp Nou. He scored the goal that secured Barca's first ever European Cup win in 1992 at Wembley and returned to the club as assistant coach in 1998. There are many Barca fans who would welcome the return of a manager who is part of the club's history and more in sync with the club's traditional style of play. However his managerial record is distinctly mixed with his only previous stint in La Liga also ending in the sack at Valencia a decade ago so it would still be something of a surprise if Barca went down this road.
Massimiliano Allegri – 4/1 to be the next Barcelona Manager
⚠⚠⚠

Massimilano Allegri has reportedly told some of his friends: "My time at Juventus has come to an end." [CorSera] pic.twitter.com/r6Fxsyv6gb

— Forza Juventus (@ForzaJuve2017) May 9, 2019
By contrast, Massimiliano Allegri's managerial pedigree cannot really be doubted with five straight Serie A wins for Juventus who have also made two Champions League Finals during his tenure. His future remains in doubt heading into the summer so it's only natural that his name is in the frame should Barca sack Valverde over the coming weeks.
He possesses the tactical intelligence and versatility that Valverde is sometimes portrayed to lack and it's certainly hard to see a Allegri side collapsing in the kind of fashion Barca have done in Europe over the past two years. His failure to land Europe's biggest prize, the one Barcelona want most, may count against him though.
Keep tabs on all things Serie A on our dedicated Italian football page.
Erik ten Hag – 9/2 to be the next Barcelona Manager
Negotiations between Erik ten Hag and Barça have already started and were on the table long before recent CL results. [el periodico] pic.twitter.com/ObsGOuwKVn

— Barça Universal (@BarcaUniversal) May 8, 2019
Allegri's Juve were knocked out of this season's competition by Erik ten Hag's Ajax who played football right out of the Cruyff playbook, which would certainly make him an enticing proposition for many Barca fans. His ability to do wonders with a side with a fraction of the budget of their Champions League rivals was exceptionally impressive although there would be a touch of irony were Barcelona to sack Valverde for what happened at Anfield only to replace him with the man that oversaw an equally spectacular Champions League Semi-Final collapse the following night.
Ten Hag has only been at the Amsterdam club for 18 months and may feel as though it will be impossible to replicate this season's success with a host of players likely to move on. He may be tempted to follow Frenkie de Jong to Barcelona although interestingly ten Hag is currently the 4/6 favourite to be the next Bayern Munich boss with Betfair.
Mauricio Pochettino – 7/1 to be the next Barcelona Manager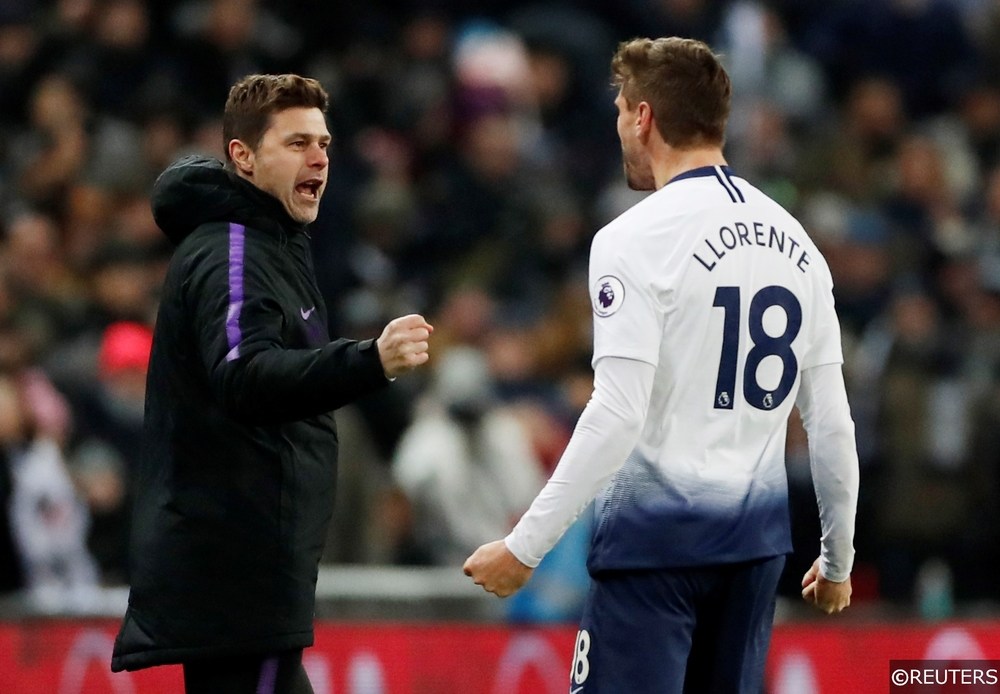 With the Copa del Rey Final still a fortnight away, any move to appoint a new boss will have to be on hold for now which does leave them at risk of missing out on some of the other candidates. The timescale may work better when it comes to Mauricio Pochettino though with the Spurs boss having quite a big game of his own to plan for.
Pochettino has made stronger noises this year about this season potentially being his last in North London. That may be nothing more than a ploy to convince his board to actually spend some money on players this summer. However if Pochettino is for real or even just decides to walk away at the very top if Spurs do win the Champions League Final, he would surely be a great option for Barcelona. The Argentine is no stranger to the city having spent the best years of his playing career and started out in management across town at Espanyol.
The Best of the Rest
Barcelona don't really have a track record of going for the obvious candidates though so it is worth taking a look at some of the other names in the frame.
They do have a tendency to go down the road of former players with Pep Guardiola, Luis Enrique and Ernesto Valverde having all played for Barcelona before coaching them. Many former Barca players fill the rest of the market and include Xavi Hernandez at 14/1 with Betfair, Phillip Cocu at 25/1, Frank de Boer at 33/1 and Thierry Henry at a distant 90/1. Xavi is certainly one to keep an eye on moving forward but he is only just bringing his playing career to an end and is more likely to take on the role of B Team boss at some point before ascending to the top job.
The one-time favourite in this race is Quique Setien, the current coach of Real Betis. A disastrous second half of the season in Seville has seen his stock fall though and with the Betis fans baying for blood, he's likely to be dismissed when the Spanish league season ends this weekend. At 10/1 he's still a decent outside bet to be the next Barcelona coach as his brand of possession football would on the surface be a good fit for the Catalan club. He has been quite public at times when it comes to his admiration for Barcelona and would certainly jump at the chance to take over and somewhat bizarrely there are Barca fans who would welcome his appointment despite his recent results with Betis.
If they opt for a bigger name then Arsene Wenger could come into consideration. The former Arsenal boss is currently 33/1 along with Jose Mourinho who would rank as just about the least popular choice in Catalunya for a whole host of reasons. At 40/1, Antonio Conte would be a more realistic outside shout, although he is widely expected to soon be announced as the new boss of Inter.