We're in for a treat on Sunday night as the top two title contenders go head-to-head at the Etihad, and there are a host of underlying stories to comb through in the build up to this high profile affair.
Pep Guardiola will head into this with his side at least six points adrift of the top spot, but they have a couple of games in hand on the frontrunners and have started picking up some real momentum recently.
Liverpool, defending their first ever Premier League title, are right in amongst it at the top of the table but have been nowhere near as dominant as they were last season. They suffered an utter humiliation at Villa Park before the previous international, and they will be hoping to avoid any similar situations heading into next week's break.
Don't forget to check out our betting tips and analysis in our Manchester City vs Liverpool predictions.
---
Guardiola looks to even the score with Klopp
While Pep Guardiola's battle with Liverpool counterpart Jurgen Klopp may not have the same ill-tempered edge as his high-profile clashes with Jose Mourinho, there is no doubt there is a real rivalry between the dugouts.
Stretching back to their time in Germany, Guardiola and Klopp have faced each other 19 times and, while the battles do ebb and flow, the war is currently edging in the Liverpool boss's favour.
No other manager in world football has beaten Guardiola more than Klopp, although to say it's a one-sided contest would be doing the Spaniard a massive injustice. Just one win separates the two prestigious coaches, while Guardiola's teams have scored two more goals than Klopp's men in their meetings.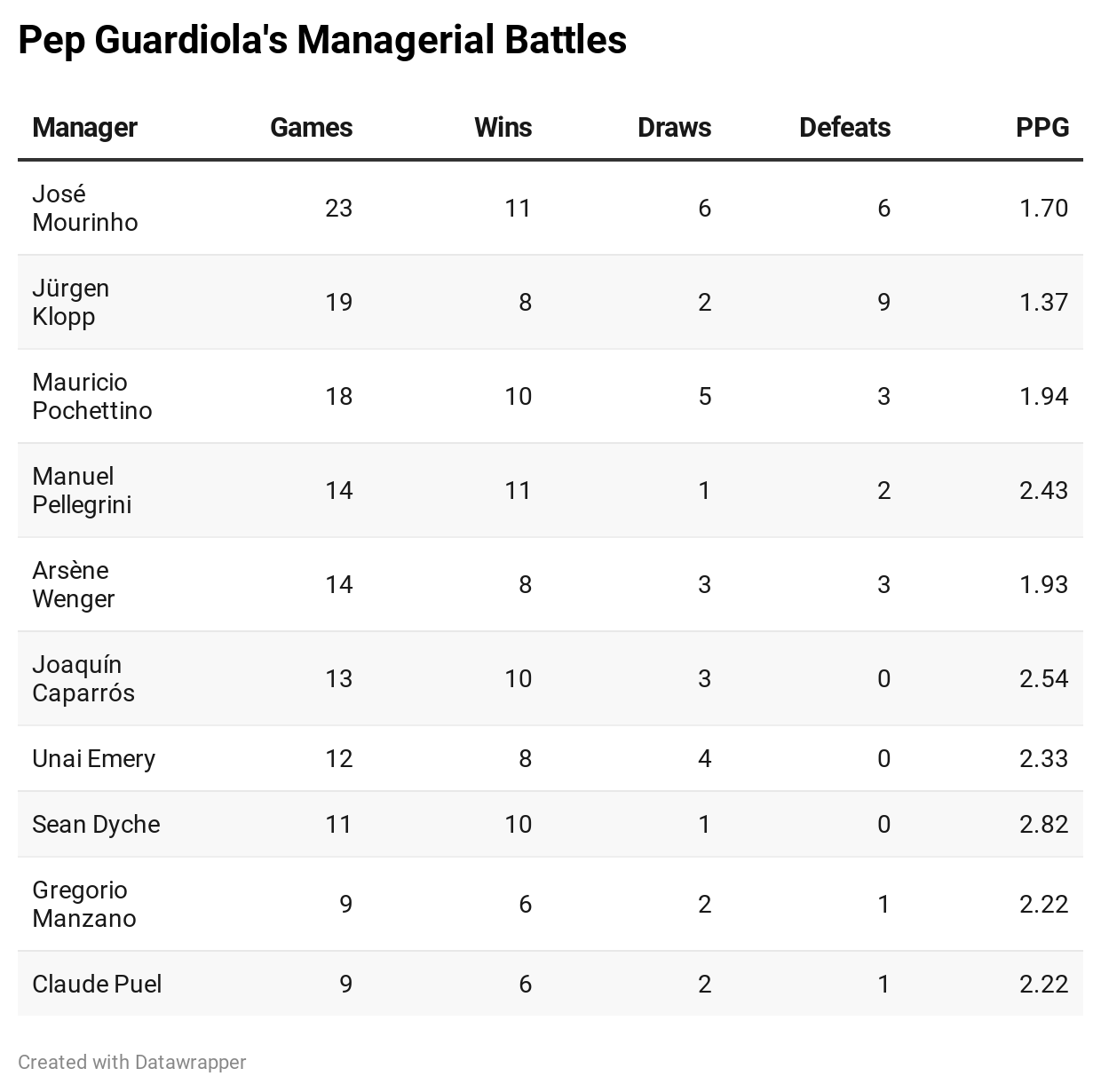 The managerial tussle in Germany proved to be neck and neck as each manager won four of their eight meetings, with their teams netting 12 goals apiece.
However, the tide has slowly edged in Klopp's favour since his arrival at Anfield, where he has won five, drawn two and lost four of his clashes with Guardiola. That being said, Manchester City have scored 18 goals to Liverpool's 16 in these 11 matches.
Sunday evening gives Pep the chance to even things up once more, and it's a victory his side sorely need as they look to press on and reclaim that lost Premier League trophy.
---
A tale of four centre backs
Liverpool's defensive conundrum
In our pre-season Premier League analysis we discussed the impact of Liverpool's fortuitously injury-free top flight campaign last season and noted how it was unlikely to happen for a second consecutive season.
Jordan Pickford made absolutely sure of that in mid-October when his rash lunge forced defensive stalwart Virgil van Dijk off the Goodison Park pitch. The Dutchman could potentially miss the rest of the reason and his replacement, the increasingly versatile Fabinho, is also ruled out for this one.
Joel Matip and Joe Gomez are expected to line up alongside each other at the Etihad, and there is absolutely no question that this is a downgrade from any defensive line with van Dijk present.
But how much has the commanding centre back actually been missed so far? As it happens, not as much as you might think.

Of course, that shocking 7-2 defeat at Villa Park has skewed these numbers somewhat, but even with that game discounted Liverpool have still conceded no more goals since van Dijk's injury in the Merseyside Derby.
That being said, it's certainly not all rosy for Klopp's back line. Liverpool, who conceded just 33 goals last season, have already shipped 15 this term after just seven games. They have managed just a single clean sheet in the Premier League this season, a return of 14% compared to their 39% shutout ratio last term. There is clearly work to be done there.
Laporte and Dias partnership flourishes for Man City
In a reversal of fortunes, Pep Guardiola suddenly finds himself in very good shape in the centre back department.
The Citizens sorely missed Aymeric Laporte during his numerous spells on the sidelines last term, and the France international has joined forces with new arrival Ruben Dias to form one of the most formidable centre back partnerships in the Premier League.
At least one of the two has played in six of their nine matches across the Premier League and Champions League this season, and in those six matches Manchester City have conceded just three goals. With both of them in the back line they have conceded only a single goal in three outings.
Without either of these two commanding presences? Six goals conceded in three games, including that abysmal 5-2 loss at home to Leicester when Nathan Ake and Eric Garcia endured a torrid afternoon at the back.

As the old adage goes, a title is won at the back, and it's proven true time and time again. Whatever happens on Sunday, the outcome of the Premier League title race could well hinge on how well Liverpool deal without van Dijk and if the Laporte and Dias partnership can continue to grow.
---
Salah draws criticism as VAR controversy rumbles on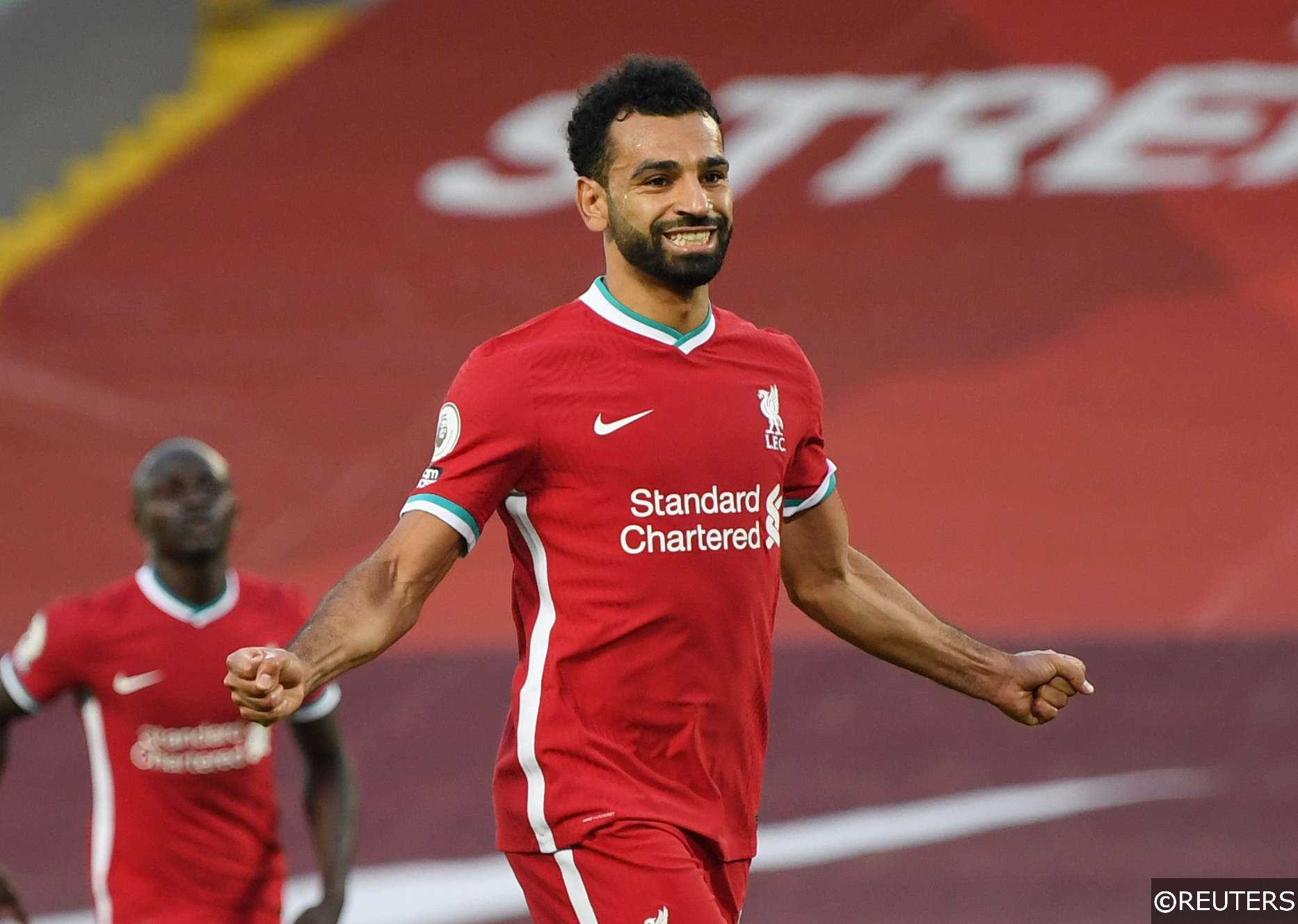 Mohamed Salah once again made the headlines last weekend as he scored his seventh Premier League goal of the season from the spot against West Ham, but it wasn't his goal that got people talking.
The Egypt international was widely criticised for diving to win that penalty, and it's not the first time he's drawn condemnation for his theatrics. He has scored four goals from the penalty spot in all competitions this season and has actually won two of those penalties himself.
But is his reputation as a diver justified? Former Liverpool midfielder Jason McAteer, speaking in an exclusive interview with FST, doesn't think so: "He (Salah) is a diminutive little player that likes to draw fouls in the opposition's box. Any player like that does get tarnished with diving.
"When you look at Harry Kane on Sunday, and also Luke Ayling for Leeds, no one has spoken about them, it has all been about Mo Salah.
"Referees all read the papers and watch the news, they all see it, so they're going to think straight away that Salah is that sort of player. But in his defence, VAR has been brought in to help referees distinguish what is a dive and what is not, so if a referee goes to the monitor and makes the decision that there was contact, and Mo has gone down and it's a penalty."
In any case, with VAR playing such a prominent role in the Premier League this season there's a good chance we'll be discussing spot-kicks again on Sunday. There have been 10 scored penalties in matches involved Manchester City and Liverpool this season, with each team seeing five penalties across their Premier League and Champions League campaigns.
Manchester City have conceded three penalties and, with Liverpool scoring four penalties, it's no surprise that we're backing the Reds to score from the spot at the Etihad.
---
FST's 35/1 Manchester City vs Liverpool #OOT
Man City to win
Both these clubs have suffered shocking and humiliating defeats this season but, while Liverpool have been scraping narrow victories in recent weeks, Manchester City have really hit their stride.
They have won six and drawn two of their last eight competitive games and can look back on their 4-0 drubbing of the Reds when they last met in July. Liverpool have only won three of their last nine top flight away games, so a Citizens win could be on the cards as they look to reduce the points deficit.
Raheem Sterling to score
As we mentioned before, Liverpool's defence looks far from assured this season and they have managed just one clean sheet in the Premier League, and this fragility is something former-Red Raheem Sterling will want to take advantage of.
The Manchester City forward has six goals to his name this season and has scored in two of his last three meetings with Liverpool, so he could be the difference maker here.
Liverpool to score a penalty
Jurgen Klopp's side have scored from the penalty spot four times in 10 Premier League and Champions League fixtures this season and VAR continues to cause controversy in the 18-yard box.
Manchester City have conceded three goals from penalties in the Premier League, and with Salah running at the defence there's always going to be a danger of giving away a penalty.
Under 5.5 cards
As discussed in our Premier League cards and corners predictions, both of these teams rank among the best teams for discipline this season. Liverpool have collected just six cards so far this term, while Manchester City have a slightly higher count of nine.
Their two Premier League meetings last season averaged 3.0 cards per game and both teams rank among the top three for lowest amount of fouls conceded per game.
---
More FST News:
FST's The Bet Builders with Statman Dave
Premier League weekend stat attack