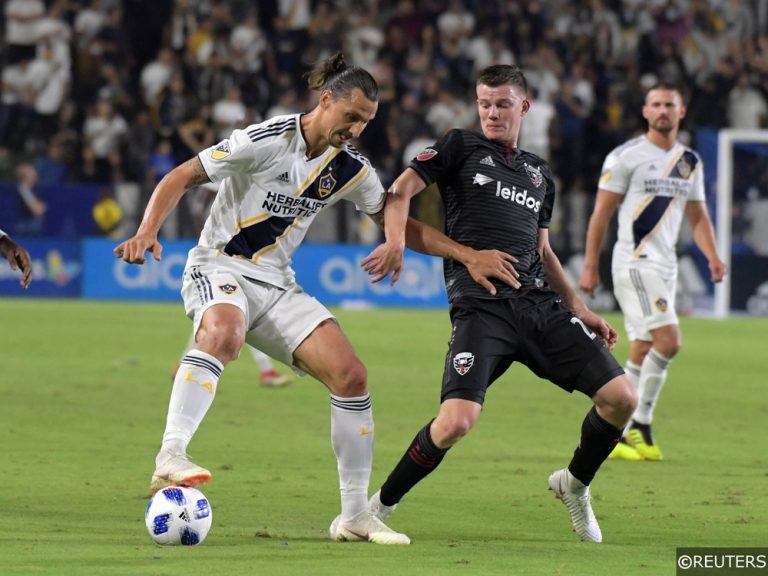 Simon Winter
@simonjwinter
Born in the south east of Ireland, Simon put his life-long love of football to good use when he started a successful independent blog in 2010. That opened up an alternative route to a career in journalism, and having had work published across a number of sites and publications, Simon joined the staff at Spotlight Sports Group in 2018.
Initial discussions about the possible merger of the United States' Major League Soccer and Mexico's Liga MX have already taken place according to Liga MX President Enrique Bonilla.
Plans to meld the competitions together in order to create a unified and expanded North American soccer league had been more hypothetical than concrete, though speaking recently in London at the Leaders Sport Business Summit, Bonilla suggested that meaningful developments could be close:
"It's a possibility, a North American league. We have to determine how and see the pros and cons but I think that's a way to grow and compete again."
"If we can make a World Cup then we can make a North American league or a North American cup. The main idea is that we have to grow together to compete. If not, there is only going to be the rich guys in Europe and the rest of the world".
Check our our dedicated MLS page with match previews, predictions and betting tips here
Executive Vice President of Communications for the MLS, Dan Courtemanche, responded to Bonilla's comments shortly after in statement sent to US broadcast network CBS Sports, saying:
"In March, Major League Soccer entered into a formal partnership with Liga MX."
"We have been discussing with Liga MX additional ways we can collaborate on and off the field, and we are excited about the future opportunities that exist between our two leagues".
The Campeones Cup, a one-off fixture between the most recent MLS and Liga MX champions, took place for the first time on the 20th September of this year, with Mexican side Tigres beating Toronto FC 3-1 in Ontario.
However, despite the success of the inaugural Campeones Cup and relatively straight forward collaborative planning process involved in organising the one-off game, there are doubts about the respective federations ability to make things work just as well over the course of a full season and schedule.
The logistics of any combined North American league would be incredibly complicated, with the hard border separating Mexico from its northern neighbours a major obstacle for the trio of federations contemplating unification of their domestic competitions.
Nevertheless, the concept of a North American league is undoubtedly an exciting one and the forward-thinking idea could help to facilitate a huge collective step in the right direction for the associations involved.
Liga MX, which is made up of 18 clubs, is the most watched foreign league in the United States ahead of Spain's La Liga, England's Premier League and of course the country's native MLS.
With approximately 35 million Mexican-Americans living in the US, Liga MX earns around $100m a year from cross-border TV deals with Fox Sports and EPSN, which is more than the same broadcasters pay each year to screen games from the MLS.
MLS TV viewership figures rose from around 185,000 per game in 2013 to 258,000 in 2017 with another jump expected in those numbers by the end of the year and further increases in the pipeline with 3 US based clubs due to join the league over the next half a decade.
The MLS is currently comprised of 23 clubs, 3 of which are based in Canada (FC Toronto, Vancouver Whitecaps, and Montreal Impact).
FC Cincinnati will become the 24th member of the MLS in 2019 with David Beckham's Inter Miami FC joining a year later in 2020. A franchise will also be launched in Nashville, though that project is still in its infancy.
Attendances in the MLS have been steadily growing over the last decade, with an average of 22,000 spectators attending each fixture in 2018. In fact, the MLS is now the 7th best attended league in world football.
Atalanta United's average attendance in 2018 was just short of 52,000 – a figure higher than 13 Premier League clubs' average attendance figures for the 2017/18 season.
Read More: Unbelievable tech-ers: Why tech equals success for Premier League shirt sponsors
With domestic "soccer's" popularity increasing exponentially in the US, a possible merger with the country's most viewed competition just south of the border could take the demand for football there to unprecedented levels. With so much unexplored potential, it's easy to see why unification is being pushed by both sides.
The 2026 World Cup could be a key organisational and logistical forerunner to any North American league. USA, Canada and Mexico were chosen as joint hosts for the tournament and a successful World Cup partnership could help to pave the way for further collaboration.
Conceivably, the 2026 World Cup could be used a springboard to launch a new unified North American league, in the same way the 1994 World Cup in the US was used to kickstart the MLS.
It's hard to identify many down sides to a potential Liga MX and Major League Soccer merger. The competition model is one that could help to close the gap between US/Mexican clubs and their European counterparts, which in turn could lead to greater retention of talent, an upsurge in competitiveness and a greater financial windfall. Watch this space.
Read More: Moving on from Xavi & Iniesta – Spain's bright new generation of midfield talent
Follow Free Super Tips on Twitter to stay up to date with our daily tips and predictions or browse more football content on our website: