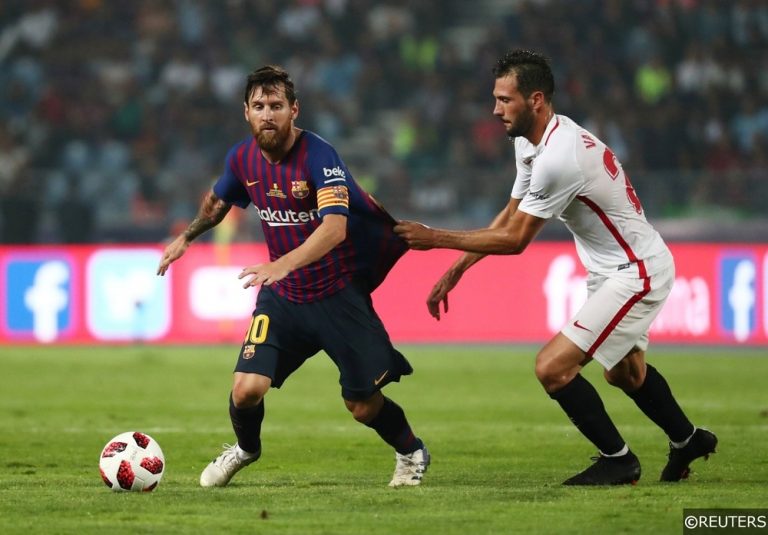 Content Editor at Free Super Tips, Alex was born in the shadow of Old Trafford and is an avid Man Utd fan. After graduating from university he combined his love of football, writing and betting to join FST and now closely follows goings-on in all of the top European leagues.
January is a quiet month in many European countries but the busiest of the year for domestic action in Spain. With La Liga match-days spread out between Friday and Monday, and Copa del Rey matches taking place between Tuesday and Thursday, barely a day will pass this month without some form of action involving Primera Division clubs.
The Copa del Rey last 16 1st Legs commence this Tuesday with the only remaining lower league side Sporting Gijon taking on Valencia. Sides who progress to the Semi-Finals will have two games a week for five straight weeks leading to the inevitable rotation in the cup over this period. By the end of January we will know who the last four will be and we may also know more about plans for a much needed revamp that is likely to come into place next season to hopefully improve the structure of the competition.
A Cup without Upsets
8-0 – Against Almería (Copa del Rey), Villarreal have registered their biggest win ever in all competitions in the Top Flight (8-0). Historic pic.twitter.com/8AQGZ6u53P

— OptaJose (@OptaJose) December 5, 2018
The two-legged nature of the Copa del Rey combined with seeding which ensures the big boys all face sides from the third tier or lower in the last 32 ensures there are rarely many major upsets in the Spanish Cup. Last year's biggest shock was probably Leganes seeing off Real Madrid over two legs in the Quarter Finals, even though that was still two sides from the same division facing off.
One glance at the last 16 this year further confirms the theory that it is very difficult for lower league sides to progress in the Copa del Rey. Just 1 of the remaining 16 teams does not currently ply their trade in the top flight. That side is Sporting Gijon, who knocked out Eibar in the last round and it was hard to really get too excited by the magnitude of the upset given Sporting are traditionally much the bigger club.
In recent years at least genuine shocks have been few and far between with Alcorcon's 4-0 win over illustrious neighbours Real Madrid in 2009, the last truly earth-shattering result in the competition. While the FA Cup may have its detractors in England, many connected to Spanish football still look on enviously at the kind of drama witnessed this Sunday in England's historic cup competition and a Copa del Rey revamp is long overdue.
Big Guns face Familiar Foes in the Last 16
Copa del Rey Last 16 draw in full: Real Madrid vs Leganes, Barcelona vs Levante #epl: The Copa del Rey last-16 draw has thrown Real Madrid against Leganes, who beat the Spanish giants in last season's competition…. https://t.co/pUmMNIQI6X pic.twitter.com/qi2luxaIvB

— EPL Feeds (@eplfeeds) December 13, 2018

Despite the almost exclusively Primera Division field, the Copa del Rey last 16 draw still served up a few interesting ties and none of the 'big three' are assured easy passages through. Real Madrid face a reunion with Leganes, 12 months on from a humiliating exit against their city neighbours last term. Following on from another damaging league defeat to Sociedad on Sunday, there is huge pressure on Santi Solari to avoid the same fate that fell on Zinedine Zidane's men last January. However he may be helped by Leganes being likely to prioritise their relegation battle this time around with both sides expected to make wholesale changes for the 1st Leg at the Bernabeu.
Frustrations at the predictability of the Copa del Rey haven't been helped by the same team winning it in each of the last 4 seasons. Not since Gareth Bale's late winner in the 2014 Clasico Final has anyone other than Barcelona got their hands on the Copa del Rey. To put things in perspective, there have been two World Cups since Barca were last defeated in a Copa del Rey tie. They would set a new record for consecutive wins were they to win it again this term. They travel to Levante this Thursday. The Valencia club were they only team to beat them in La Liga last term but the Catalans did win 5-0 when they visited Levante only last month.
Atletico Madrid also have bad memories of contests against their opponents. All of the three top flight meetings between Diego Simeone's men and Girona have been drawn. With Girona looking pretty safe in La Liga, they can perhaps afford to name a relatively strong team too so the away 1st Leg at least could be a real test for Atleti.
As far as the other ties go, clashes between the Seville clubs and the Basque big two look the most appealing. Sevilla take on Athletic Bilbao, with the former having reached 4 Finals since the turn of the century, winning two and losing two. Betis against Sociedad could also be good with La Real no doubt buoyed by their shock weekend win.
Revamped Copa del Rey – How might it work?
Barça submit request to change the Copa del Rey format into FA Cup/Coppa Italia hybrid https://t.co/HqHsvOeQyZ one-game, instant knockout – up until the semis. pic.twitter.com/ZjRqtTARXM

— AS English (@English_AS) March 11, 2018
For much of 2018, there was continuous conflict between La Liga and the Royal Spanish Football Federation. The two seemed to have opposing views on just about every major issue from the venue of the Spanish Super Cup to the proposed game in Miami, which eventually failed to come off. However the need for a change to the format of the Copa del Rey is one issue in which they seem to have found common ground and a new-look competition is highly likely next season.
Current plans centre around ditching the two-legged format which leads to Spain's European participants regularly playing close to 60 games a season. A one-off game should increase the likelihood of shock results and ought to offer lower league clubs a much greater chance of making real progress in the competition. It would most likely have come in this season were it not for TV contracts having already been agreed. That said, the changes are still dependent on the 20 Primera Division clubs agreeing to a format that could see them facing banana skin away ties without the security blanket of a home 2nd Leg.
The second big change being proposed is to have a UEFA Nations League style Semi-Finals and Final tournament, staged in one city in the final week of the Spanish football season. That really would add some spice to the conclusion of the calendar although the need for a city with at least two large stadiums effectively limits the options to Barcelona, Madrid and Seville.