We've gone through some aspects of the Betfair Exchange, but what are some techniques that you can use to turn a profit? Here we'll run through two strategies to make some money and exploit the benefits of the Exchange. 
Lay the Draw trading and Correct Score trading.
Lay the Draw Trading on Betfair Exchange
This is one of the most popular techniques on Betfair and, whilst it's not as profitable as it once was, it is still a great way to get used to how the Exchange works while making a little profit along the way. As with most aspects of the Exchange, patience is key with lay trading; you must be willing to wait for the right game at the right time instead of jumping in with both feet to whatever game happens to be on.
We explained Lay betting in a previous article, but for those unfamiliar a lay bet is placing a bet that something won't happen. In this case, laying the draw means betting that a draw will not happen. 
The simplest ways to lay the draw involve waiting until the end of the match or using the cash out function. Let's take a look at a real world example: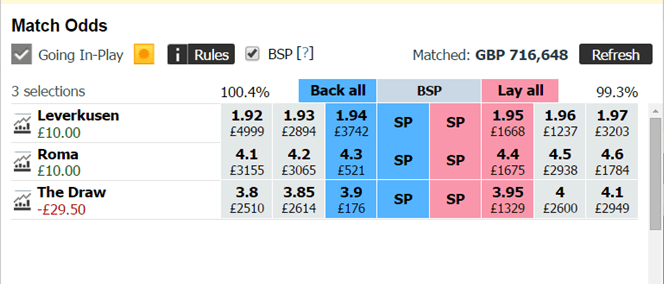 Here, you have placed a £10 lay on the draw at odds of 3.95. This means your liability is £29.50, the amount you will lose if the match ends in a stalemate. Now, let's pretend the full time whistle has just gone and Leverkusen have comfortably won the game 3-0. You'd have £10 profit! 
But how many times has the result you've backed been just one goal to the good and you've been sitting nervously waiting for that full time whistle. That's when the cash out option becomes your friend. Again, let's look at the Leverkusen v Roma game as an example: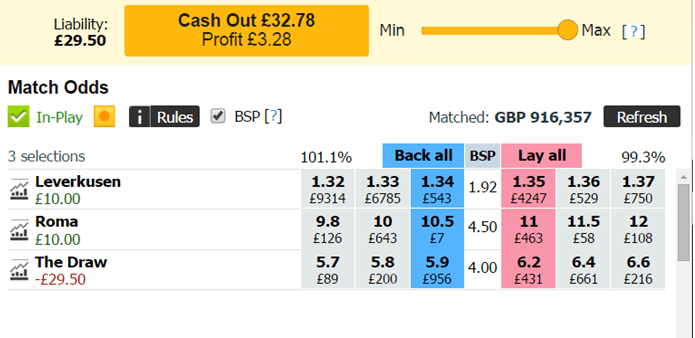 This shows the odds after 10 minutes, with Leverkusen holding an early lead. The odds on a draw have risen dramatically and have given us a cash out offer that would put us into profit. We click that button and we have our profit without having to sit around biting our fingernails every time Roma attack!
So, what do we need to be looking for when it comes to laying the draw? The first thing that we need is good liquidity in the market ie. plenty of money being matched on our selection. This means that our lay is likely to be matched and we won't have to look elsewhere to make our money. 
In order to be profitable in the long term in any betting market, you'll need to do your research – you want to find matches with a high chance of seeing plenty of goals. Everyone has their own favourite site for searching for stats, and we'd encourage you do this so that you have a good idea of how the teams look. FST's predictions and match previews also give a good indication of how matches should go, and are a valuable resource when researching matches. 
A high scoring match is likely to see one team with a substantial lead at some point in the match, meaning our cash out value will be high. With everything we do on the Exchange, we're looking to maximise our potential for profit. Our weekly Over 2.5 Goals form guide is another invaluable resource when trying to find those potentially high scoring affairs. It's updated every Friday, so make sure to check back before your weekend trading!
Sometimes even the best-researched banker of a match can go wrong, though – what should you do then? You've got two options when things don't go to plan: you can either limit the loss, or see the game through and hope your selection turns from a loser to a winner. Both have their merits and their drawbacks, and it's really an individual decision on how you see the game panning out. 
In summary, the main things to remember are patience and discipline. Don't just lay the draw on the first match you see. Do your research, watch how the odds move for matches when a goal is scored and only ever risk what you can afford to lose. Laying the draw is never a guaranteed money-maker, but it is a good way to introduce yourself to the Exchange and how profitable it can be. 
Next we'll look at another good way of making money on the Exchange – and this way can be a little more exciting!
Correct Score Trading on Betfair Exchange
On nearly every market on the exchange, you've got two or three options (win, lose or draw; over or under; yes or no) – but with the correct score market, you've got 19! This means Correct Score Trading is a bit more of a challenge, but the rewards are fantastic when you get things right.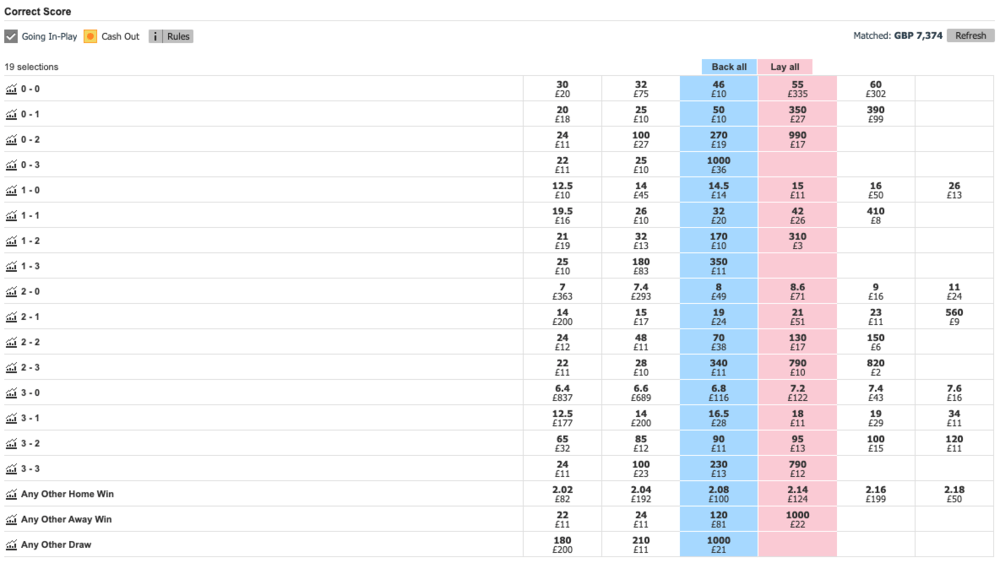 Things get more difficult when predicting the correct score of a game. It wasn't a massive risk to predict that Man City would beat Watford earlier this season, but how many people would've been happy enough to predict an 8-0 scoreline? But if you were to open that market up a little more and group some scorelines then things get a little more interesting. If you looked at the Man City v Watford game and thought that City were likely to get a big win, then you could back a group of correct scores and look to profit. 
The Exchange on Betfair gives you all the possible scorelines from 0-0 all the way to 3-3, but also allows you to select 'Any Other Home Win', 'Any Other Away Win' or 'Any Other Draw'. In this case, you could back Man City to win 3-0, Man City to win 3-1 (if you thought Watford might nick a goal) and Any Other Home Win if you thought the gap would be bigger than three goals. 
As Man City started finding the net, your cash out value would've been rising and you would've been confident of maximising your profit. If you had just selected a 3-0 win for City you'd be panicking after just seven minutes when they lead 2-0 and you'd be looking at a loser after just 15 when they netted their fourth goal. But by selecting a group of correct scores, you gave yourself a bigger chance of finding the correct score and turning a profit!
Another good method in using correct score trading is to look at the half time correct score market. Betfair gives you 10 options to pick the correct score on this market (from 0-0 to 2-1 to either side) and then any other result. The odds won't be as high, but the likelihood of picking the right result increases substantially. 
You can, of course, also try and trade on the second half correct score, but this is much more unpredictable with the likelihood of a team needing to score increasing and players tiring as the match wears on.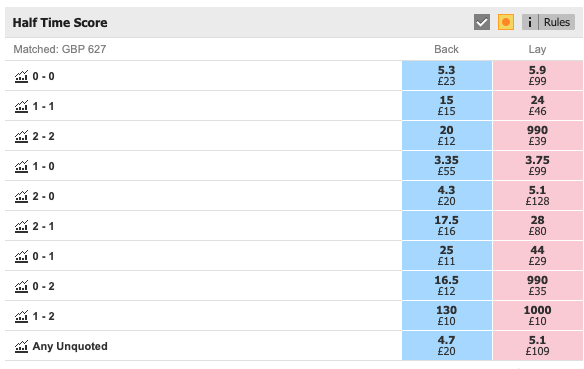 There are a few things you should look at when trying to predict a correct score. Recent form plays a part, with very few teams able to sustain excellent form over the course of a long period – but if you can find a team in good form and correctly predict that their good results will continue, you can make a healthy profit. 
You can also look at head to head results between the two clubs. This is less reliable with personnel regularly changing within a squad, but it can be helpful to look at how clubs perform against each other historically. 
A third thing to look at is the starting line ups for the two teams. If Man City are missing de Bruyne are they less likely to create goal-scoring chances? Are Liverpool more likely to concede if Van Dijk is suspended? These things can have an impact, and are worth considering when looking at making your trades. 
Trading is a great way to make some extra money and heighten the enjoyment of a match but you need a clear mind and a strategy to make it profitable. We hope these methods serve as a good introduction into a different way of betting. 
More in this series
What is the Betfair Exchange?
Back and Lay Betting Explained
Advantages of Using the Exchange
Placing a Back Bet on the Exchange
Placing a Lay Bet on the Exchange
How to Set Your Own Odds on the Exchange
Cash-Out – How Does it Work on the Exchange?
Arbing and Matched Betting on the Exchange