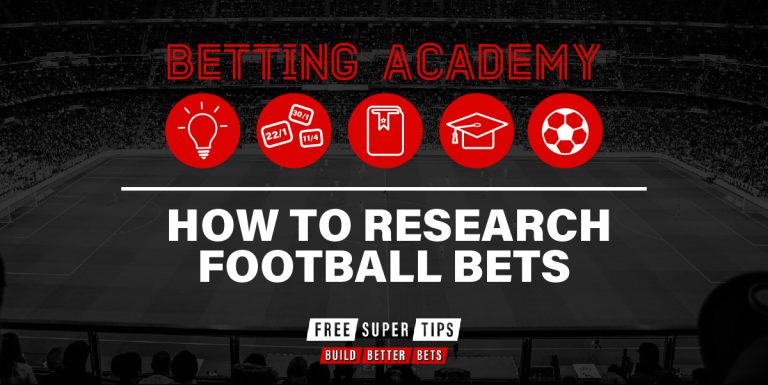 Before becoming a Sports Journalist for Free Super Tips, Aaron spent three years studying Sports Journalism at the University of Sunderland while taking in the Black Cats' 'glory years' under Martin O'Neill. Now back in Northern Ireland he turns niche stats into predictions for FST, while he's one of the few people on this island who is equally comfortable at Windsor Park and the Aviva.
When you're placing a football bet, you want to be up on all the key statistics and information before you place it. You don't want to back a team in terrible form or one missing their best player, so research is key.
Having shown you how to sign up with a bookie, now we're going to run through all the key things to consider before you back a bet.
What information should I look out for?
Modern football is analysed from every angle possible, so the key thing isn't finding data about the beautiful game, it's knowing what to look for.
First things first, you'll want to know the latest team news before you place a bet on a game. You may want to back a team on a hot streak, but would you still have faith in them if they were missing their star player or set to heavily rotate their side?
As well as we can track a team's fortunes across a season, modern sides have deep squads and rotation is just a fact of life these days. That makes team news the first stop for bettors.
What to look for when placing a match result bet
Once you've checked the team news, results are next up. While statistical analysis of football has gotten much more complicated over the years, it's always worth looking at the form of both sides.
Next up you want to check the home and away results of both sides. No matter what league you check, home advantage becomes clear over the course of a season. On top of that, 12 months without fans in stadiums also showed that home support is an important factor to consider.
A team could have a strong overall record, but sometimes there can be a massive gap between results at home and away. Most divisions will feature at least one team who earn around 70% of their points at home, while you can also sometimes find that outlier team who are better on the road.
What else should I watch out for?
One good thing to check is how teams fare against opponents from certain sections of the table. You might find a team in form who have lost all their clashes with the top six. Alternatively, you might see a seemingly inconsistent team who have a great record against the bottom five or six.
Expected Goals data is a dividing issue with football fans but it's a useful thing to check to see how creative a team is. Often xG will highlight teams who are playing well but not getting results, or vice versa. That's a good way for you to find some good betting value, so it's not something to avoid.
What to look for when placing a goals bet
Goals can be an important factor in match result betting too, given that a team who tend to draw a blank in front of goal aren't going to be your go-to winners. However, you're more likely to track a team's scoring form for a both teams to score or match goals bet.
Many sites also track the percentage of a team's games which have seen both teams score, while you'll want to take a look at recent scoring form too. You may want to back two of the league's leading scorers, but it's worth checking one of them hasn't gone off the boil of late.
What else do I need to know?
Before you start betting, it's important to be aware of the dangers around gambling. We are committed to responsible gambling and want to ensure that you remain in control of your gambling and keep it safe and enjoyable.
For more information around safer gambling and the problems to watch out for, you can see our guidelines here.
Now you know what statistics to look for, but how do you know where to look? See the best free betting resources the internet has to offer in our complete guide.
---

Build better bets with our free betting tips, predictions and accumulators, every day.
Betting Academy Directory:
Introduction to Football Betting
Best niche football betting markets
How to research football bets
Best football betting resources
Football outrights betting guide
Football Betting Guide Master article
Free Super Tips is the home of Free Football Tips. Make sure to take a look at our most popular betting tips, such as our Accumulator Tips and Both Teams To Score Tips.