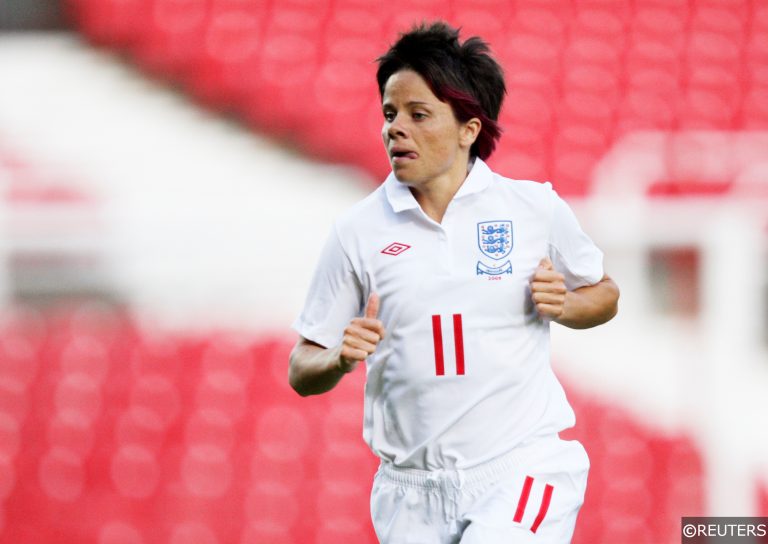 Content Editor at Free Super Tips, Alex was born in the shadow of Old Trafford and is an avid Man Utd fan. After graduating from university he combined his love of football, writing and betting to join FST and now closely follows goings-on in all of the top European leagues.
A stunning second-half performance from England took them to the final of Euro 2022 for a date with age-old rivals Germany and in anticipation of this huge success FST caught up with former England international Sue Smith.
Want our outlook on the Euro 2022 final? Check out our match prediction here.
---
Most important question of this interview, is football coming home?
Absolutely it is, at the start of the tournament I said it a little bit tongue in cheek, but at the same time I still had the belief that this squad had the capabilities of doing it.
England have a world class manager in Sarina Wiegman who has done it before with the Netherlands, so I did think they had a great opportunity.
You just know with tournament football that so many things can happen, but as it was going on I was really starting to believe.
The 8-0 against Norway, going through in the quarter finals against Spain which was a really tricky game.
England were probably second best for a lot of that game, but they managed to overcome the challenges.
Sarina Wiegman obviously made tactical changes, but it was the determination, grit and belief that got England through.
I love that about this team, and you can see they've attracted more fans.
England versus Germany is a 50/50 game, but I think you've got to believe.
I did this with the men last year though getting too ahead of myself, but there's no reason why England can't go and win this tournament.
How proud are you of this England team to reach a major final?
I'm so proud of this team, you look at everything that comes with this tournament; the number of fans and the amount of people watching women's football.
You see the difference in ages as well for those coming to the game, there's a lot of youngsters, some who have been involved for a long time and newcomers.
Some of the girls are people I played with in my career, the likes of Jill Scott and Ellen White, it's brilliant for me to see them both experience this.
The newer players that have come into this squad have absolutely no fear, they look like they're loving their football in a great environment.
It always helps when you're winning, but the togetherness of the squad looks like it's helping when things aren't quite going to plan.
Against Sweden in a semi-final, England just looked so comfortable once they got through the first 30 minutes or so.
England had to soak up that initial pressure and solve problems on the pitch which they did, but they still had this aura about them.
I was sat there thinking that England were going to win this and there aren't many times you sit there watching England feeling relaxed.
How much credit does Sarina Wiegman deserve for the job she's done since coming into the job?
She's been superb and she's helped to take this England team to the next level.
That's where we've always wanted to go, it's always been a case of 'England are nearly there'.
We obviously got to the final in 2009 but since then we've been to four semi-finals and not managed to get to the final and win it.
This is what Sarina Wiegman was brought in to do, there's just so many positive things you can say about her.
Her off the field planning is great, the communication to the players is very straight forward, the players know exactly what their role is.
She has plans for everything, she even had plans for if herself or her coaching staff got covid which unfortunately happened, but they dealt with that because there was a plan in place.
There have been no stones unturned, everything has been planned ahead for any off the field issues.
Tactically I think she's been brilliant, she had to tweak a few things against Spain which worked.
The fact she has her starting XI and there are people questioning it sometimes like starting Alex Greenwood.
She just doesn't listen to it, it's whatever she feels is the right way to go she'll stick with it.
She's instilled a belief into the players who they now believe they can go all the way and win it.
That mentality shift is the biggest thing I've seen in this England side, when we got to the final, I'm not sure we actually believed we could win it.
Germany got the first goal that day and you could see shoulders dropped, but I feel like that wouldn't happen with this team if they went a goal down.
They have the mindset that they can come back into games and a lot of it has to come from the manager and her coaching staff, so she deserves so much credit for the job she's doing.
How are you expecting the game against Germany to go?
It's 50/50, it's going to be such a tight game.
I was being asked before the game whether I'd want France or Germany and it honestly didn't matter because they both had their strengths and weaknesses.
Germany are strong, they're a team I probably overlooked at the start of the tournament.
They were going through a bit of a transition, and I remember watching England versus Germany in the Arnold Clark Cup and they didn't impress me.
But when you look at the bigger picture, they had a lot of players missing through covid and injury.
I should probably never underestimate a team that's won the Euros 8 times and they just seem to be clicking in this tournament.
The best word to describe this Germany side is efficient because everything they do is spot on.
Defensively they've conceded one goal in the tournament as well as England.
Going forward they've got quality and creativity; with Alex Popp they have someone who's on a different level at the moment.
She's been out of the last two Euros, so I think she's really wanting to show her capabilities.
There's a lot of positives for both sides and sometimes I think it can just go down to a little bit of luck or a moment of brilliance.
Hopefully it won't be a mistake, but I can see this one going all the way.
Germany are so efficient in their play, how do England stop the Germans from getting on top?
I think you've got to look at the positives of the England side because they'll focus on themselves rather than the opposition.
When I was playing, we'd have looked at Germany and what they're strong at such as getting balls into the box where they have Alex Popp attacking it.
This England side will be saying what are we good at, what are our strengths, and they'll focus on that.
They'll have a game plan to go and beat Germany.
Of course, the Germans have to be respected and I'm sure the individual players will be looking at their opposition and coming up with ways of how to stop them.
It wasn't always that way, but the shift in this England team now is to just concentrate on themselves because it's a winner's mentality and no doubt Germany will be thinking that way.
For England though, they need to stop crosses coming into the box because their delivery is so good, and you have to be aware of Alex Popp.
Her movement and how aggressive she is in the air is her biggest threat to England.
She was beating Mbock Bathy and Wendy Renard in the air who are both tall players and she was beating them both in the air.
That's all about her movement, the timing of her jump and the desire to get on the end of things.
Millie Bright and Leah Williamson have been superb at the back, but they're both going to have to be at the top of their game.
They have been all tournament, but they'll need to be in this game to stop Popp.
France did manage to break Germany down but couldn't finish off the chances so from an England perspective, if they create an opportunity then they need to finish it off.
What should England be expecting from Germany and how do they expose any weaknesses?
It's a tough one to identify the weaknesses Germany have.
I thought it was defensively before the tournament started, but they've been excellent and really defended as a team.
They press well together, but I think France showed that if you move the ball quickly then you can get in behind and create chances.
It's about taking those chances though; France had a couple of chances where they should have taken them.
That's what England will have to do, England's strengths are getting the ball out wide and balls into the box.
But England can also play through the thirds if they need to with Kiera Walsh who has been outstanding.
Oberdorf will be key for Germany and England need to stop her from playing because she's vital to the way they play.
She brings a lot of quality on the ball and can bring a lot to the team; she reads the game and screens that defence but she can be just as effective on the ball.
They're players who they need to stop from playing their game and if England do that and move the ball quickly when they have it, then they'll create opportunities like they have done.
England have those subs who can come on and make a difference as well.
England have had some nervy moments against Spain & Sweden – how important is it for the team to remain composed in the final?
It's going to be key remaining composes, but also starting the game quickly.
England weren't punished against Sweden for starting the game a bit too slowly, Mary Earps was fantastic when called upon in that game when Sweden created those chances.
You just think if you give Germany a chance early on then they'll take it, so England have to start quickly.
This isn't a game you can build your way into it because if Germany get chances, they are clinical.
The positive from that is if they do go a goal down, they have the ability to get back into the game.
But it's certainly something Sarina Wiegman will say to her players, it has to be a fast start.
She admitted after that Sweden game that the first half needed to be so much better, the second half was excellent, but the first half needed to be better.
You're bound to be nervous in major tournaments, Sweden changed the way England thought they were going to play with a back four.
England were trying to sus things out on the pitch and take in the messages from the management as well which took them a little bit of time.
These are all positives and experiences though that they can take into the final, the little things they've had to overcome to get into the final.
If things like that happen against Germany, then hopefully they can work it out quickly.
What's your score prediction for the final?
It's going to be tight, but I'm going to go for a 2-1 win to England after extra-time.
I think they'll score late on in extra-time, but I can't go through penalties.
Before the tournament start – we spoke about the importance of a settled goalkeeper, how do you rate Mary Earps' tournament so far?
I think she's been brilliant, even when she's had games with not much to do it's impressed me because when she has to do something she's always focused and concentrating.
She's been able to do that whether it's coming off her line to claim a ball or claiming a cross.
But some of the saves she's pulled off have been brilliant, she kept us in the game against Sweden when England really needed her.
I think this is the best Mary Earps I've seen, I've seen her as a goalkeeper when I played with her so I know what type of character she is.
I just feel she's got better and better and she's shone in this tournament as one of the best goalkeepers.
The fact Sarina came out and said she's her number one which always helps and gives you that belief and desire to keep the shirt.
England's spine have been so important, Mary Earps, Millie Bright and Kiera Walsh have been superb and that's what you need.
Everyone expected Ellen White to be England's main goal threat, but Beth Mead has stepped into that role across the tournament, how important is she to this England side?
She's really important, I had Ellen White as top goal scorer because I thought if England were to progress then she was the one who would get the goals.
Of course her work rate and her movement has been brilliant, she's given her part to the side but Beth Mead has stepped up on the goal front.
What's impressed me most about her is that she's used being left out of the Olympics as motivation.
It's given her a new lease of energy and desire to prove people wrong which she's done for Arsenal and now she doesn't need to prove anything to anyone.
It's a case of playing at the top of your game, scoring and creating goals and enjoying your football.
When we needed somebody against Sweden to come up with a moment of brilliance, she delivered.
That set England on their way and when you have players of that calibre, you're always going to be dangerous.
Staying with White, Sarina Wiegman clearly has a game plan to replace her with Alessia Russo after around 60 minutes – what have you made of that?
Loads of people are calling it 'Sarina 60' because it's literally bang on 60 minutes when you start to see the subs appear.
This comes down to the communication, the players know what their roles are, and Ellen White knows she's got to work her socks off for 60 minutes.
Her job is to tire out the defenders and then Alessia Russo comes on knowing it's her time to finish the game off whether it's scoring or creating.
You just think that's working so why change it.
There's been so many people asking for Russo to start but this tactical switch is working so why would you change something.
Ellen has a lot of experience, so even if she isn't scoring or creating, the role she does for the side is so important.
When you really watch her and what she does, she's key for this England team.
I think both players have such an important role and again it comes down to the communication from the manager and knowing what is expected of you.
Where does Russo's goal against Sweden rank in terms of the goals scored this tournament?
I love a little bit of skill like that, so I've watched it so many times since it happened.
It was a brilliant piece of skill, but she'll be looking and thinking I should have probably scored that first one.
Just to have the confidence and instinctiveness to pull it off and executive it was special.
Obviously, the goalkeeper has to do better, but it probably caught her off guard because she probably expected her to do something different.
To back heel, it from there in a semi-final is unbelievable, it's the sort of things you try on a 5-a-side pitch.
Everyone at the stadium actually went a little bit quiet because in disbelief that she actually pulled that off.
But that's the confidence Alessia Russo has, her first touches she spins the defender and sets up a chance for Lauren Hemp.
She's playing on another level and Germany will have to find a way to try and stop her.
She's in such good form and has such good belief in herself which is always great to have someone like that in your squad.
Spain and Sweden have tried to mark Kiera Walsh out of the past two games, is that just opening up spaces for the likes of Fran Kirby and Georgia Stanway?
When you look at England and the strengths they have, Kiera Walsh is brilliant in terms of getting on the ball on the half turn.
It sounds simple in football, but it isn't, to be able to do that and see passes going forward or switch the play.
But if you stop Kiera Walsh, then the likes of Fran Kirby and Georgia Stanway can get into spaces on the half turn and start running towards goal.
We do have a lot of options, if Germany stop Kiera Walsh, then there's other midfielders to try and pick out.
The centre-halves can also come out with the ball, I think Germany might try to press high to stop Leah Williamson and Millie Bright from spreading the ball across the pitch.
It's all about movement in there, Kiera Walsh will just have to create space for others because the game will be won and lost in that midfield area.
Both sides are quite strong in there in terms of wanting to get on the ball, so it's a case of who wants to win that battle.
We saw Fran Kirby come into her own in that Sweden game and a lot of it was down to the movement of Kiera Walsh creating those spaces.
One slight criticism of the England team is the balance at left-back, should Alex Greenwood have had more minutes than she has done?
I actually thought Greenwood would have started the tournament and she's a little unfortunate to not to have.
Whether that was at centre-halve depending on Leah Williamson's role or whether it was a left-back.
There was a lot of pressure on Rachel Daly to perform after that game against Spain and I thought she was excellent against Sweden.
You could see Spain try to expose her and it showed at times that she isn't a natural left-back.
The problem with that was having a left-centre halve who's right-footed and a left-centre midfielder who was right footed.
So, the balance was very much shifting inside which Spain recognised.
Alex Greenwood allows you to open up and play down the line, so it's a good option to have.
But again, it comes down to Sarina Wiegman and her plans, she has a team and she'll stick with it.
That is the only position you could potentially see changing, but I thought Rachel Daly played really well against Sweden.
She can give you a lot going forward as well, so it can help in terms of pushing the opposition back.
I played with her at Leeds, and she is an engine and a complete athlete.
You can see that she works so hard and gives everything, it probably caught her out for the goal Spain scored.
She would have gone away and looked at those mistakes and learnt from it.
There was a lot of pressure on her and she stepped up and that's another thing that these players have done.
What could potentially a major international trophy do for women's football going forward?
It's huge and I think this tournament has stood out to me as a tournament where you can see that women's football is where we want it to be.
There's always room for improvement and growth, but I just think the number of fans watching in the stadium and people watching on tv says a lot.
People are interested and I feel like there's a lot of people who have probably sat on the fence for a while unsure about women's football.
I feel they've fully come across now and supporting it.
Whether England win or lose, they've inspired so many people whether that be boys or girls.
I think we'll see more young kids want to go out there and be involved in football whether it's joining a team or going to watch.
Ian Wright mentioned it when he spoke about the opportunities for girls and having no barriers or challenges.
If they want to play football, then they should be able to play football whether it's at schools or local clubs.
These are things that we've had to overcome, I had to play in a boys' team because there wasn't any girls teams around.
In school I wasn't allowed to play because I had to play hockey and netball.
That shouldn't be the case now, if girls want to play football, then they should be given that opportunity to do so.
You just hope from this that the backlash is only going to be positive changes.
The team probably won't realise how much of an impact they're having right now, the focus is clearly on the tournament, but we're seeing the change already in society.
I play 5-a-side with some of my lad mates Tuesday and Thursdays, and they cancelled Tuesday because they all wanted to watch England vs Sweden.
That's never happened before, if it's a derby say Liverpool vs Everton then it'll get cancelled, but it's never happened for women's football.
It took me back and I thought to myself things are changing even if it's just small things like that, it makes a difference in the long run.
Ian Wright spoke about the fact that girls should be included in boys football from a young age and that football should be more inclusive in schools – do you think that change could happen based on these Euros?
Absolutely it should be more inclusive and to have someone like Ian Wright as an allay is brilliant because when he says things, he genuinely means it.
He's been a supporter of women's football for as long as I can remember and for him to come out on TV and social media shows he backs the game and enjoys watching it.
I think that's huge, and you can see all the messages of support from a lot of players or former players in the men's game.
Football should be for everybody, there shouldn't be any discrimination there, whoever wants to play should be allowed to play.
I played with a boys' team until the age of 9, I know it's gone up now but if you want to play in a boys' team then great.
But there should be opportunities for girls' teams and clubs which there is a lot more of now.
In my local area there's seven teams at different age groups whereas before there weren't any when I was growing up.
You can see change happening and the more people involved like Ian Wright and big figures in the game speaking out, then the better women's football will be.
---

Build better bets with our free betting tips, predictions and accumulators, every day.
More betting news:
FST in form with back-to-back Bet Builder wins including 62/1 tip!
Championship 2022/23 outright predictions: Winner & promotion
FST's 2022/23 outright predictions hub
Championship 2022/23 relegation predictions with 10/1 tip
To take full advantage of our Free Football Tips we recommend you take a look at our Free Bets page, where you can compare all the best free bets and special offers from the country's top bookmakers.